Stina Pizzeria

Stina Pizzeria
By: Zachary Blumberg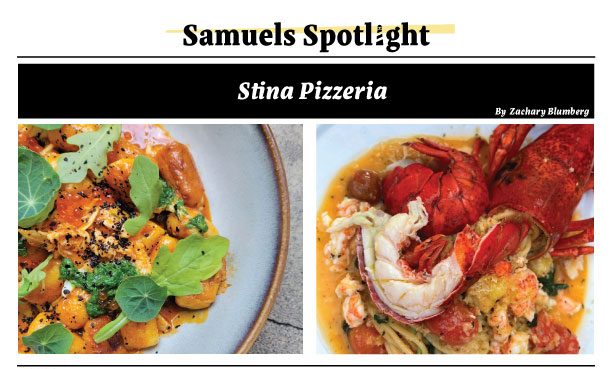 The change of the seasons can lead one to wish for warmer days. Since a trip to a warmer part of the globe isn't always on the menu, the next best thing may be to indulge in something that reminds us of a sunnier time of year. A visit to Stina Pizzeria— a Mediterranean BYOB restaurant located at 1705 Snyder Avenue in Philadelphia—is one way to do it. Experiencing the menu at Stina is like taking a tour of the Mediterranean itself, especially the food – and all the warm smiles that accompany it—are sure to remind one of warmer times.
Stina Pizzeria opened in 2019, but the Chef behind the food has been in the restaurant industry for more than 20 years. Chef Bobby Saritsoglou believes in putting his heritage into his food, and his Greek roots can be seen throughout the menu. Case in point: his fried smelts and Spanakopita. Other menu highlights include slow-cooked Spanish octopus with a black garlic puree, as well as a daily rotating seafood special. Non-seafood dishes are also available and popular at Stina, with kebabs and various Pedes (Pede is a pizza-like dish from Turkey) at the top of the list. Of course, no pizzeria would be complete without pizza. At Stina, pies include classics flavors like margherita and anchovy, but there are also less traditional combinations like eggplant or mortadella with pistachios, all made in their wood-burning oven.
Stina is not only home to great food, but great events as well. The restaurant hosts wine dinners monthly that include four or five course menus and a collaboration with a different guest chef. Collaboration is central to Stina's mission statement as an eatery. Here, flavors work together to make every dish special, just as the staff collaborates with the patrons to make sure that the guests have a memorable experience. So, if you're longing for a trip some place warm without even leaving the country, then booking a table at Stina is highly recommended. Just remember to bring your own bottle (it's BYOB), make a reservation (they recommend it), and get ready to enjoy a tour of the Mediterranean.