The General, Lafayette Hill, Pennsylvania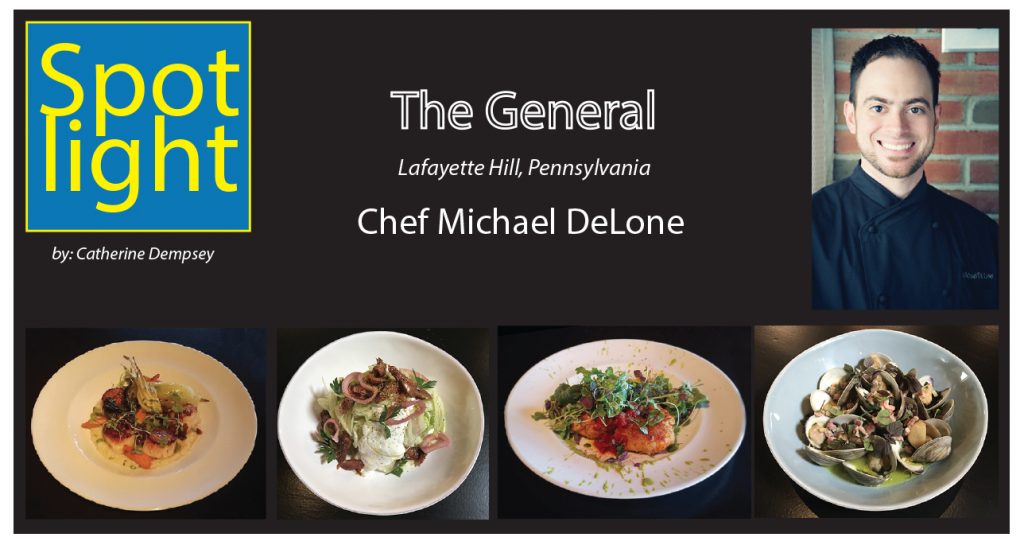 The General, Lafayette Hill, Pennsylvania
Featuring Chef Michael DeLone
by: Catherine Dempsey
The General, a rustic contemporary inn nestled in Lafayette Hill, Pennsylvania, specializes in contemporary American cuisine and features a unique blend of flavors with every dish. It's the perfect place to indulge in some of your favorite classic meals, and as a bonus, it features a sushi bar. The building itself dates back to the 18th century when General Lafayette used the inn during the American Revolution. The 285-year-old location is rich in history (and some rumored spirits of the paranormal kind), but it's the food itself that keeps the beloved space alive and well.
Executive Chef Michael DeLone is a force in the kitchen. As a child, he could be found helping out among his family baking and making sauce. These memories are some of his most cherished ones. "I was raised in my grandmother's house," he says. "My mom was a single mother and she had always been a baker, and always doing the Sunday sauce."
Chef Michael got his start in the food world when he was 15 and working as a busboy at Sonoma in Manayunk, Pennsylvania. It was also around this time when he attended a career exploration program at the Culinary Institute of America and inevitably fell in love with the allure of the life of a chef. "I love the creativity of it," he says. "I love working with my hands. I went to Catholic school for twelve years and was always in academics and not really interested in it. I always wanted to be in the kitchen – I fell in love with it."
It was at Philadelphia's Art Institute where Chef Michael received his formal culinary training. He found a love for classic Italian cuisine when he established his career at Monte Carlo Living Room on South Street in Philadelphia. He worked very closely with Chef Nunzio Patruno, who helped Chef Michael hone his skills in seasonal ingredients and culinary techniques. Being classically trained in French and Italian cooking, Chef Michael's approach to cooking has evolved as he's grown as an executive chef. His culinary style is putting a spin on classic dishes and making them completely unique. He describes The General's menu as incorporating classic American dishes with a modern twist, without getting too outside the box. "It's very understandable food," he says. "But I'm doing it in a very technique-driven way."
Chef Michael is doing an update of the wedge salad, replacing bacon with a Salmon belly that is cured, smoked, and then brushed with molasses, black pepper, and spices to create a Salmon bacon. In place of the bleu cheese, he's using a creamy lemon dill dressing. "The smokiness, the cleanliness of the iceberg lettuce; it all comes together nicely," he says. Chef Michael is also including a Lobster Crabcake on The General menu and it's filler-free. That's right, it's 100% meat, and Chef breaks down the live Lobster himself in the kitchen.
Always a seafood fan, Chef Michael says his favorite to work with is Tuna, but he's reluctant to pick just one kind of fish. "I love the Canterbury Cure products, especially their Salmon Roe," he says. "The Skuna Bay Salmon is a great product too. It's on such another level that I'm able to enjoy it as sushi or cooked. Octopus is also a lot of fun."
The future of The General looks bright, thanks to Chef Michael's impressive menu and a beautiful, historic building to pull it all together. He's managed to find the perfect balance between old world classic style and a modern sophisticated twist due to his immense training and experience. Pairing a modern menu in a traditional environment could be a risky feat, but Chef Michael pulls it off with elegance and grace. The General opens soon in Lafayette Hill, Pennsylvania.