Tre Scalini – Three Little Steps, One Big Family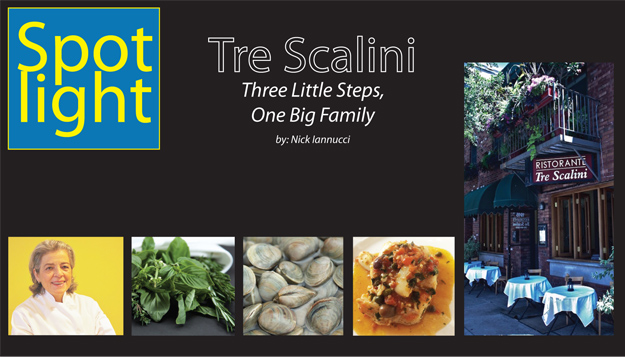 Moving to a new country is a daunting experience, there is always a convergence of hopes, dreams, and then reality. In the midst of this maelstrom, three little steps lead to a quiet place where friends and family could sit together and enjoy a meal. Tre Scalini in South Philadelphia is a place where people have become family for over 22 years.
The story of Tre Scalini begins with a family from Molise, Italy, a small town in the center of the Appenini Mountains. This is where Chef Franca DiRenzo, owner of Tre Scalini, was raised. This small Italian town is where Chef Franca learned everything she needed to know about cooking from the best cook she's ever known: her mom. Her mother was well known for her cooking talent and baking as she would often cater affairs and weddings about the town, with little Chef Franca lending a hand. One of her mother's more popular dishes during the holidays was polenta with baby squid and Baccala.
Her mother taught Chef Franca how to farm and raise animals for food. River trout was the only local fish available, however, a collection of fresh Mediterranean caught seafood from Naples would arrive weekly. All types of fresh crustaceans, mussels, clams, and scampi were available, as well as fresh eel and Baccala (dried or salted cod). Needless to say, Chef Franca is accustomed to using only the freshest ingredients.
Chef Franca immigrated to the United States with her family in 1967 when she was 15. After initially pursuing a career as a hairstylist, Chef Franca decided to follow a passion of hers and open a restaurant.
She eventually found the site that would become the landmark restaurant Tre Scalini. Even the name originates from family. While she was on a trip with her husband and daughter to Rome:
"I came across a famous restaurant overlooking a beautiful square. While sitting in Piazza Navona, we saw how excited the guests were with large families. My cousin, a native of Rome, began to talk about how 'Tre Scalini' was one of the most popular meeting places in the area and that it was the place to be for fresh seafood. So when I found the first location for our restaurant, we noticed it had 'three little steps' to get in and there you go! What else could we name it?"
Tre Scalini on this side of the Atlantic opened its doors in 1994 and with Chef Franca's hard work, it has been the place to meet ever since. In many ways, her customers have become an extended part of her own family. Many of the dishes Chef Franca serves at Tre Scalini are the same dishes she prepares for her family and the menu reflects the fresh seafood offerings she grew up with in Italy. You can find an assortment of delicious seafood dishes featuring mussels, clams, and other hard-shell seafood items she enjoyed as a child when they arrived from Naples.
The most popular dish on the menu with her guests is the Black Pappardelle Sautéed with Prawns, Jumbo Lump Crabmeat, and a hint of Fresh Tomato. Even though Chef Franca doesn't have a favorite dish, she enjoys the versatility Baccala offers. She prepares it fried, steamed in a salad, and braised in a red sauce, among others.
Chef Franca is very sincere about her desire for Tre Scalini to be a meeting place for friends and family. Her inspiration for Tre Scalini isn't limited to a locale in Rome, she also is inspired by the unity a meal can bring. For Chef Franca, cooking is a form of expression and it is immensely satisfying for her to know she is able to unite a family for dinner one evening, or bring friends together to share a meal, or for people to enjoy great food while celebrating a momentous occasion.
For 22 years, Tre Scalini has been the place for friends and family to meet. Chef Franca's sincerity in bringing people together over delicious meals has made three little steps lead you to one big family.
For more information visit: trescaliniphiladelphia.com