Verlasso Salmon Showdown is a Hit!

It was a day full of fun and tasty salmon this past Monday at the Verlasso Salmon Showdown. Chef Garret from Aqimero, Chef John from El Camino, and Chef Josh from Cape May Island Grill competed to win a trip to Epcot's 2016 Food & Wine Festival. All the chef's dishes were delicious, with Chef Garret's Seasonally Inspired Salmon Four Ways voted the fan-favorite winner.
The event was held on the Samuels and Son fair grounds on a beautiful, sunny Monday. Friends and family (and some four-legged friends) of the competing chefs were there for support and other chefs from the northeast came down for a tasty salmon treat.  In addition to the three recipes prepared by the contestants, there was an oyster bar, dishes prepared by Samuels corporate chef, and libations for all.
Chef Garret prepared Seasonally Inspired Salmon Four Ways: Salmon Ceviche, Salmon Tataki, Salmon Skin Bruschetta, and Seared Salmon: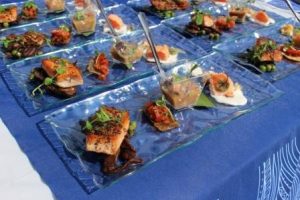 Chef Josh prepared Grilled Verlasso Salmon with Parsnip Purée, Smoked Pear "Molasses" and Pansy: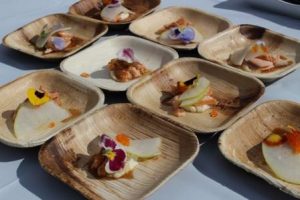 Chef John prepared Soy Glazed Verlasso Salmon Taco- Pea Shoots, Flame Kissed Nori, Wasibi Cream Cheese, Soy Pickle, and Sesame: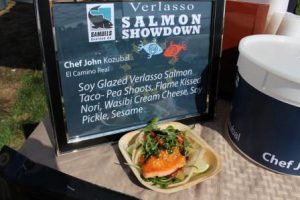 The event was sponsored by Verlasso Salmon, capping off a month-long recipe contest. Once three finalists were chosen, they were invited out to the Verlasso Salmon Showdown. There, they prepared their dish for the hungry fans in attendance, who then voted for the dish they felt tasted the best.
The event was a great time thanks to our chef contestants, Verlasso Salmon, and all the fans who attended.