Villa Di Roma: A Time Capsule, Philadelphia, PA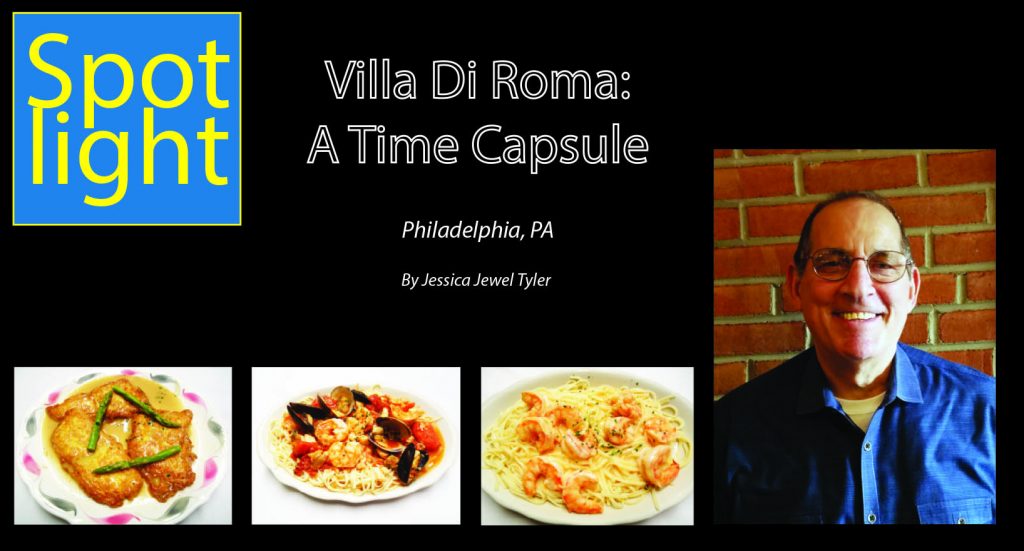 Villa Di Roma: A Time Capsule
By Jessica Jewel Tyler
Walking through the streets of the Italian Market is to be bombarded with sights, sounds, and delicious scents of "the old country." This is the heart of Italian cuisine in Philadelphia. In the middle of 9th street between Wharton and Fitzwater, dozens of vendors sell the freshest vegetables, meats, spices, and produce from their stalls while specialty shops and restaurants squeeze in between. Nestled in the middle of this hustle and bustle you'll find Villa Di Roma perfectly preserved since 1963. In fact, Villa Di Roma was even referred to by the Philadelphia Inquirer as a "Time Capsule."
Restaurant owner Epiphany "Pip" Deluca wears this title like a badge of honor. Although, he has expanded to 3 dining rooms and has become a much bigger name in Philadelphia, he sees little need to change much. The buildings are still adorned with the same brick facades and neon lights from the past. In fact, when the family bought the original building, they even kept the very fitting name "Villa Di Roma."
The Deluca family has roots in the Italian Market. Pip says his family was always in the food business there. For years, they sold produce on the very streets outside of the restaurant. During one of the most brutal winters, when the famous flaming trash barrels of the market weren't enough to keep them warm, frostbite inspired the family to come inside. So when the bar went for sale, they bought it and didn't look back.
Now, over 50 years later, they have a large base of regulars that have been dining at Villa for decades and passing that tradition on to their children and grandchildren. Pip says although some might complain about "the lack of ambiance," his customers are what really make up the fun, family experience and one thing they never complain about is the food.
The menu is based entirely on traditional Italian recipes passed down from their parents, Domenic and Carmela Deluca, and from the original owner and notable Philadelphia chef, Vince "Cous" Pilla.
The current chef, Frank Deluca, puts special attention into creating authentic meals just like his veteran diners remember. This is done by handcrafting each plate. Pip explained that no machines are used to make his special sauces and meatballs and that all five Deluca siblings and their extended family play a large part.
Two doors down, in the Villa's test kitchen, is where the magic happens. Every day, Pip's brother Basil and his niece, Carmella, tirelessly make the classic marinara and the South Philly famous gravy. Pip says it's the main component of the menu. And people like it so much that it is jarred up and available for sale.
For those who aren't familiar, marinara is the bold and bright tomato sauce, and the gravy is a robust tomato sauce with a meat base. And believe me, don't make the mistake of calling gravy "sauce" around true South Philadelphians.
While the marinara and gravy are the core of the menu, Pip says seafood is also very important. "It's the base of the Italian family, especially during the holiday," he explained. There are a few classic seafood dishes like Shrimp scampi, Lobster francaise, and seared Tuna topped with marinara and capers. But, the Deluca family threw in a few fun seafood spins on typical dishes, like spaghetti with Anchovies (or Shrimp and Tuna) and marsala with Shrimp instead of chicken.
Villa's signature seafood dish, pasta di linguine, is what really steals the show. It's made with Mussels steamed in marinara and topped with Clams, Shrimp, and Crabmeat. The juice from the Clams mix with the marinara to create a slight blush and there is a nice kick of spice to finish it out.
Pip says he is considering adding a couple dishes this winter like stuffed peppers and stuffed mushrooms with Crabmeat. Other than that, "nothing will ever change," he declared. His customers want him to open a second Villa or to expand further, but Pip hasn't given this idea any thought. He says there's a lot of opportunities out there but the family doesn't want to dilute what they have. He also added that "customers would know right away."