Banks Seafood Kitchen – Dining on the Waterfront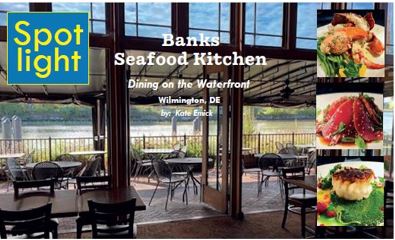 Banks Seafood Kitchen – Dining on the Waterfront

By: Kate Emick
An iconic spot along the Wilmington riverfront is Banks Seafood Kitchen. Known for its exceptional raw bar, beautiful views, cocktails, and chic atmosphere, Banks Seafood Kitchen is the perfect place to gather with family and friends.
The moment guests walk into Banks Seafood Kitchen, they are welcomed by stunning décor featuring vaulted ceilings, artwork from local artists, and the restaurant's largest decoration, a fiber-optic Starfish, located on the ceiling of the dining room.
Owner and Chef David Banks has been in the restaurant industry for over thirty years. Previously, Banks was the Corporate Executive Chef of Harry's Hospitality Group and co-owner of Harry's Seafood Grill, Harry's Fish Market and Grill, and Kid Shelleen's Charcoal House and Saloon. These restaurants have been staples in the Wilmington area and surrounding cities since 1988. Within a few years and with great success, Chef Banks opened Harry's Savoy Grill, which expanded in 1998 to include the lavish Harry's Savoy Ballroom. During the spring of 2018, Chef Banks re-branded the restaurant, creating Banks Seafood Kitchen and Raw Bar.
Chef Banks uses his diverse food background to create innovative, frequently changing menus that change daily. A few popular dishes you can find at the glamorous waterfront restaurant are their award-winning broiled Jumbo Lump Crab Cakes with a micro salad, Chile-lemon and corn puree, and tobacco onions. Another menu item many customers order is the Lobster Cioppino and Rouille Crouton made with Maine Lobster, Mussels, and Shrimp in a shellfish broth. These dishes are essential menu items for the seafood-based restaurant.
Personally, Chef Banks says that one of his favorite dishes is the pan seared Sea Scallops, crusted with pistachio barley and served with a spiced butternut squash puree and a cherry chutney.
Banks Seafood Kitchen has one of the finest raw bars in the area. On the top of the menu, customers can find the restaurant's featured Oysters for the day, served on the half shell. Since the restaurant opened in 2018, they have shucked nearly three million Oysters. Oysters you can find on the menu include Blue Points from Connecticut, Sex on the Bay from New Brunswick, Dabob Bay from Washington State, Kusshi from British Columbia, and more.
In addition to Oysters, the raw bar also serves a Jumbo Shrimp cocktail, Topneck Clams on the half shell, Ahi Tuna tartare, Scarlet Snapper ceviche, and several equally delicious options.
If you are looking for non-seafood fare, Banks Seafood Kitchen serves either a 12 oz New York strip steak or an 8 oz filet mignon.
Along with an extensive fresh seafood selection, Banks Seafood Kitchen offers nearly fifty wines by the glass, over twenty varieties of beer, and an assortment of signature cocktails. Take a trip to Banks Seafood Kitchen to order cocktails like the lemon pomegranate martini, cucumber-jalapeno Paloma, and white peach sangria.
Head on over to Banks Seafood Kitchen for all things seafood at 101 S. Market Street, Wilmington, Delaware. Also, be sure to check out Chef Banks on Chef's Kitchen every Sunday morning on NBC at approximately 7:20 am!