Mollusca NYC – An Upscale Seafood Restaurant Launches in Meatpacking District

Mollusca – NYC – An Upscale Seafood Restaurant Launches in Meatpacking District
By: Kate Emick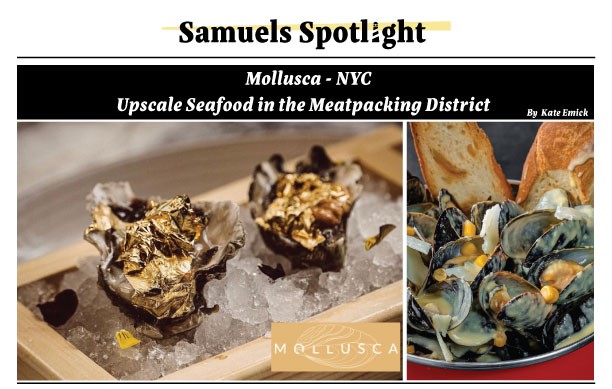 Mollusca, a high-end seafood restaurant at the edge of Little West 12th Street in New York City, made it's debut in the city's Meatpacking District earlier this year.
Owned and operated by Eric Agababayev and Alpina Hospitality Group, Mollusca has evolved into a sophisticated dining experience since opening it's doors in the spring of 2022.
Mollusca's Brand Chef, Gianmaria Sapia, has appointed Christian Bonilla as Executive Chef. Along with the owner, Bonilla has streamlined the menu, drawing inspiration from his extensive background in the seafood industry where he spent time at Zuma and The Clocktower.
Mollusca's elegant interior design evokes a deep-sea feel which is drawn from the lights that cast shadows of waves on the mirrored walls and hand-blown glass light bulbs that are reminiscent of jellyfish. All seating and banquets are custom made in various leather and velvet neutral taupe shades, accented with navy blue and sand highlights. Additionally, the floors and countertops are made from several hues of natural marble and walnut wood.
Known for all things seafood, Mollusca offers a raw bar which includes a Hamachi crudo with pickled jalapeño, wasabi mayo, and guacamole. The newest addition to the raw bar is the restaurant's double tartare made with Salmon, Tuna, and Siberian Black Caviar, accompanied with nori rice chips. The raw bar also serves a variety of Oysters including the Mollusca signature Oyster with Siberian Black Caviar, fresh Uni, and mignonette.
A few popular main courses consist of grilled Octopus with a deconstructed Greek salad, feta mousse, sous vide leeks, and a leek puree. The Salmon served with fingerling mustard purée, potato parsley fondue, and vegetable tartare with carrots and cucumbers is another fan-favorite option.
Without a doubt, the most impressive item on the menu is the restaurant's signature dish, Mussels in thirty-five unique sauces! From blueberry goat cheese to corn and pecorino, white wine and garlic, and even spicy coca cola, there is always something new and exciting to try.
With a seafood focused menu, Mollusca also serves a Japanese A5 Wagyu fillet in cacao e pepe sauce with a cherry tomato salad. Vegan options are available as well like the trumpet mushroom Scallops with a butternut squash purée and a pistachio vinaigrette.
Mollusca recently introduced a brunch menu that is served every day from 11am to 4pm. This section of the menu showcases items such as scrambled eggs topped with Uni and Siberian Black Caviar and Japanese pancakes with a berry compote and whipped cream.
Enjoy your meal with an equally impressive bar and wine list. A few cocktails to choose from include the Coral Reef, Tidal Wave, and Mollusca Martini. The restaurant also offers a global selection of sparkling wine and champagne, rosé, red, and white wines, and even sake by the glass or bottle to pair perfectly with any menu item.
Reservations are required and can be made online at molluscanyc.com. To see all the delicious food that the restaurant offers, be sure to visit them on Instagram @mollusca_nyc.