Chicks – A Local Gastropub Serving Comfort Food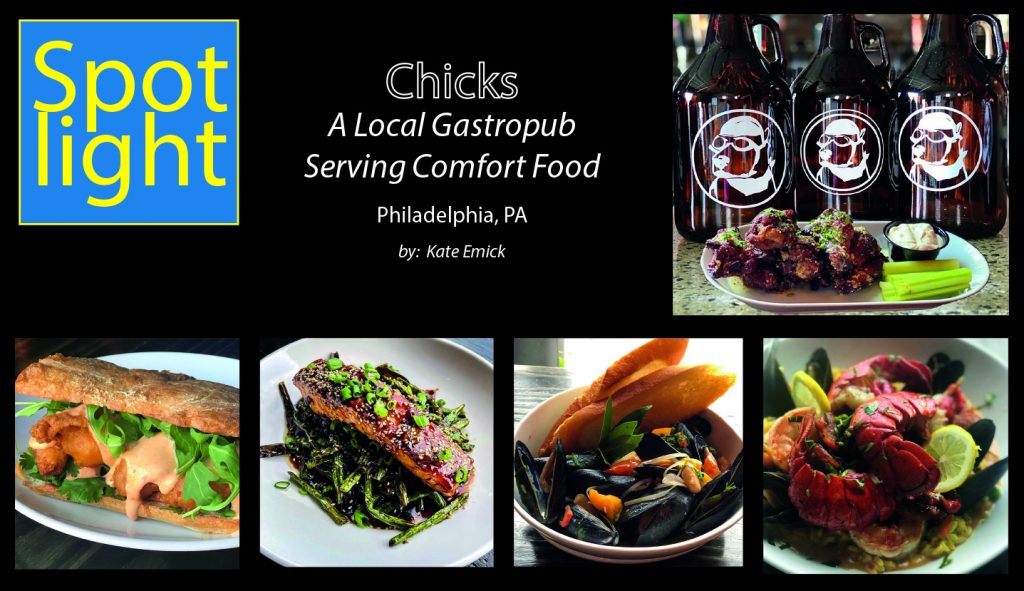 Chicks – A Local Gastropub Serving Comfort Food
by: Kate Emick
Many of us love good classic bar food like French fries, wings, mozzarella sticks, and tacos. We could also agree that the best pairing to bar food is a cold beer or a cocktail. Chicks, a well-known neighborhood gastropub located on Washington Ave in Philadelphia, PA, has taken bar classics and comfort food to the next level.
Four years ago, owner Gina Narducci, a retired teacher from Philly's String Theory School, had a post-retirement dream of opening a small pizza shop of her own. With her husband Phil by her side, that small pizza shop turned into a two-property-wide pizza shop and gastropub. This trendy and elevated pub has been serving an assortment of delicious food and beers on tap since they opened in 2017.
Phil Narducci's restaurant experience dates back to 1979 when he opened one of the city's most famous cheesesteaks locations in South Philadelphia called Philips Steaks. Many years later, Phil is following his passion at Chicks, named after his late father, whom family and friends knew as "Chickie."
Passing by Chicks, many people notice their unique logo: a dog dressed as a biker. The Chicks logo was inspired by the owner's dog, an Argentine Mastiff named Amigo, who was often dressed up as a biker for Halloween. Many customers associate Chicks with their logo and enjoy learning the interesting story of how it came to be.
Chicks serves a wide selection of pizza, a mixture of bar snacks, sandwiches, soups and salads, seafood, beer and wine, and even a specialty brunch menu. Around the city, Chicks is known for their famous homemade meatballs, which are made with herb ricotta cheese, San Marzano tomato, roasted sweet peppers, and Parmigiano-Reggiano. In addition to the fan-favorite meatballs, Chicks is also known for their roast pork sandwich with sharp provolone cheese, broccoli rabe, a roasted long hot, and pepper shooter aioli on a seeded roll.
That's not all though. When visiting Chicks, the crispy garlic Shrimp sandwich is a must. Customers come back to order this delicious sandwich because it has arugula, cilantro, a sweet and sour aioli, all on toasted ciabatta bread. If that doesn't fulfill your seafood craving, you can order Chicks grilled Salmon teriyaki dish, consisting of a sesame-garlic teriyaki glazed Salmon, crisp Chinese long beans scallion, and jasmine rice.
When customers order seafood dishes at Chicks, they are often amazed at the quality. Phil and Gina Narducci are proud to get all their seafood from Samuels Seafood because, as Phil described it, "Everything is always fresh. It goes straight from the ocean to us."
The perfect accompaniment to bar snacks is a cold beer, and Chicks has an assortment of beers on tap. In fact, you can find twenty four beers on tap at any given time; twelve of those will rotate to give customers a variety. Chicks is known for having some of the best IPAs in-house and nearly 100 different brands of beer to choose from. If you prefer wine over beer, Chicks has that too. Offering a line of specialty wines, guests have the option to dine in and enjoy their glass of wine or take it to go to have at home. In addition to a stellar list of beers and wines, Chicks offers an incredible list of cocktails, perfect for any occasion.
The best part about Chicks is the atmosphere. No matter who walks in the door, you will always be treated like family, and Gina couldn't have said it better, "Chicks feels like home with good food!"
Take a trip to Chicks to see everything they have to offer!
Comfort Food