The Prime Rib – The World Series of Caviar!

The Prime Rib – The World Series of Caviar!
By: Kate Emick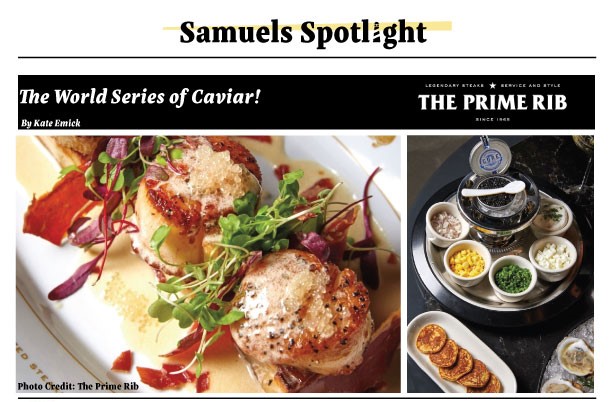 The Prime Rib, located inside LIVE! Casino and Hotel in Philadelphia, is a contemporary fine dining restaurant. A blend between a historical steakhouse and a cocktail lounge with distinctive twists, The Prime Rib strives to provide guests with a memorable experience!
The Prime Rib has a very elegant feel from the moment you walk in the door. With very dim lighting and upbeat music, The Prime Rib creates an unforgettable experience for anyone who dines there.
Executive Chef, Justin Nelson, has an extensive background in the culinary industry. At a young age, Nelson started his career as a dishwasher and throughout his time in the kitchen he has worked with several top name celebrity Chefs including Bobby Flay and Geoffrey Zakarian. Before making his debut as Chef de cuisine at The Prime Rib, Nelson also worked at Hard Rock and Borgata.
Nelson says that one of his favorite things about working at LIVE! Casino and Hotel is the upbeat energy. "There is never a dull moment. There is always something going on to keep us busy, which is great!" He adds.
The Prime Rib hosts a variety of unique events each week. On Wednesday's, the restaurant offers bubbles and pearls from 4:30-6:30pm where customers can enjoy $2 Oysters along with $10 champagne flights with new pairings each week. On Thursday's, the restaurant also hosts a lucky 8 happy hour event from 4:30-7:30pm where guests can enjoy a menu comprised of $8 dishes and cocktails such as a Paloma spritz, prime rib sliders, Tuna tartare, and more!
The Prime Rib prides themselves on their Wagyu beef and signature cuts of meat. On the menu, guests can find everything from an 8 ounce filet to a 24 ounce bone-in ribeye. Additionally, the restaurant serves Colorado lamb chops and a roasted jidori chicken breast to offer guests even more variety.
As well as specializing in signature meats, The Prime Rib has an assortment of seafood on the menu. Start your trip to The Prime Rib with seared Scallops served with crispy prosciutto, potato pave, and beurre blanc. A few popular entrees are the restaurants macadamia-crusted Chilean Sea Bass accompanied by a honey lemon butter and their seasonal Tuna mignon served with jade steamed rice and a yuzu ponzu sauce.
Looking to impress? The Prime Rib has a seafood tower filled with Shrimp, Oysters, Lobster Tails, and more on the menu, alongside premium Canterbury Cure Italian Osetra Caviar. Made from the creamiest, smoothest pearls, this premium quality Caviar presents a luxurious flavor sure to satisfy anyone at the table!
Be sure to order a drink with your meal. To name a few cocktails, Nirvana Blush, Smokey Pineapple, Limoncello Drop, and the Pear Blossom martini are all great options to choose from. In addition to signature cocktails, The Prime Rib also has several types of wine, beer, and even coffee on the menu.
Plan your next visit to The Prime Rib by making reservations online. Although not required, reservations are highly recommended, especially on weekends. The beautiful food and drinks surely won't disappoint!
Amici Restaurant – Italian Inspired Cuisine in the Heart of South Jersey
By: Kate Emick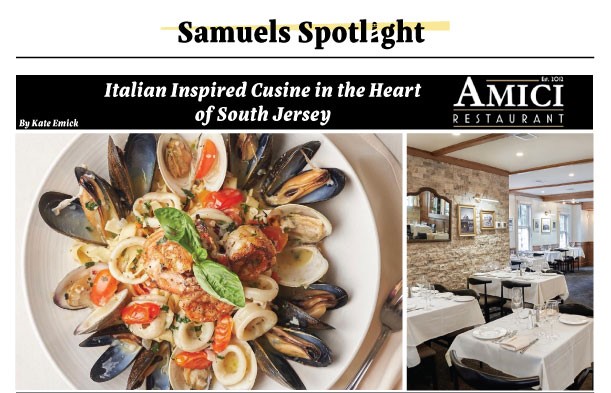 Take a trip to Amici Restaurant and transport your taste buds straight to Italy! Located in the heart of South Jersey in Cherry Hill, the menu at Amici Restaurant is comprised of dishes that represent every region of Italy, from Abruzzo to Tuscany. Visit Amici Restaurant and enjoy only the finest contemporary Italian cuisine!
Owner and Executive Chef, Alex Daku, has had a passion for cooking since he was a young teenager. His earliest lessons in the kitchen came from working in a busy restaurant, owned and operated by his family. Here, Daku learned the foundations of a strong, successful kitchen which inspired him to make a lifelong career in the culinary industry.
At seventeen years old, Daku pursued an education in Torino, in the Piedmont region of Northern Italy, studying classic Italian and Mediterranean disciplines. During this time, Daku worked his way through several European kitchens, perfecting his craft and learning new techniques while carrying a full course load. Before opening Amici Restaurant, Daku worked at various fine dining establishments in New York City, including II Molina, Aqua Blue, Tech Villa, and Midtown West's CPS. He also found himself in the Brownstone in West Paterson, New Jersey, before landing at the prestigious Le Jardin in Edgewater.
Since 2012, Amici Restaurant has operated out of a strip mall shopping plaza on Kresson Road in Cherry Hill. Fast forward to today, Amici Restaurant relocated and is breathing new life into a two-story farmhouse that has held several notable restaurants since the 1980's. Daku purchased the historical farmhouse, just a block away, in December 2019 and spent two years restoring and renovating the new location to ensure customers have a memorable experience. The change in scenery also brings extra seating and more upscale décor.
Daku kept the original location, now called Bella Festa, to serve as a catering and private party banquet hall.
In addition to the Bella Festa location which can accommodate large parties of 100 guests, Amici Restaurant offers four private party rooms for more intimate gatherings.
Sourcing only the finest seasonal ingredients, Amici Restaurant specializes in homemade pasta, seafood, and steak. Menu items rotate every six months as well to keep dishes fresh and exciting.
For seafood connoisseurs, the restaurant's spaghetti Positano tossed with Jumbo Lump Crabmeat and fresh tomatoes in garlic and olive oil is a must-try. Another popular menu option is the whole Bronzino and Dover Sole, served tableside for a breathtaking display. Classic pasta dishes like penne vodka, potato gnocchi, and pappardelle Bolognese are all fan-favorite dishes by guests. The restaurant also serves pumpkin ravioli this time of year, ideal for fall! Furthermore, the grilled pork chop, veal chop, and 16 oz New York strip steak are all staples on the menu.
Searching for the perfect venue to host a celebratory diner or corporate event? Join Amici Restaurant in their dining room or year-round private patio space to indulge in the rich culinary history of Italy! Open seven days a week, Amici Restaurant is BYOB and reservations are highly recommended. Be sure to visit amicinj.com to make reservations now!
One Coastal – A Delaware Story
By: Kate Emick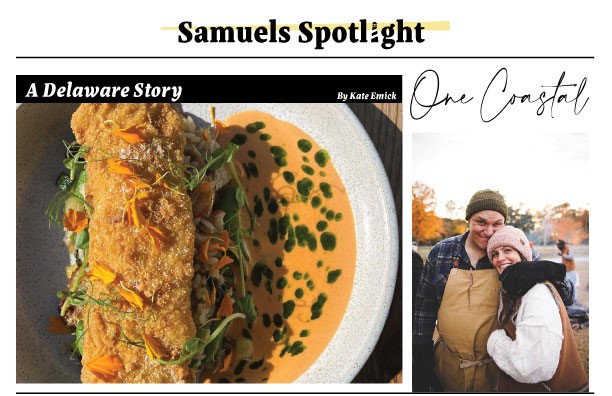 Located in Fenwick Island, One Coastal, specializes in a farm to table approach and is committed to supporting responsible Delaware agriculture and watermen. With diverse menu options to choose from each week, One Coastal is proud to serve locally-sourced ingredients that you won't find anywhere else!
Owner and Chef Matt Kern grew up in Bethlehem, Pennsylvania. At the age of fourteen, Kern got his first job while in high school, washing dishes at the former Viennese Pastries Café in Bethlehem. One month in, Kern was asked to jump into a new position at the appetizer station where he learned how to plate and was quickly promoted from dishwasher to chef. Afterwards, he spent two years at Fegley's Bethlehem Brew Works and by the time he was twenty one, Kern found himself at Starfish Brasserie which is now the Twisted Olive. While at Starfish Brasserie, Kern worked under Chef Dick Barrows, who taught him the essentials of French cooking. A few other notable restaurants Kern worked at throughout his culinary career were Edge Restaurant and Bolete, both in Bethlehem. He also had a few stints in Philadelphia at Morimoto and in New York at Jean-George.
After his time at Bolete, Kern moved out of the Lehigh Valley and re-located to Delaware with his wife, Karen. Ever since moving to Delaware nearly twelve years ago, Kern has worked at several restaurants in the area including Heirloom in Lewes and Salt Air, and the Blue Moon in Rehoboth Beach.
Before One Coastal hit the market, Kern met founders, Scott and Carlie Carey, through mutual friends. In August 2021, Kern became the Executive Chef and in February 2022, Kern and his wife officially took over as owners. It was important to Kern that the restaurant kept its original name because it has been a staple in Fenwick Island for close to ten years.
Kern describes One Coastal as a comfortable speakeasy. This small fifty seat restaurant features reclaimed wood, a contrast of dark and light colors, and local artwork, including a beautiful Blue Crab painting on the wall.
Start your visit with blistered Jimmy Nardello peppers, accompanied by tomato honey, fried pecans, whipped feta, and sea salt. Another delicious snack to start with is North Carolina Tuna and watermelon crudo with purple radish, watermelon, cilantro, ginger tamari, fish pepper, cucamelon, and puffed Carolina Gold rice.
A few popular main entrees are the restaurant's corn fried Chesapeake blue Catfish, served with Crab fried Carolina Gold rice, peppers, okra, yellow squash, watercress, and Shrimp head gravy. The New Jersey day boat Scallops with roasted local sweet corn, blistered shishito peppers, oyster mushrooms, Vidalia onion, sweet corn puree, sun gold tomato jam, and torn basil is another must-have option.
In addition to supporting local farmers and watermen, One Coastal also supports local beer makers, which are proudly presented on the menu along with signature cocktails and wine.
Open Tuesday through Saturday, One Coastal invites guests to experience their take on really good food! Reservations are highly recommended, especially on weekends. Visit them online at onecoastal.com to make reservations.
Reverie – A Hidden Georgetown Gem!
By: Kate Emick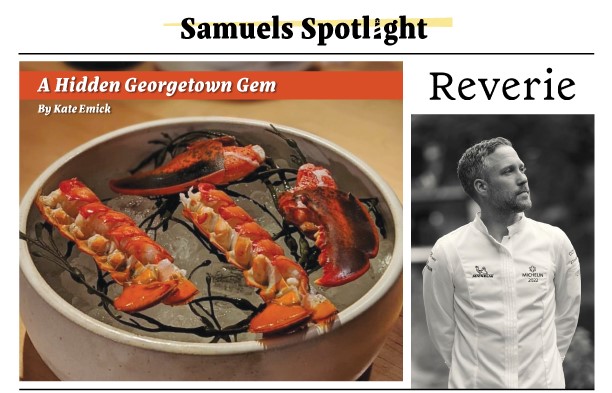 Born and raised in Maryland, Chef Johnny Spero began his culinary career at the young age of sixteen. Very early on, he had the opportunity to work alongside James Beard award-winning Chef Johnny Monis and just two years later, Spero was staging at Noma in Copenhagen. Upon returning to the U.S., Spero worked at Chef John Shields' acclaimed fine-dining restaurant, Town House, before eventually finding a role as the Executive Chef at José Andrés' Minibar in D.C. Throughout his tenure at Minibar, both Spero and the restaurant collected several accolades.
Hidden in a Georgetown alleyway, Reverie, which opened in October 2018, is a fine dining restaurant inspired by years of Spero's global travels, but also his Mid-Atlantic roots. Spero has redefined luxury in a comfortable, inviting atmosphere with upbeat music and minimalist décor.
Reverie features a unique tasting menu, focusing solely on coastal cuisine. A few fan-favorite choices by guests are the restaurant's Carolina gold rice with Lobster claw and egg, Lobster tail with kelp, pumpkin seed, and Trout roe, and also their Abalone with garlic and green juice. Reverie's Surf Clam with green tomato, parsley, and garlic is another delicious option. Spero serves a seasonal menu and says each month a few courses are switched out.
If you are looking for a sweet ending to your night, Reverie offers a sunchoke miso ice cream with sunchoke caramel and Kaluga Caviar!
In addition to Reverie in Georgetown, Spero has also collaborated with restauranteur Scott Parker and Aslin Beer Company to open a 90's inspired pizzeria and beer hall called Nighthawk Brewery and Pizza in Arlington, Virginia. Inside, customers might feel as if they are being transported to Saved by the Bell's iconic "The Max." With sports latticework accents and electric blue squiggles on the walls, this 90's themed pizza and beer joint offers ten beers on tap, Chicago style pizza, and shareable plates.
To complete Spero's line of restaurants, the newly opened Bar Spero is a lively seafood bar and grill located in the Capitol Crossing complex in D.C. While living in Spain's Basque country, Spero fell in love with the fast-paced, high-energy dining. Although inspired by the nightlife in Spain, the menu at Bar Spero is influenced from traditions of open-fire grilling and freshly shucked seafood, paired with an ingredient-driven bar program serving masterful versions of modern classics.
Sadly, on August 12th, Reverie suffered a devastating fire that will require Spero and his team to shut down until they can recover, rebuild, and reopen. If you are interested in donating to help bring Reverie back and better than ever, you can visit the link in our Instagram bio at samuelsseafood. Once Reverie reopens, be sure to visit them online at reveriedc.com to book your next reservation!
The Revival of June BYOB!
By: Kate Emick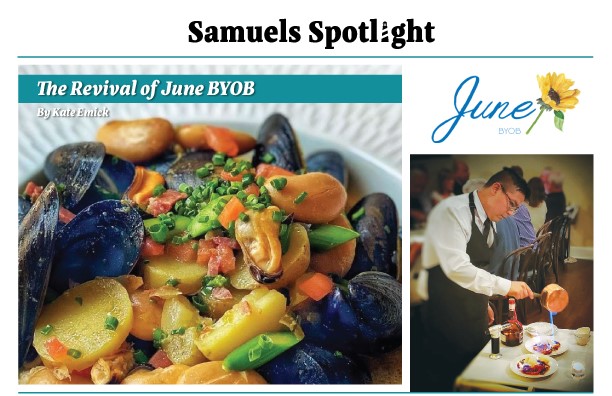 A suburban gem, Collingswood, New Jersey is known for its fine dining scene, shoppable downtown, historical sites, farmers' market, and seasonal festivals. The town's lively main street along Haddon Avenue is home to the upscale, French restaurant, June BYOB.
Owned and operated by husband and wife, Richard and Christina Cusack, June BYOB is changing the food scene in Collingswood.
Named after Chef Rich's mother, June Cusack, Chef's finest memories come from cooking with her inside their South Philadelphia home. After graduating from The Restaurant School of Philadelphia, Chef Rich started his French culinary journey by working with Pierre Calmels at Bibou BYOB, and then at Daniel NYC, Le Bec Fin, Parc Rittenhouse, and Le Cheri. He also had internships at Michelin star restaurants in Paris, France and at one point, Chef Rich even worked at our own Ippolitos Seafood!
In August 2019, the Cusacks opened June BYOB on E Passyunk Avenue in Philadelphia and were quickly named one of the best new restaurants in the city. In October 2020, the Cusacks, just like many other business owners, were impacted by the COVID-19 pandemic and health restrictions caused them to endure the fate of those across the country – shutting down. The husband and wife duo took some time off to save money and search for a new location when they came across their new spot in Collingswood.
Serving traditional French cuisine with modern influences and tableside presentations, June BYOB is unlike any other restaurant in the area. The restaurant serves a classic French dish, Chef Pierre Calmels' Escargot. This is served with sauce bordelaise, royal trumpet mushrooms, fava beans, and tarragon. A popular choice by guests is their Choucroute de Turbot, which is roasted Turbot, braised Napa cabbage, Crayfish, pink radish, and baby turnip. The beef wellington and duck served three ways are also favorites by customers.
The ambiance at June BYOB is similar to that of Versailles; gray walls, white linens, and gold flatware. Inside the 42 seat restaurant you will also find a fireplace with a loveseat and a coffee table to gather after dinner.
Throughout the year, June BYOB holds special events like four course vegan tastings, wine events, and in the future Chef Rich says he would love to host a seafood dinner. "I am always looking to expand my cooking," he says.
Open Wednesday through Saturday 5pm to 9pm, reservations are highly suggested, especially on weekends. For more information you can visit them online at junebyob.com or on Instagram @junebyob.
Explore New Hope at The Logan Inn!
By: Kate Emick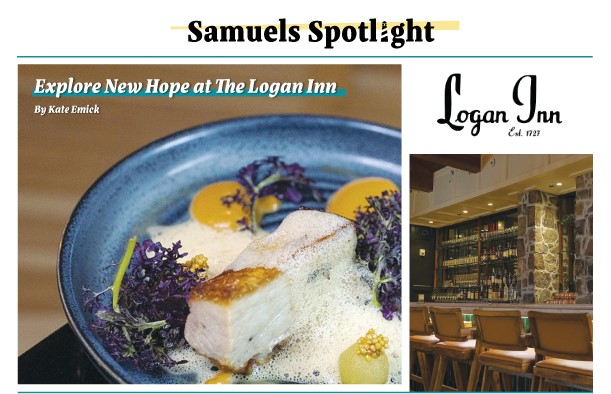 New Hope, located in eastern Pennsylvania, is located directly adjacent to the Delaware River. A scenic town, New Hope is home to riverside dining, a broad-range of shops, and an assortment of cultural attractions. With over 200 years of history, the town of New Hope is one of Bucks County's premier restaurant destinations.
Dubbed as the longest running inn in the country, The Logan Inn is a tourist's dream, giving guests the option to eat, drink, stay, explore, and celebrate!
Looking for a weekend getaway this summer? The Logan Inn provides sixteen original rooms and twenty two recently added rooms, all sharing a distinct interior of historic authentic luxury and contemporary art and design. Suites feature suspended fireplaces, modern soaking tubs, and a complete mixology station with artisanal spirits, house made mixers, and king cube ice blocks.
Next time you visit The Logan Inn, be sure to dine at its restaurant called Ferry and Main. A comfortable place to gather with friends near the fireplace, grab a drink on the patio, or enjoy a three-course meal in the dining room, Ferry and Main is the place to be! Take a trip back in time with the restaurant's historic dining room which holds four dramatic, round chandeliers, which dangle from on-site constructed oak ceilings.
Showcasing modern American cuisine, Chef Greg Vassos has introduced a farm to table concept, creating dishes with only the finest and freshest ingredients. During the summer months, one of the restaurant's most popular menu items is their Soft Shell Crab dish which is corn tempura fried and served with Brussel sprout leaves. Another popular option is their pekin duck breasts which are dry-aged for fourteen days and accompanied by Castle Valley Mills spelt, Easter egg radish, black plums, taré, and bee pollen. The restaurants raw bar is a favorite by many guests as well which includes everything from Oysters to Clams, whole Maine Lobsters, Shrimp cocktails, and much more.
The restaurant's open kitchen-style dining experience gives way to a 360 degree bar area and an open fire concept. By using several GrillWorks grills, the restaurant can start as many as four to five fires at one time; roasting, searing, grilling, hanging, and smoking a handful of items. Handcrafted cocktails and beverages are served at the expansive main bar, comprised with an industrial aesthetic of copper and stainless steel.
Located less than two hours from New York City, The Logan Inn is the perfect venue to host your wedding, getaway, or business retreat. Whether you're looking for innovative menus, specialty cocktails, or superb service, The Logan Inn is sure to make your event extraordinary!
This summer, take advantage of all the fun activities that New Hope has to offer and be sure to stop by The Logan Inn for a bite to eat and more! For more information you can visit them online at loganinn.com.
Lark – Bringing New Heights to Bala Cynwyd
By: Kate Emick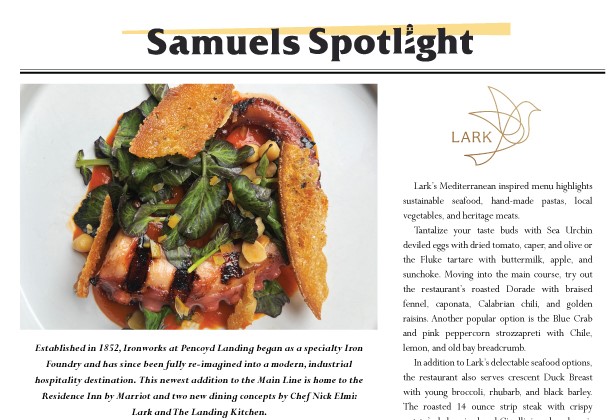 Established in 1852, Ironworks at Pencoyd Landing began as a specialty iron foundry and since then it has fully re-imagined into a modern, industrial hospitality destination.
This newest addition to the Main Line is home to the Residence Inn by Marriot and two new dining concepts by Chef Nick Elmi: Lark and The Landing Kitchen.
Massachusetts native, Chef Elmi, has quite an accomplished background in the restaurant industry. After winning season 11 of Bravo's Top Chef in 2014, Chef Elmi ventured off to Philadelphia to open Laurel, a French-American restaurant that earned many accolades since its debut. Chef Elmi followed up this popular restaurant with a contemporary cocktail bar right next door called In the Valley. This name comes from the Lenape translation of "Passyunk," the street in which both restaurants reside. In September of 2019, Chef Elmi published his first cookbook, Laurel: Modern American Flavors in Philadelphia. In early 2021, Chef Elmi took time to focus on launching his next eateries, Lark and The Landing Kitchen.         
Located on the seventh floor of the hotel, overlooking the Schuylkill River and Manayunk, Lark's innovative menu with stunning rooftop views is bringing a one-of-a-kind dining experience to the Main Line.
Start your evening in the intimate and inviting Lounge or choose a seat at the bar for one of Lark's signature cocktails. To name a few, the "Gotcha!" made with mezcal, green chartreuse, and maraschino is a delicious choice or the "Uh-huh Honey" with vodka, pineapple, honey, and ginger is another fun option. In addition to unique cocktails, Lark also offers a thoughtfully curated wine list and an assortment of beer, cider, and non-alcoholic beverages.
Lark's Mediterranean inspired menu highlights sustainable seafood, hand-made pastas, local vegetables, and heritage meats.
Tantalize your taste buds with Sea Urchin deviled eggs with dried tomato, caper, and olive or the Fluke tartare with buttermilk, apple, and sunchoke. Moving into the main course, try out the restaurant's roasted Dorade with braised fennel, caponata, Calabrian chili, and golden raisins. Another popular option is the Blue Crab and pink peppercorn strozzapreti with Chile, lemon, and old bay breadcrumb.
In addition to Lark's delectable seafood options, the restaurant also serves crescent Duck Breast with young broccoli, rhubarb, and black barley. The roasted 14 ounce strip steak with crispy potato's, balsamic glazed Cipollini, and a salmoriglio sauce is another fan-favorite.
End your meal with a decadent dessert option. Caramelized Basque cheesecake with a sour cherry confit, coffee budino with cocoa crumble and whipped rum, or the Lark hazelnut praline chocolate bar, are all perfect endings to a night out.
Step outside to the rooftop terrace to cozy up by the fire or view a beautiful sunset this summer. Book your next visit at larkpa.com or check them out on Instagram at lark_pa.
Terrace Tavern – Family, Food, & Fun in LBI
By: Kate Emick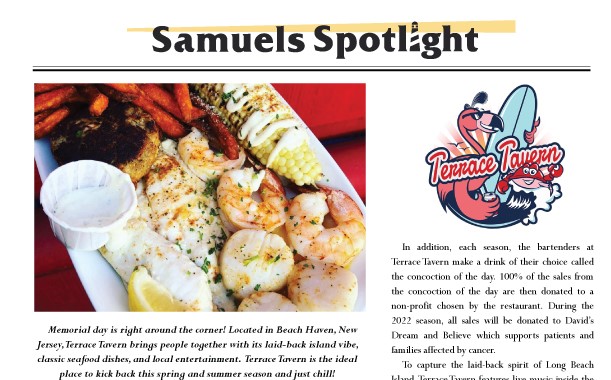 Memorial day is right around the corner! Located in Beach Haven, New Jersey, Terrace Tavern brings people together surrounded by a laid-back island vibe. From classic seafood dishes to refreshing cold drinks, and local entertainment, Terrace Tavern is the ideal place to kick back this spring and summer season and just chill!
Family owned and operated since the 1980's, Terrace Tavern has been sharing their passion for good food and a fun environment with the local community for three decades.
With a variety of fresh seafood, signature soups, salads, and sides, the menu at Terrace Tavern is sure to please everyone. Classic seafood options such as crispy fried Calamari with bang bang sauce, and Clams Casino with hot peppers, onions, garlic, Swiss, and bacon, make for perfect appetizers. A menu item to entice all seafood lovers alike is the grilled Tuna sandwich with seaweed aioli and cucumbers on a brioche bun. If you're looking for a fun and unique option, try out the restaurant's New England Chowder fries with bacon, chives, and cheddar!
Take a trip down the shore and enjoy Terrace Tavern's twist on a Cuban sandwich with their signature Jersey Cuban. This delicious sandwich is full of pulled pork, pork roll, pickles, Swiss, and mustard on a grilled ciabatta roll. Speaking of pulled pork, the restaurant recently added a pulled pork waffle to their menu for something new and different. The dry aged pub burger with pimento cheese, onion straws, and garlic aioli is another fan favorite by locals.
Enjoy Terrace Tavern's great food with their signature cocktails, beer, and wine. The Bob Marley with deep eddy's sweet tea vodka, lemonade, and mint or the black and blue mojito with Bacardi Limon, blueberries, blackberries, mint, and lime are both flavorful offerings on a warm summer day. In addition, each season, the bartenders at Terrace Tavern make a drink of their choice called the concoction of the day. 100% of the sales from the concoction of the day are then donated to a non-profit chosen by the restaurant. During the 2022 season, all sales will be donated to David's Dream and Believe which supports patients and families affected by cancer.
To capture the laid-back spirit of Long Beach Island, Terrace Tavern features live music inside the restaurant Friday through Sunday. This includes everything from reggae to rock music, "shore" to bring good vibes.
Recently, Terrace Tavern opened an outside patio area, a dream space for private parties and events. Known as "The Backyard of the Terrace," this wide-open, spacious patio has tented dining along with a cocktail and raw bar, all catered by the restaurant. Its beautiful landscape makes for an ideal venue for all occasions.
On Mother's Day, treat mom to a day out at Terrace Tavern for a delicious meal and beautiful flowers provided by the restaurant.
Come be a part of the fun at Terrace Tavern! Good food and good times all summer long. For more info, visit them online at terracetavernlbi.com or on Instagram at theterracetavern.
Mola- Twenty Years in the Making
By: Kate Emick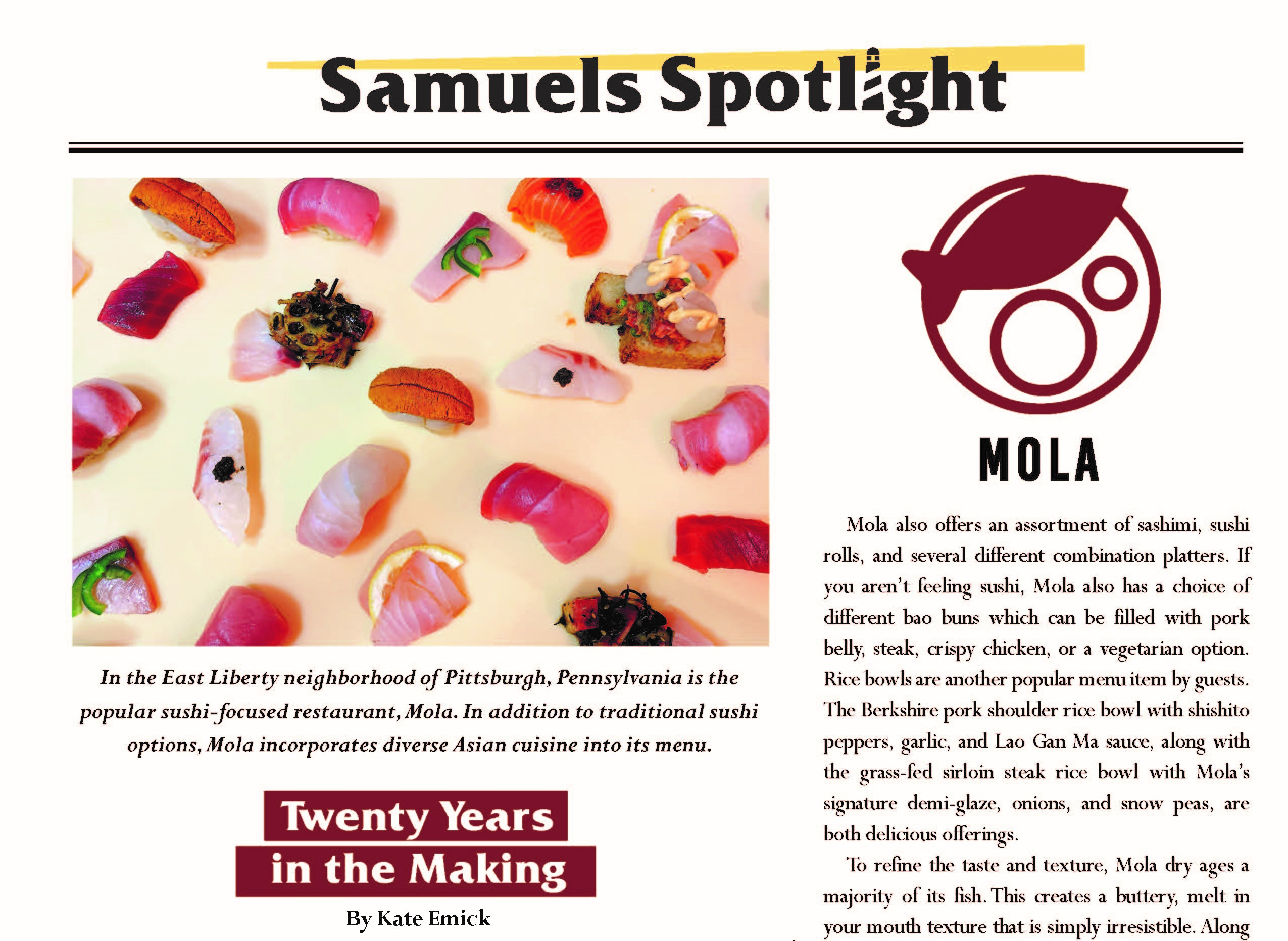 In the East Liberty neighborhood of Pittsburgh, Pennsylvania is the popular sushi-focused restaurant, Mola. In addition to traditional sushi options, Mola incorporates diverse Asian cuisine into its menu.
Owner and Chef, Alex Tang, vividly remembers the time he spent with his grandmother and mother as a child and the variety of Asian food they would prepare. Throughout his life, these memories stuck with Tang and have inspired him to apply non-traditional and unique cooking techniques to an American audience. With help from his partner in crime, Mimi Lee, the two used their knowledge and passion for food to open the Asian inspired restaurant we know today as Mola.
The name Mola has an interesting back story. Tang and his friends have always enjoyed game nights with puzzles. One night when they were putting a puzzle together which involved pictures and names of many different fish, one in particular stuck out. You guessed it, Mola! Otherwise known as Sunfish, Mola is a bullet-like shaped fish because of its somewhat circular shape and are often found in tropical oceans around the world, frequently basking in the sun.
As well as having a unique name, Mola's logo is just as interesting. Tang says sometimes customers refer to the logo as someone's face or as a plate of food. When asked what inspired the logo, Tang replied that he intended for it to be a person's face.
Mola prides themselves on only using the freshest, healthiest ingredients. Whether its hand rolls, rice bowls, or bubble tea, Mola serves only the highest quality ingredients and better yet, their food is never deep-fried, compared to other sushi restaurants.
Start your meal at Mola off with the Tuna tartar, spicy edamame, or maybe air-fried Shrimp tempura. Mola also offers an assortment of sashimi, sushi rolls, and several different combination platters. If you aren't feeling sushi, Mola also has a choice of different bao buns which can be filled with pork belly, steak, crispy chicken, or a vegetarian option. Rice bowls are another popular menu item by guests. The Berkshire pork shoulder rice bowl with shishito peppers, garlic, and Lao Gan Ma sauce, along with the grass-fed sirloin steak rice bowl with Mola's signature demi-glaze, onions, and snow peas, are both delicious offerings.
To refine the taste and texture, Mola dry ages a majority of its fish. This creates a buttery, melt in your mouth texture that is simply irresistible.
Along with a variety of bubble tea, Mola offers an extensive array of teas, soda, and vero bottled water, a five-step filtration system. This comes with unlimited refills for the table and can be brought in for your next visit at a discounted refill price. Alcoholic options range from beer to wine, specialty cocktails, sake, and Japanese whiskey.
End your meal with Mola's decadent matcha cheesecake or the Nutella banana boa bun!
To ensure a seat at the table, Mola recommends making reservations. Don't miss out on everything Mola has to offer. Take a trip to 6018 Penn Ave in Pittsburgh or visit Mola online at themolafish.com
Via Locusta – Pasta Perfection Nestled in Rittenhouse Square
By: Kate Emick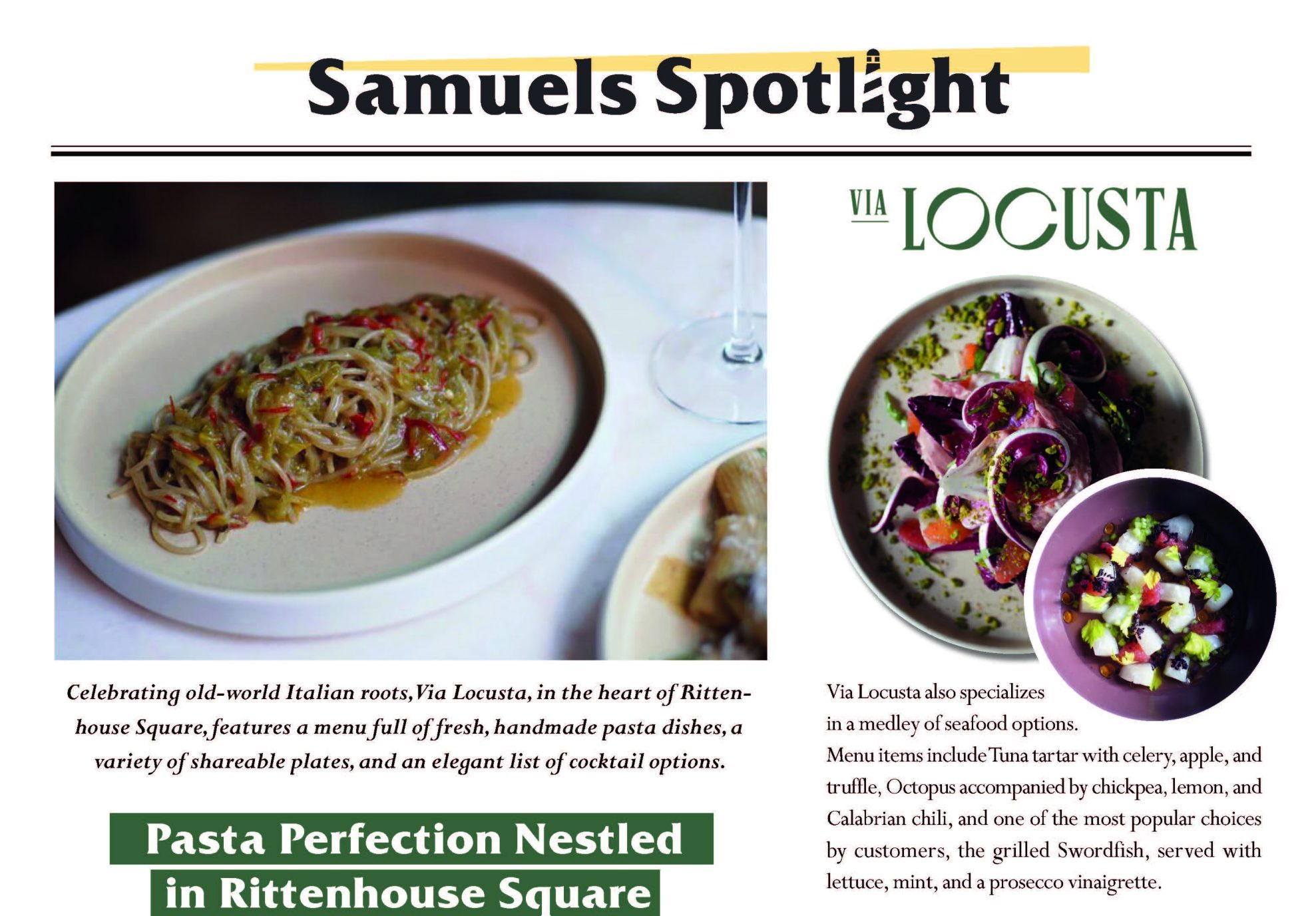 Celebrating old-world Italian roots in the heart of Rittenhouse Square, Via Locusta, features a menu full of fresh, handmade pasta dishes, a variety of shareable plates, and an elegant list of cocktail options.
Award-winning chef and restauranteur, Michael Shulson, is one of Philadelphia's most successful hospitality professionals. Shulson graduated from the Culinary Institute of America and from there he has worked his way up the ladder at some of the nation's top acclaimed restaurants. From New York's Peacock Alley at the Waldorf-Astoria Hotel to David Burke's Park Avenue Café, and Philadelphia's Le Bec-Fin and Susanna Foo, Shulson is a wealth of knowledge in the food industry. Today, you can find over fourteen restaurants in Shulson's collection.
Executive chef, Ed Pinello, has worked with Shulson since the opening of Via Locusta in 2019. Together they have created an intimate, pasta focused restaurant that has been a huge success in Philadelphia. Executive sous chefs, John Silver and John Flanagan have also been crucial members to the Via Locusta culinary team.
Serving modern-Italian cuisine, Via Locusta is known best for its homemade pasta. The restaurant sources locally fresh milled flour in a selection of ten to twelve rotating menu options. Whether you are looking for tortellini, pappardelle, garganelli, spaghetti, ravioli, or bucatini, Via Locusta has all of your favorite traditional pastas, but with a twist!
Take a trip to Via Locusta and try the pappardelle with pork ragu bianco and thyme or the tortellini with duck, chestnut, and truffle buratta. Other must try dinner choices are the roasted suckling pig with fig, dandelion greens, and au jus, and the 16 oz New York strip steak, served with arugula, rosemary, and tomato conserva.
Via Locusta also specializes in a medley of seafood options. Menu items include Tuna tartar with celery, apple, and truffle, Octopus accompanied by chickpea, lemon, and Calabrian chili, and one of the most popular choices by customers, the grilled Swordfish, served with lettuce, mint, and a prosecco vinaigrette.
In addition to delicious Italian cuisine, Via Locusta has a range of unique cocktails to offer as well. With your next meal, order the Grazie Millie with vodka, lime, and Asian pear, or maybe the L'Amarena with bourbon, cherry, and lemon. The restaurant also serves in-house beer, wine, and spirits at its popular bar area.
The trendiest spot for all restaurant connoisseurs, visit La Locusta at 1723 Locust Street, Philadelphia or online at vialocusta.com.
Shellhouse Seafood – A Family Tradition for All Things Seafood
By: Kate Emick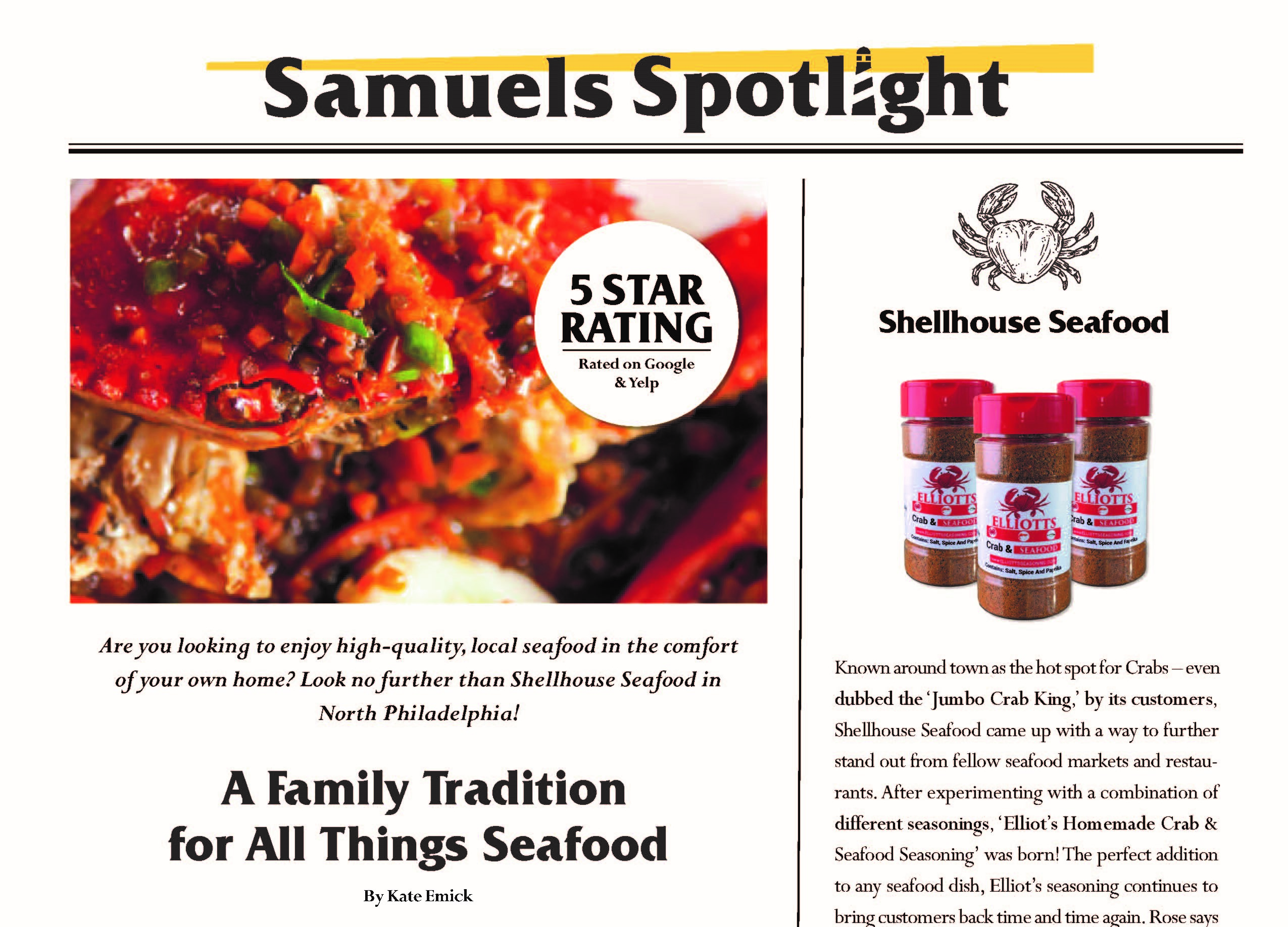 Are you looking to enjoy high-quality, local seafood in the comfort of your own home? Look no further than Shellhouse Seafood in Philadelphia!
For over 30 years, Shellhouse Seafood has been providing the local community with all of their favorite seafood. From beautiful King, Dungeness, and Snow Crab Legs to Mussels, Oysters, Clams, Salmon, and Tuna, Shellhouse Seafood is happy to serve you.
If you can't decide what to have for dinner tonight, Shellhouse Seafood's take-out menu is the perfect choice! A quick, healthy option that is ready in just minutes is sure to satisfy everyone at the dinner table. Accompany your seafood feast with French fries, your favorite homemade salad, or delicious chicken wings.
Elliot Timms and his family have had a passion for sourcing sustainable, local seafood since 1991. From the start, the Timms family have owned and operated Shellhouse Seafood and some of their fondest memories come from preparing and eating different seafood-based dishes together.
Since opening Shellhouse Seafood in the early 90's, the Timms family has always been dedicated to providing only the best seafood to the local community. Elliot's wife, Rose, says that her favorite thing about Shellhouse Seafood is giving back to the community. Throughout the years, Shellhouse Seafood has aimed to create a comfortable, family-friendly atmosphere that creates happy and positive memories for families. More than just providing good tasting seafood, Shellhouse Seafood strives to give their customers memories that will last a lifetime.
In addition to high-quality, delicious seafood, Shellhouse Seafood also sells popular grocery items as well. Take a trip to a local seafood market where you can also pick-up milk, bread, produce, and of course Elliot's Crab Seasoning!
Known around town as the hot spot for Crabs – even dubbed the 'Jumbo Crab King,' by its customers, Shellhouse Seafood came up with a way to further stand out from fellow seafood markets and restaurants. After experimenting with a combination of different seasonings, 'Elliot's Homemade Crab Seasoning' was born! The perfect addition to Crabs or any seafood dish, Elliot's Crab Seasoning continues to bring customers back time and time again. Rose says with a laugh, "It's very good and quite addictive. The customer's love it."
Next time you are in the area, stop by Shellhouse Seafood, located at 5040 Belfield Ave. Pick-up your favorite type of fresh seafood along with the delicious, must-have Elliot's Seasoning, and more! Maybe you have a busy week and need a quick and easy dinner option, or you are looking for the ideal Valentine's Day feast. If so, Shellhouse Seafood is there for you!
Ambrosia Ristorante BYOB – South Philadelphia's Newest Italian Eatery
By: Kate Emick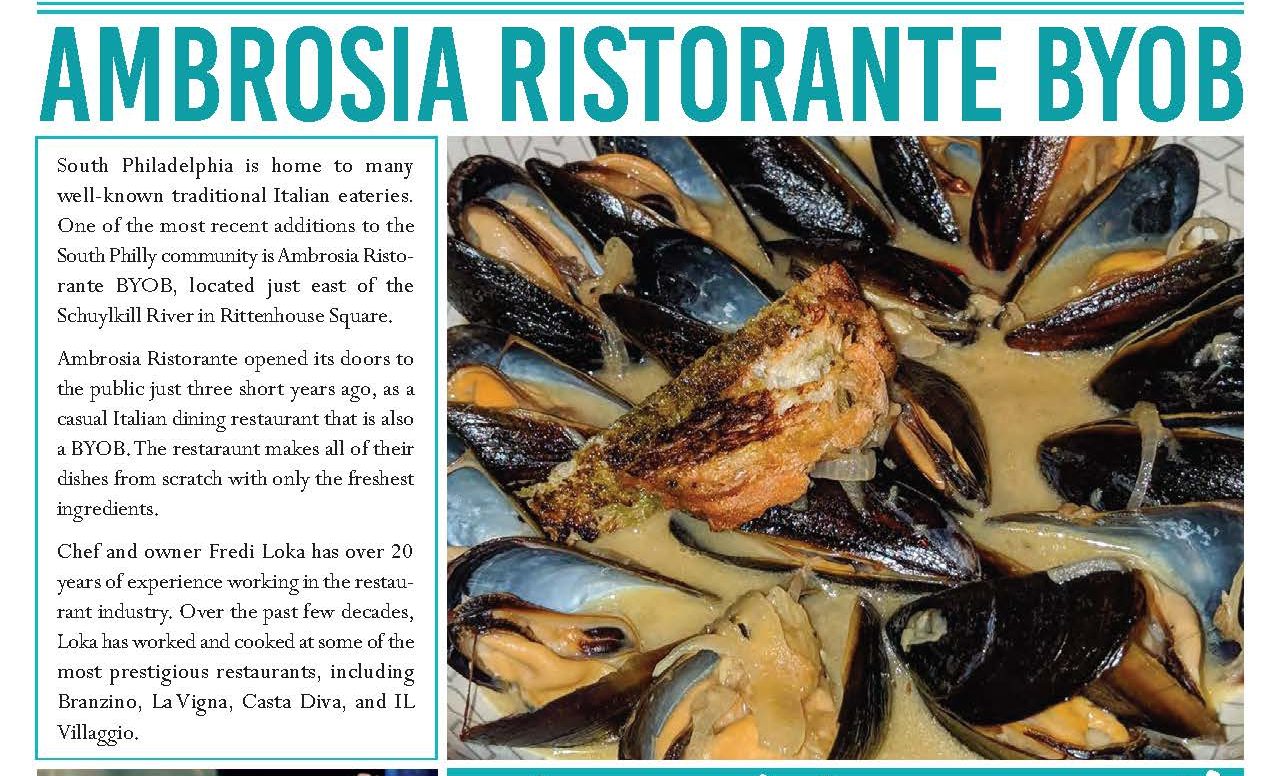 South Philadelphia is home to many well-known traditional Italian eateries. One of the most recent additions to the South Philly community is Ambrosia Ristorante BYOB, located just east of the Schuylkill River in Rittenhouse Square.
Ambrosia Ristorante opened its doors to the public just three short years ago, as a casual Italian dining restaurant that is also a BYOB. The restaurant makes all of their dishes from scratch with only the freshest ingredients.
Chef and owner Fredi Loka has over 20 years of experience working in the restaurant industry. Over the past few decades, Loka has worked and cooked at some of the most prestigious restaurants, including Branzino, La Vigna, Casta Diva, and IL Villaggio.
Walking into Ambrosia Ristorante, customers are greeted by vintage brick, gray walls, and dark wooden tables that can seat around 20 people. If customers are looking for an outdoor option, the restaurant provides enclosed, heated seating that sits on the corner of 24th and Locust Streets, beneath a broad awning.
Known for their classic Italian dishes, Ambrosia Ristorante serves everything from homemade ravioli to crispy gnocchi, chicken Milanese, and tortellini filled with mushrooms, mascarpone, and a walnut truffle cream sauce. The pappardelle with short rib ragu and shaved parmigiana continues to be a mouth-watering favorite as well.
In addition to homemade Italian specialties, the restaurant offers a vast array of seafood dishes. Guests love to order the Squid Ink spaghetti which is filled with Calamari, Crabmeat, Calabrian chili, and sliced tomato. The Salmon belly with cucumber, radish, lemon, and olive oil is another popular menu item. If guests are looking for appetizers to satisfy their seafood craving, they can find items like grilled Octopus, Mussels, and Calamari.
Ambrosia Ristorante changes their menu frequently to coincide with seasonality. Offering everything from brunch to lunch, dinner, and classic Italian desserts, the restaurant is sure to impress. Tiramisu, chocolate mousse, Crème Brule, and the fan-favorite pistachio panna cotta, are all decadent endings to a great meal.
Heading out for date-night or a special occasion? Take advantage of the casual yet comfortable, Ambrosia Ristorante, located on the corner of 24th Street and Locust Street, where you can find all of your favorite Italian dishes.
Be sure to make reservations online at ambrosiabyob.com, where you can also view their extensive menu.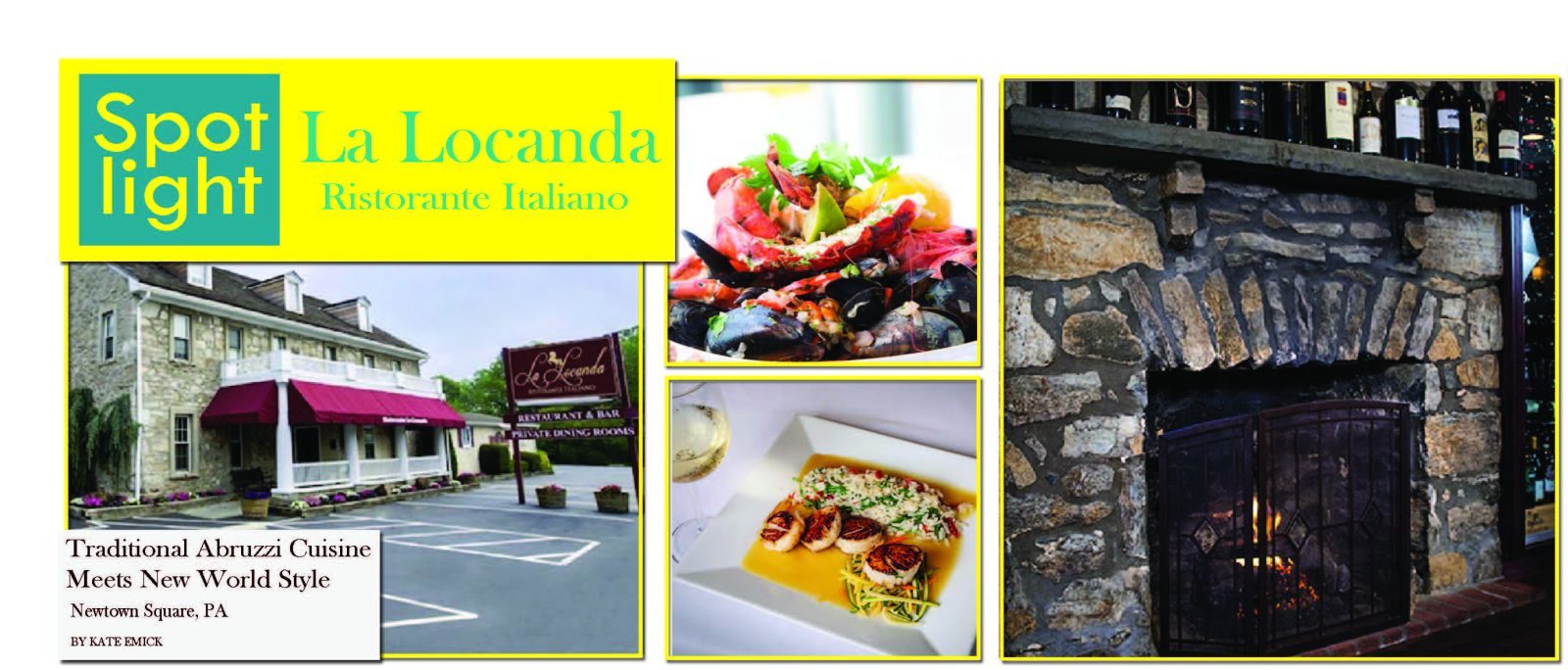 La Locanda Ristorante Italiano – Traditional Abruzzi Cuisine Meets New World Style
By: Kate Emick
Just west of Philadelphia is the small, historic town of Newtown Square, Pennsylvania. In the picturesque downtown area of Newtown Square, you can find designer stores, boutiques, and fine dining restaurants. One of those fine dining restaurants is the popular Italian-inspired restaurant, La Locanda, located just off West Chester Pike.
For nearly 25 years, La Locanda has stayed true to old-world Italian traditions as they have shared a passion for food, wine, and celebrations with the local community.
Franco Stefanatto, the owner of La Locanda, brings many years of culinary and restaurant experience. Stefanatto began his education in northern Italy, where he was born and raised, and where he started his career by working for some of the finest hotels in France and Switzerland. In his travels, Stefanatto also spent some time in Bermuda, where he worked with Princess Hotels. After arriving in the United States, Stefanatto joined the world-famous teams of the Monte Carlo Living Room and Primavera Restaurants in Philadelphia.
Since La Locanda opened in 1997, Stefanatto has worked with a long-time business partner, Mario Palumbi. Similar to Stefanatto, Palumbi was born and raised in Abruzzo, Italy, where he has gained extensive knowledge about fine wine and good food.
From the outside, La Locanda can be distinguished by its vintage stone building. When you enter the doors of the well-known Italian restaurant, people can even find an old-style fireplace dating back to 1789 in the main dining room. Newtown Square is full of historical monuments, and La Locanda is one of them.
When it comes to delicious food, La Locanda has a variety of options. For starters, the restaurant serves dishes like Octopus carpaccio and Prince Edward Island Mussels in white wine and garlic or marinara sauce.
Customers can find everything from soups and salads to homemade pizzas, pasta, seafood dishes, and more. In addition, the restaurant serves classic Italian menu items like penne alla vodka and spaghetti and meatballs.
La Locanda is also known for their top choices in seafood and meat. They continue to serve favorites such as fresh, whole Dover Sole and Bronzino, both deboned tableside. Additionally, customers can find grilled Langostinos served over a sun-dried tomato and arugula risotto, and jumbo pan-seared scallops with julienned vegetables and a limoncello and hazelnut reduction. The restaurant's 8 oz Filet Mignon, double-cut lamb chops, and veal Sorrento are also fan favorites.
La Locanda offers its guests an extensive wine list as well. With over 200 bottles of wine to choose from, guests are bound to find the perfect red, white, sparkling, or dessert wine to complete their gourmet meal. Customers even have the opportunity to view the selection of wines in the restaurant's one-of-a-kind temperature-controlled wine rack in the main dining room.  
As we have reached the holiday season, La Locanda goes all out with their take on the "Feast of the Seven Fishes," a popular Italian tradition that takes place on Christmas Eve. At La Locanda, you can find a three-course meal filled with fried Calamari, a seafood salad with Shrimp and Cuttlefish, Swordfish, Cod, grilled Prawns, and more! For New Year's Eve, the restaurant provides guests with a live DJ, gourmet cuisine, top-of-the-line champagne to ring in the New Year!
When you plan your next trip to Newtown Square, be sure to make reservations at La Locanda, where old-world Italian traditions meet the new world! La Locanda can't wait to celebrate the holidays with you and your loved ones. Visit them online at lalocandapa.com or on Instagram at ristorante_lalocanda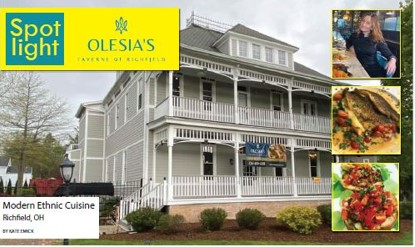 Olesia's Taverne of Richfield – Modern Ethnic Cuisine
By: Kate Emick
Just twenty miles south of Cleveland is the small town of Richfield, Ohio. Located in the historic district of Richfield is the elegant Olesia's Taverne.
Olesia Pochynok, a Ukrainian native, grew up in a small village in Ishkiv, only 41-acres in size. Growing up on a farm, Pochynok appreciated the benefits of using only fresh meats and produce, as her family raised their own animals and grew their fruits and vegetables.
After graduating from law school, Pochynok decided to change her career path. With inspiration from her friends in the restaurant industry, she opened her first restaurant in 2004. From there, Pochynok has thrived in the restaurant industry. In 2012, Pochynok opened her second restaurant, Olesia's Place, located in North Royalton, Ohio.
After eight very successful years at Olesia's Place, Pochynok was looking to relocate because she needed more space, and the area she was in was becoming more industrialized. Additionally, her landlord had other plans for the location; therefore, Pochynok searched for a new spot. Rather quickly, she settled on Richfield's beautiful, rustic Taverne, a well-known landmark in the area since 1886.
The only catch was that the entire building needed renovating. Close to eighteen months of restoration, the building was completed, just as the COVID-19 pandemic had begun. With an opening, sooner than expected, Olesia's Taverne opened its doors in March 2020.
During the construction, Pochynok and her husband Joe wanted to remain true to the Victorian ambiance. The Taverne has three levels which were all lovingly renovated. The basement level has been transformed into an elegant bar with a speakeasy-like atmosphere. Another level to the restaurant is the patio area, where you can find live music each weekend. The third level consists of the main dining area, open at all times, and it also opens up to a smaller room to accommodate private parties up to forty guests. In addition, there is a ballroom on the second floor, holding up to 120 people for formal gatherings like weddings.
Pochynok brings European traditions to her menu while adding her personal flair. On Olesia's Taverne menu, customers can find handmade potato pierogies served with sautéed onions and sour cream. Another popular item on the menu is the stuffed cabbage with mashed potatoes, onions, and a tomato or mushroom sauce.
Olesia's Taverne also has an assortment of seafood dishes. Customers continue to come back and enjoy the blackened Scallops. These U/10 Scallops are served with chef's risotto, house veggies, and a carrot-ginger puree. Customers love ordering the Crab Cake stuffed Salmon, too, accompanied by Olesia's favorite, mashers, lobster sauce, and fried spinach. And then there is the honey apple BBQ pork chops and the grilled pomegranate lamb chops!
Along with traditional European classics, Olesia's Taverne also has a wide range of European beers that you won't find anywhere else.
If you find yourself in Ohio, stop by Olesia's Taverne, where you are sure to find unique Ukrainian-American cuisine, all made from scratch. You can visit them online at olesiastaverne.com for more information.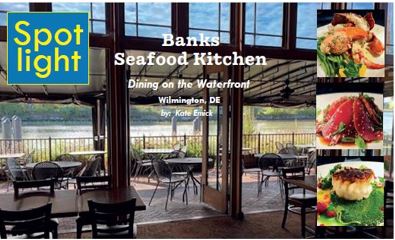 Banks Seafood Kitchen – Dining on the Waterfront

By: Kate Emick
An iconic spot along the Wilmington riverfront is Banks Seafood Kitchen. Known for its exceptional raw bar, beautiful views, cocktails, and chic atmosphere, Banks Seafood Kitchen is the perfect place to gather with family and friends.
The moment guests walk into Banks Seafood Kitchen, they are welcomed by stunning décor featuring vaulted ceilings, artwork from local artists, and the restaurant's largest decoration, a fiber-optic Starfish, located on the ceiling of the dining room.
Owner and Chef David Banks has been in the restaurant industry for over thirty years. Previously, Banks was the Corporate Executive Chef of Harry's Hospitality Group and co-owner of Harry's Seafood Grill, Harry's Fish Market and Grill, and Kid Shelleen's Charcoal House and Saloon. These restaurants have been staples in the Wilmington area and surrounding cities since 1988. Within a few years and with great success, Chef Banks opened Harry's Savoy Grill, which expanded in 1998 to include the lavish Harry's Savoy Ballroom. During the spring of 2018, Chef Banks re-branded the restaurant, creating Banks Seafood Kitchen and Raw Bar.
Chef Banks uses his diverse food background to create innovative, frequently changing menus that change daily. A few popular dishes you can find at the glamorous waterfront restaurant are their award-winning broiled Jumbo Lump Crab Cakes with a micro salad, Chile-lemon and corn puree, and tobacco onions. Another menu item many customers order is the Lobster Cioppino and Rouille Crouton made with Maine Lobster, Mussels, and Shrimp in a shellfish broth. These dishes are essential menu items for the seafood-based restaurant.
Personally, Chef Banks says that one of his favorite dishes is the pan seared Sea Scallops, crusted with pistachio barley and served with a spiced butternut squash puree and a cherry chutney.
Banks Seafood Kitchen has one of the finest raw bars in the area. On the top of the menu, customers can find the restaurant's featured Oysters for the day, served on the half shell. Since the restaurant opened in 2018, they have shucked nearly three million Oysters. Oysters you can find on the menu include Blue Points from Connecticut, Sex on the Bay from New Brunswick, Dabob Bay from Washington State, Kusshi from British Columbia, and more.
In addition to Oysters, the raw bar also serves a Jumbo Shrimp cocktail, Topneck Clams on the half shell, Ahi Tuna tartare, Scarlet Snapper ceviche, and several equally delicious options.
If you are looking for non-seafood fare, Banks Seafood Kitchen serves either a 12 oz New York strip steak or an 8 oz filet mignon.
Along with an extensive fresh seafood selection, Banks Seafood Kitchen offers nearly fifty wines by the glass, over twenty varieties of beer, and an assortment of signature cocktails. Take a trip to Banks Seafood Kitchen to order cocktails like the lemon pomegranate martini, cucumber-jalapeno Paloma, and white peach sangria.
Head on over to Banks Seafood Kitchen for all things seafood at 101 S. Market Street, Wilmington, Delaware. Also, be sure to check out Chef Banks on Chef's Kitchen every Sunday morning on NBC at approximately 7:20 am!