Cafe Martorano, South Philly Italian Food with a "Spin"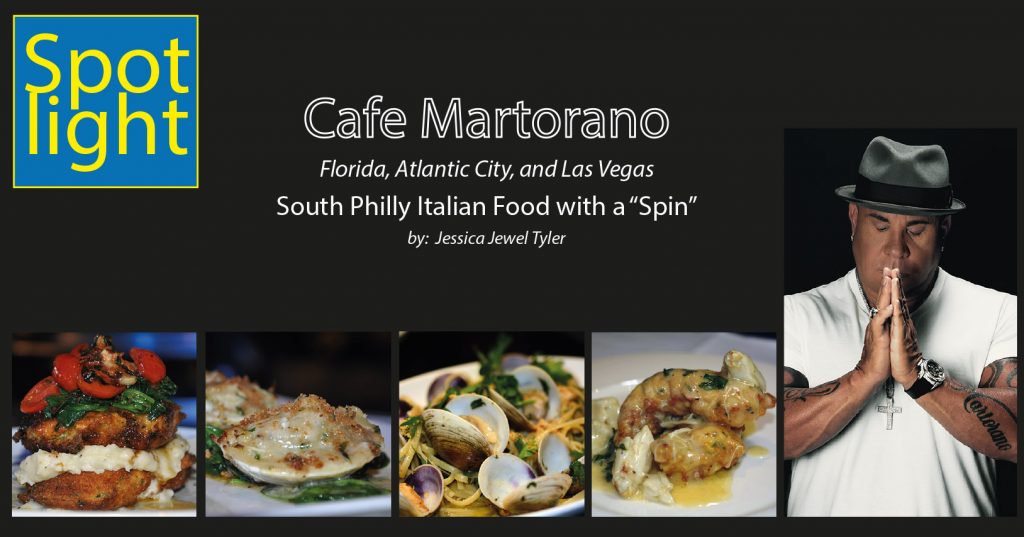 "Yo cuz!" belts Philadelphia Native, Steve Martorano. His catchy signature phrase encompasses his life along with his philosophy of food, family, and giving back in just two words. According to Martorano, it symbolizes that we are all connected, meaning we should speak to, care for, and feed those around us as such. Growing a reputation as the neighborhood cook from his South Philadelphia basement, Martorano learned this and much more. Now this phrase is associated with Martorano's television presence, apparel line, and multiple restaurant concepts including Café Martorano. Steve Martorano is the "most famous chef that you haven't heard of."
When starting out, Steve Martorano didn't know much about the food business, he only knew how to survive. In order to find a way to succeed without falling into a mob lifestyle like many neighbors, he started DJing in local pubs and selling sandwiches door to door. This was much to the chagrin of the local police who fought to shut down his speak-easy style delicatessen time and time again.
Steve Martorano even tried to start a restaurant in Philadelphia, but after the economy crashed, he decided to start over. A friend invited him to Florida to look at a few locations and see if anything caught his eye. At first, nothing seemed to "spark anything." He had almost given up, but his friend insisted he see one more. "If I didn't stop to look at it, I'd be dead or in jail," reminisced Steve. As he stood under a pink awning on a very small building with good bones and an open kitchen, he imagined a place where he could spend his time cooking every night.
To this day, Steve Martorano is still working the line every time he's at one of the three locations of Café Martorano's. He says he has a "passion of food, getting it right and seeing his customers happy." His menu focuses on the simple home cooked Italian cuisine that he grew up with, but with more quality ingredients. "I'm using the best-quality extra virgin oil from Italy; top-of-the-line, imported pasta, and only San Marzano tomatoes, the best tomatoes in the world," Steve revealed. He learned this "secret" around 30-40 years ago when traveling down Mulberry Street in New York. While dining at an Italian eatery he ordered linguini and Clams, watched them shuck the Clams, brown the fresh garlic, and chop fresh parsley. He (and many others at the time) had never witnessed this fresh technique. Growing up in South Philly, he and his neighbors often enjoyed this meal prepared with canned Clams and bottled herbs. This was a day Steve Martorano's passion was reawakened and he vowed to bring this better way of cooking back home with him.
"We couldn't keep up at first" says Steve. He cooked each dish to order, including each portion of pasta and protein. This was difficult, but Steve held to this standard that he calls "à la minute." Steve insists that he had no expectation of the fame he would achieve, but his cuisine gained so much notoriety that celebrities and T.V. chefs began to make it their second home. In fact, his meatballs have been featured on Jimmy Kimmel, The Today Show, and "The Best Thing I Ever Ate." They are a carnivore's dream using beef, pork, and veal, with pig's feet, ribs, and pig-skin bracciole in the sauce for extra flavor.
Seafood lovers will also be happy to see Steve's favorite, Linguine and Clams, served on the menu along with Lobster Francaise and Spaghetti Pescatore. Steve loves featuring seafood, but at first it was difficult to meet his mark. "Fortunately, I have Samuels, they are able to achieve our standards of quality and consistency across all three locations of Café Martorano throughout the country," says Steve excitedly. For this reason, he likes to experiment with seafood for specialty menus as well. For example, his comforting "Grouper stack," a play on his "eggplant stack," displays stacked fried grouper with mashed potatoes, cherry tomatoes, and spinach. Martorano also talks about one of his favorite South Philly restaurants called "The Saloon" and their Clams Pavorotti. He pays them homage with his Clams Martorano, composed of Clams stuffed with Crabmeat, Shrimp, and a creamy bechamel sauce.
Martorano's concept of Philly favorites mixed with fine dining has just one more "spin." Since Martorano started his career "spinning" records, his restaurant features a DJ booth and a wild party atmosphere at night! You won't want to miss it.