The Victor Cafe – Music Lovers Rendezvous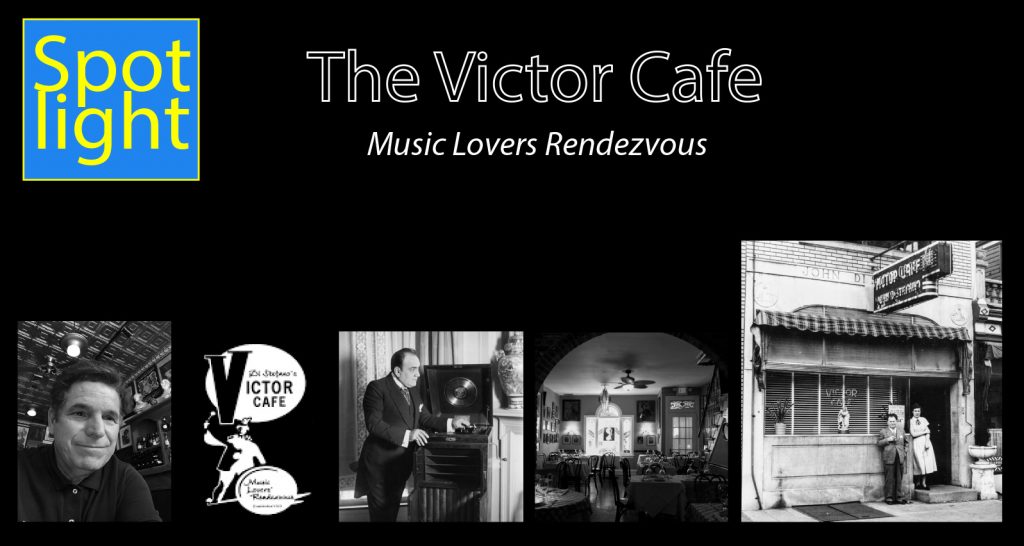 In response to the COVID-19 crisis, Greg DiStefano, the third-generation owner of Victor Café, recently re-opened for take-out and delivery business. It's a first for his century-plus old South Philadelphia landmark, which is perhaps best known as the fictional Adrian's Restaurant from the "Rocky" franchise.
"It's the first time in a hundred years that we're doing this," DiStefano said. "You have to adapt to stay viable. It's the only way to survive."
DiStefano's pivot to lessen the coronavirus' economic toll, mirrors the adapt-to-survive tactics his grandfather and generations between them have repeatedly employed to keep the business solvent.
Back in 1918, when his grandfather, John, first opened his Gramaphone shop – hence the 'Music Lovers' Rendezvous' designation – Philadelphia was in the grips of another deadly global pandemic, the Spanish Flu. By years' end, it would claim the lives of more than 16,000 of the city's residents, and millions more around the world.
Sheer perseverance, top-notch hospitality and a passion for music – not to mention precautionary measures to slow the spread of Spanish Flu – Victor Café survived the worst infectious disease outbreak since Black Death swept Europe in the 1300s. That same nimbleness allowed Victor Café to withstand many of tests time would dole out in the decades following. Two world wars, multiple economic downturns and a dwindling demand for opera recordings among them.
First came the value-added espresso and spumoni served to the music-lovers who visited the shop in its earliest days in search of new opera records. During the Great Depression, the menu was expanded to include sandwiches and other modestly priced small plates, which customers could enjoy while listening to the shop's records for free. Following Prohibition's repeal, yet another opportunity presented itself, a liquor license. With that came a new focus that would ultimately redefine the business forever.
To meet his clientele's changing needs, he shifted from selling records and record players to serving a more expanded menu of Italian-American fare. The music itself went from wax pressings to real life performances by patrons and visiting opera stars right there in the dining room. To this day during dinner service, singers perform every 15 to 20 minutes, filling the dining room with their tenor and mezzo-soprano voices. Since the 70s, the café's talented staff handles the nightly performances.
Now more than a century later, and in the midst of another global health crisis, stay-at-home orders, a bottomed-out economy and a nebulous at best plan to return to some sense of normalcy has restaurant-goers skittish about risking infection and spending money as economic uncertainties loom. Like his grandfather, who transformed a record store into a restaurant, DiStefano is adapting to meet the challenges of the day.
"It's not exactly rocket science," he said. "Obviously we had to make changes in order for it to work."
Chief among those changes were tweaks to Victor Café's menu to make the meals better suited for a to-go format, and a little easier on the wallet.
"We're focusing on neighborhood favorites," Distefano explained. "And we have to be more competitive with prices."
Like dine-in service, sumptuous dishes ordinarily served tableside like porcini mushroom and gorgonzola stuffed ravioli and whole fish presentations are currently on hold. Now satisfyingly simpler comforts like chicken parmesan, linguine and clams and penne puttanesca top the bill of fare. He also offers a multicourse banquet option, which was a big hit for Mother's Day. He expects a repeat for graduation and Father's Day celebrations in the coming weeks.
"It's an unbelievable deal for a family," DiStefano said. "You get three courses and dessert, and it all works out to about $25 per person."
As for the music? That too was modified. Staying true to that Music Lovers' Rendezvous epithet, he devised a workaround for the social distancing guidelines that keep his dining room empty. As customers line up outside – six feet apart, obviously – to pick up their orders every Thursday through Sunday evening, DiStafano throws open the café's second story windows at 6:00 pm sharp so his staff can perform for patrons below. Each night, one singer performs two arias, lasting about 15 minutes each.
"Who knows what the restaurant business will look like once we come out of this thing," DiStefano said. "But until we do, we're going to keep doing what we do best, have some fun and learn a thing or two as we go."
To place an order with Victor Café, please visit www.victorcafe.com