Maplewood III, Vineland, NJ – Strong Roots and Strong Branches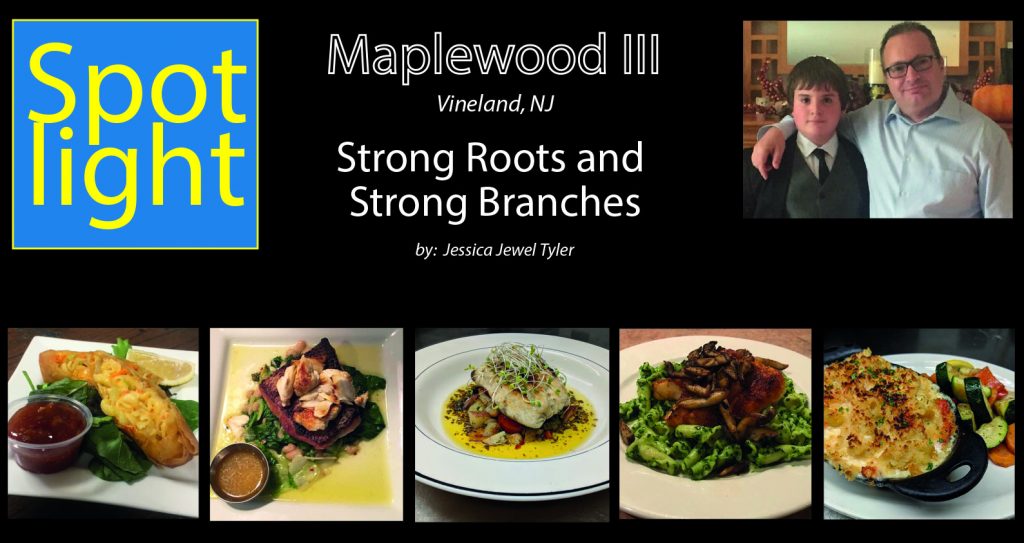 Maplewood III, Vineland, NJ
Strong Roots and Strong Branches
by: Jessica Jewel Tyler
The warm and charming Maplewood locations are far from a chain restaurant and more like a "tree" restaurant. Named after the large Maplewood tree that overlooked the first location long ago, the Maplewood restaurants have branched out into four separate family owned and operated locations in New Jersey. Although the apple doesn't fall far from the original tree, each location is run by a different family member and is just a little bit different in a special way. Esposito's Maplewood III in Vineland, New Jersey for instance, is known for its seafood which comprises over 50% of the menu!
In 1945, the first Maplewood location was born in Hammonton, NJ and nearly twenty years later restaurateur Joe Italiano left the restaurant in the hands of his son, Joe Italiano Jr., and his son in law, Howard Esposito. They went on to open Maplewood II in Mays Landing and Maplewood III in Vineland, NJ. Howard fell in love with Maplewood III and decided to focus his attention on this location while the rest of the family continued to run the others.
Maplewood III was different. Because of the residential area it's located in, the business required a more creative and varied menu with many new daily specials. Vineland is a close-knit community, not a destination like the other locations, so customers may dine there as often as 2 or 3 times a week. This forces the restaurant to constantly innovate. There was also a great opportunity to fill the local demand for seafood. This was quite demanding, but allowed them to use more culinary artistry and skill. For the Esposito family, it was a thrilling opportunity and a deeply gratifying challenge.
After nearly 40 years of success and accolades, Howard's son, Ken Esposito, is now leading the team. Ken started out as a dishwasher at the age of sixteen and learned to cook with his parents during his summers. While growing up, Ken worked his way through every aspect of the restaurant until he became the head chef, kitchen manager, dining room manager, and now owner. Because of this history, there is a lot of pride behind the Maplewood III's name. Ken, who has the original menu hanging in his office, maintains the same quality, philosophy, and passion that brought Maplewood III such a big audience in 1983.
The other ingredient that keeps customers coming back is the innovation. In line with the newest trends, Maplewood III has introduced Oysters both raw and cooked like Fried Oysters and Oysters Casino. Seafood in general has been a huge draw to Maplewood III. They have even been awarded in The Best Seafood and Best Italian categories of the Local Daily Journal.
This comes after years of constantly striving to provide what their customers want. The daily specials are like a playground for Ken and Head Chef, Andrea Perez, to develop new ideas that will satisfy the town's ever-changing tastes. Currently, they are featuring Shrimp & Lobster Francaise prepared with a white wine lemon sauce and pan seared Hybrid Striped Bass topped with a roasted corn and chickpea relish. The delightful mix of flaky, meaty flesh paired with the rich yet fresh and delicate taste of this unique fish is faring well to impress! Ken says his guests rely on seafood to make their dining out experiences special every time and he most looks forward to the moments his guests try something new and make a memory at Maplewood.
Maplewood III is an excellent example of how to offer guests unique dishes while still holding true to the classics like Shrimp Scampi and Crab Gravy. In doing so, the Esposito family pays great homage to all Maplewood restaurants but more importantly to their own family tree. Ken is even preparing the next generation of Maplewood restaurateurs. His wife, Janet, and son, Nicholas, work front of house on the weekends and Nicholas will be ready to start back of the house this summer!
When you start with great roots, you are bound to flourish. That's why Maplewood III has made such an impact on Vineland. Full of family and employees with 15 – 30 years of Maplewood knowledge and experience, the dedication is just stronger. Even Howard Esposito, who has long retired, still watches over the restaurant every chance he gets as a volunteer "mystery diner."