Caffe Aldo Lamberti, Cherry Hill, NJ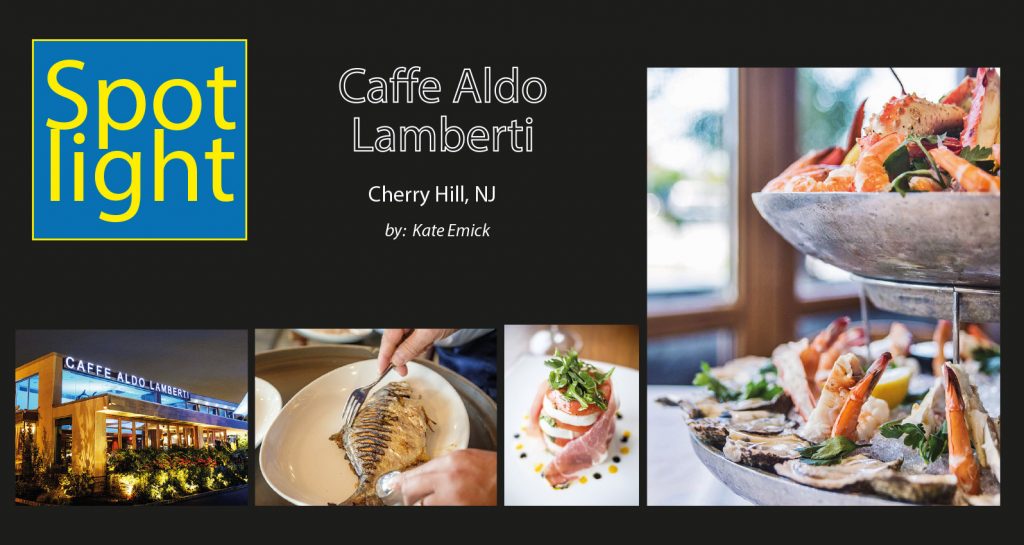 Caffe Aldo Lamberti
by: Kate Emick
Located in the heart of South Jersey, Caffe Aldo Lamberti in Cherry Hill, New Jersey, has been serving customers Italian-inspired cuisine for over thirty years.
Aldo Lamberti was born and raised in Monte di Procida, a coastal town in Naples, Italy. As a child, Aldo was always by the water and was fascinated by the different fish he could find, like Monkfish. Not only that, but Aldo also grew up in a local fish market surrounded by a plethora of seafood, including live Lobsters and Octopus. From his experiences, Aldo is very knowledgeable when it comes to seafood.
Aldo was just thirteen years old when he arrived with his family in the United States in 1963. His father, Giuseppe, opened a pizza shop in Brooklyn, New York, and then, as a young boy, Aldo found his love for hospitality. For many years through his twenties, Aldo gained experience operating restaurants and cooking southern Italian cuisine. During that time, Aldo also returned to Italy, where he mastered his skill and learned the details of the seafood industry.
Once Aldo returned to the United States, he opened his first restaurant in Cherry Hill in 1985, known today as Lamberti's Tutti Toscani. This restaurant quickly became a fan favorite by many customers, and that was when Aldo and his wife decided to open their second restaurant in Cherry Hill, Caffe Aldo Lamberti. Throughout the years, the Lamberti family restaurants have grown to be huge successes. Aldo has opened several more restaurants in Philadelphia, Miami, and a pizza shop in the Philadelphia airport terminal. By May, Aldo even plans to open another new pizza shop and market in Philadelphia, showcasing a new concept of grab and go where customers will only need to warm up prepared meals.
Caffe Aldo Lamberti is best known for its variety of dishes. This New Jersey landmark is a seafood restaurant that serves fresh-caught fish, house-made pasta, prime steaks, pork chops, and many other delicious contemporary Italian-inspired cuisine. In addition, each meal can be paired with a specialty wine from the restaurant's private wine cellars, with over 15,000 bottles to choose from!
The customer's favorite item to order on the menu is the restaurant's signature Crab cakes. The Crab cakes are seared and consist of Jumbo Lump Crab, zucchini, herbs, spices, roasted pepper, and baby spinach. A few other must-haves for seafood lovers are the pan-seared Scallops with mushroom risotto, and Salmon served with caramelized leeks, citrus wine sauce, baby spinach, and rosemary potatoes.
A seafood lover's dream awaits at Aldo's Seafood Harvest and Raw Bar. In his travels to France and Italy, Aldo was inspired by Plateaus, known in Europe as a raw and cooked shellfish dish. Aldo has never seen anything like it in the United States, so he decided to offer the beautiful seafood bounties on his menu. Customers can order Aldo's Seafood Harvest anytime during the day, and they have the option to build their own or choose one of Aldo's selections. Customers can add items like East Coast Oysters, Florida Stone Crab Claws, Jumbo White Shrimp, Top Neck Clams, Steamed Maine Lobsters, or anything available on the menu.
Caffe Aldo Lamberti uses only high-quality, fresh ingredients. Each day, the restaurant receives a delivery from Samuels Seafood and gets various fish, including Chilean Sea Bass, Black Sea Bass, Bronzino, and Red Snapper, along with several types of shellfish like Clams, Mussels, and even Sea Urchins sometimes. Aldo says what he likes the most about working with Samuels is the exceptional service and the wide variety of seafood.
Aldo has been a restauranteur for almost three decades, and his biggest takeaway from the industry is all the people he has been able to meet over the years. He says, "I get to meet a lot of people, some of us become friends, and they stay with you. There are so many nice people." At the end of the day, Aldo has a passion for food, people, humbleness, and most importantly, fish.
Caffe Aldo Lamberti has a lot to offer and would love to host you and your family. To find out more, you can visit caffelamberti.com