Good Earth Market, Delaware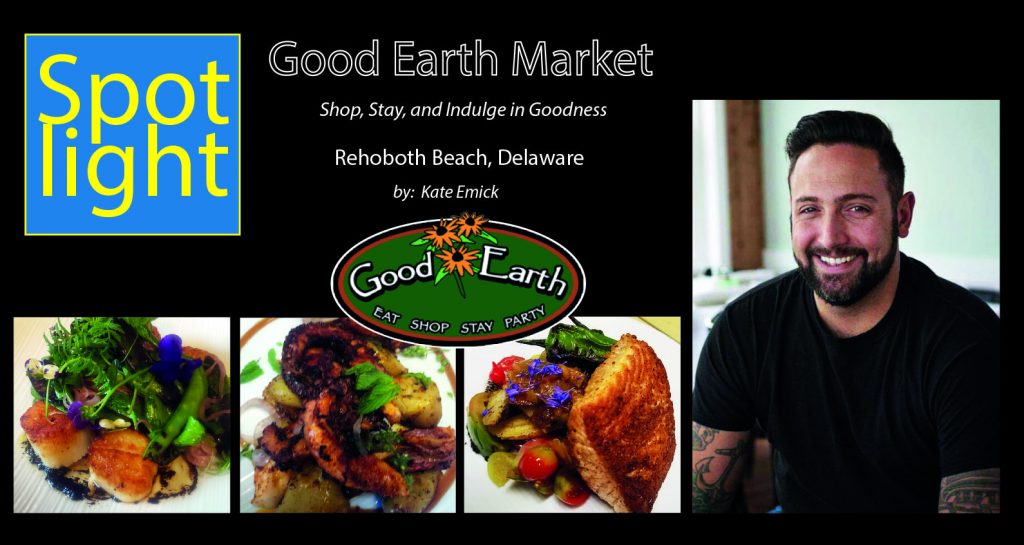 Good Earth Market, Delaware
Shop, Stay, and Indulge in Goodness
by: Kate Emick
Are you looking for a weekend getaway or a day trip by the beach?
Located just five miles from the Atlantic Ocean and Bethany Beach, Delaware, is the beautiful Good Earth Market and Restaurant (plus Airbnb.) In addition to the market and its vast selection of natural, organic products, the restaurant is known for its delicious food and romantic views that keep customers coming back.
Good Earth Market and Restaurant began 18 years ago as an organic grocery store by its founder, Susan Ryan. In 2016, Ryan asked Nino Mancari, an experienced chef who has traveled the globe, to join her team and help create a restaurant along with an event center and a catering program. Ryan and Mancari have been working together seven days a week to provide the community with healthy, clean, and safe food ever since.
Mancari, who started cooking in 1987, has been working in the Bethany Beach area every summer and has spent a lot of time traveling the world. In his travels, Mancari has worked with several famous chefs, building long-lasting relationships. These relationships have taught Mancari a lot about cooking and have helped him get to where he is today as a chef.
The market operates as a full grocery store and has been growing more each day, with two locations in Ocean View and Rehoboth Beach, Delaware. In the market, you can find a variety of organic meats, a deli case, produce, dairy products, seafood, craft beers and wines, cosmetics, and small specialty items like local honey, curated spices, and dried fruits.
At the restaurant, the menu has a wide range of breakfast options, snacks, cheeses and cured meats, soups and salads, sandwiches, desserts, kid-friendly options, and a selection of different mimosas. Some customer favorites include Salmon toast which consists of smoked Salmon, cream cheese, and arugula salad on old-world toast. Another favorite is the Canadian Mussels that are pan-roasted with Tasso ham and a mustard cream sauce.
Not only does Good Earth Market and Restaurant offer customers a shopping experience and delicious meals to indulge in, but they provide you with a chance to stay in an Airbnb. Visitors can stay in one of three unique spaces, including the loft apartment, the basil cottage, or the tiny house, all located on the farm. If you are looking for a weekend getaway, this is a perfect choice.
The restaurant is open for dine-in or carry-out. Customers who dine in can choose from an extensive brunch and dinner menu that is available at specific times throughout the day, Sunday through Saturday. Good Earth Market and Restaurant utilize fresh ingredients from their own farm and follow a farm- to-table concept. Those who decide carry-out or curbside pickup can order from the restaurant's online menu every day from 11 am to 8:30 pm.
Something unique the restaurant offers is dinner specials. Sunday through Thursday, the restaurant provides a different special each night. These specials can range from a three-course chef-inspired meal for just $28 to half-priced entrees or appetizers. Some of the meals that customers can choose from include Shrimp and grits, pork or veggie tacos, Sicilian spiced Swordfish, and Salmon with a roasted beet salad.
Chef Nino Mancari orders nearly 40 pounds of Octopus from Samuels Seafood a week. He says, "I really like the depth of products that Samuels has to offer and the quality of those products. Everything I order is well cared for." Mancari also orders Scallops and Scottish Salmon with regularity for his dishes, both of which are huge hits with the customers.
Mancari is proud of how much the restaurant and market have grown in the last five seasons. He adds, "If you are ever in the Bethany Beach area, please stop by, because I would love to cook for you."
Check out everything Good Earth Market and Restaurant has to offer at goodearthmarket.com or on Instagram @goodearthmarket