Clam Tavern, Delaware County, PA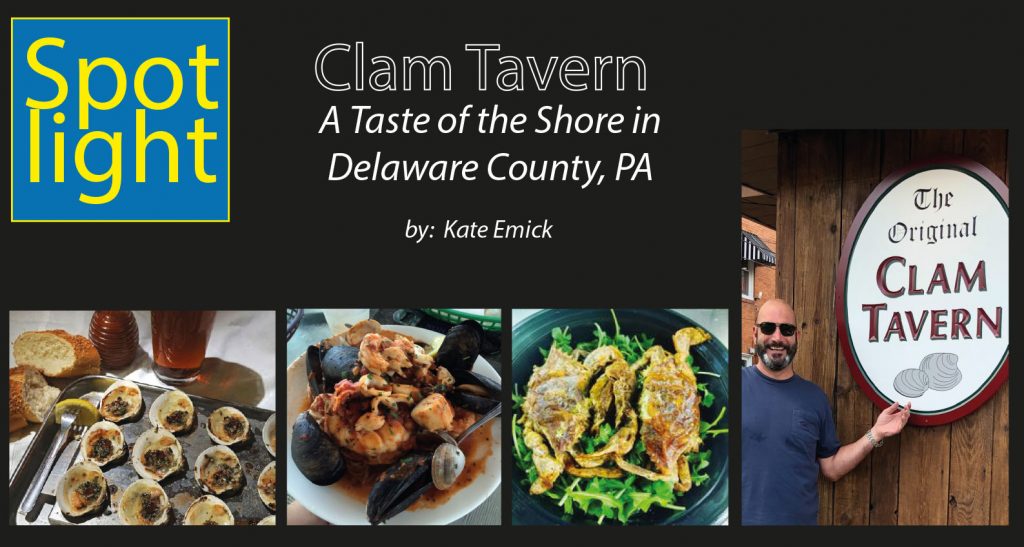 Clam Tavern
A Taste of the Shore in Delaware County, PA
by: Kate Emick
The Clam Tavern, often referred to by customers as a "hidden gem," offers guests an extensive menu of some of the best seafood options in Delaware County.
Located in Clifton Heights, Pennsylvania, The Clam Tavern was founded in 1962 and was a family-owned business for many years until Tony Blanche became the owner in 2001. Tony has been working at The Clam Tavern since he was a young teenager in high school. Tony always had the dream of owning the restaurant one day. It was nearly twenty years ago that Tony's dream came true.
The minute customers walk into The Clam Tavern, they often notice a large glowing fish tank, a bar with bottles lining the wall, and a lit-up sign that says "Clam Bar." The Clam Tavern is a warm and inviting restaurant that brings in customers from all over.
Customers dining at The Clam Tavern might notice a framed shirt and pearl on the wall. One day while Tony was shucking Clams, he found a pearl inside one and immediately thought to himself, "I think I just hit the jackpot." Unfortunately, the pearl was not worth anything, but Tony's mom will never forget that day, and that is why she framed the shirt that Tony was wearing at the time, the pearl in the shell, and the Clam knife.
The Clam Tavern is known for all things seafood, but that's not all they serve. Some other popular dishes include chicken Marsala, topped with mushrooms, garlic, herbs, and Marsala wine, veal parmesan, and various tender, juicy steaks. That said, customers return to enjoy dishes like baked Clams, Crab Cakes, Clams casino, fresh breaded Flounder, homemade seafood, and New England Clam chowder. Personally, Tony says that his favorite dish is the fried combination. This dish has Flounder, a Jumbo Lump Crab Cake, Jumbo Shrimp, and Sea Scallops.
At The Clam Tavern, Tony and his team have a passion for serving great food. They focus on freshness and quality, which goes hand in hand with why Tony orders from Samuels Seafood. Tony specifically says, "The freshness, quality, and service are consistently great." Whether he orders a variety of Oysters, Clams, Mussels, Scallops, Salmon, or any other seafood item on the menu, Tony is always satisfied.
This beloved neighborhood seafood spot has been a very special place for many people. At The Clam Tavern, customers have gotten engaged, celebrated birthdays and holidays such as Mother's Day and Valentine's Day. This past Mother's Day, The Clam Tavern served over 250 dishes, one of the best days the restaurant has ever seen, especially since the pandemic began a year ago.
Just across the street, you can find Broadway Bar and Grille, also owned by Tony. This casual dining restaurant includes the full Clam Tavern menu and more. The slogan at Broadway Bar and Grille is "Feel Good Food." No matter what you might be looking for, both The Clam Tavern and Broadway Bar and Grille have it all.
Tony highly encourages reservations, ensuring your spot at either restaurant is secure. The Clam Tavern is open every night of the week, and customers have the option to dine in or take out.
Tony is very proud of the staff he has developed over the past twenty years and his loyal customers that come back time and time again. He says he wouldn't have been able to get through the pandemic without his incredible staff and great customers behind him. Tony says, "I am truly blessed to be surrounded by these amazing people."
If you are ever in the area, be sure to check out both The Clam Tavern and Broadway Bar and Grille because, trust us, you will not be disappointed. To plan your next anniversary, birthday, or just a night out, you can visit clamtavern.net.