Chef Claude Le Tohic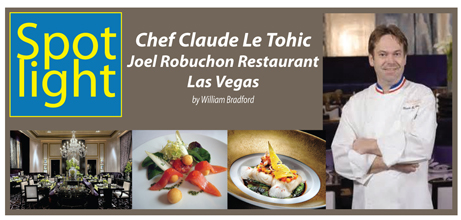 Leading a camera crew around the beautiful kitchen of an award winning Michelin three star rated restaurant, Chef Claude Le Tohic demonstrates the skill and work that goes into making Joël Robuchon Restaurant the prized gem in the desert that it is.
Chef Joël Robuchon was named France's Chef of the Century by the esteemed Gault Millau restaurant guide. Coming out of retirement to open his first restaurant in the United States, Chef Joël Robuchon chose Chef Claude Le Tohic to head this new venture located at the MGM Grand Hotel, Las Vegas. Chef Joël Robuchon is known to cater to a sophisticated palate and this partnership features a menu of both chef's finer specialties.
French born Chef Claude Le Tohic took some time out of his busy schedule as executive chef of Joël Robuchon Restaurant, for a starring role in an episode of "The Capital," a highly rated TV show in France. It's clear the show producers picked the right man for the job. With decades of impressive chef positions, he came to Las Vegas to head the namesake Joël Robuchon Restaurant, the first and only Three Star Michelin Guide Winner in Las Vegas.
Hailing from Brittany, France, Chef Le Tohic began his career early in his parents crêperie. He spent much of his time alongside his parents mastering aspects of both cooking and the business. After attending culinary school in Vannes, France, he quickly started working in some of Frances best restaurants. His first position was an apprenticeship at Les Hortensias. From there, he moved onto the acclaimed Le Restaurant and in 1987, he met his future partner in cuisine, Chef Joël Robuchon. Chef Le Tohic agreed to become chef at Chef Robuchon's Jamin, located in Paris.
Military service called and Chef Le Tohic answered, taking him out of Chef Robuchon's kitchen… for the time being. Once Chef Le Tohic returned from service, he cooked at world famous restaurants in France such as Relais & Chateaux along with L'Assiette Gourmande. With great leadership roles under his belt, he took a position at the Centre de Formation d'Apprentis Interconsulaire de l'Eure. Here, Chef Le Tohic educated and enlightened over 600 culinary students for seven years, an experience of which he's very fond of. "I loved teaching people what I love to do," he says. Chef mentions over the years he's learned the importance of both leadership and having a team. "You have to give directions, let people know exactly what you're looking for. You also need to have a great team behind you, you can't do it all by yourself."
During the time he spent leading his apprenticeship, Chef earned the industry-respected and peer-juried Meilleur Ouvier de France award in 2004. In 2005, Chef Robuchon asked Chef Le Tohic to open his eponymous Las Vegas location. Chef Le Tohic says he immediately wanted to take the position and had the support of his family to make the big move from France to Vegas. To this day, Chef Robuchon visits his restaurant in Las Vegas and both chef's work together as creative partners.
The menu at Joël Robuchon displays the brilliance of both chefs. They offer several menu options ranging from a party of two to larger groups with a prix fixe and an a la carte option. They also have a degustation menu, which is a stunningly attractive and appetizing 16 course dinner. Some favorites of this course are: "Le Caviar", a delightful dish with yellowtail carpaccio and radish, salmon tartar with a delicate cream of corn and shiso sprouts. Another is "La Saint-Jacques," pan seared sea scallops in green curry with fresh coriander. Lobster is Chef Le Tohic's favorite seafood (if he has to pick one) and he includes it as "Le Homard," grilled lobster with spinach leaves and black Malabar pepper sauce. "Le Black Cod" is served on a daikon velvet puree with lime zest. French chefs are always known for amazing deserts, one of the final dishes include black fruits on a delicate chocolate fondant.
Chef Le Tohic has been cooking and living in the U.S. for ten years now. This master of all cuisines says he is fond of American cuisine. "American cuisine is very diverse. It's so nice you can go to a city like New York and get authentic, great meals of many cultures." New York has the statue of liberty, the original great gift from France. Now, Vegas has a gift from France people are very excited about, Chef Claude Le Tohic and his stimulating and imaginative culinary style.
Please visit www.mgmgrand.com and click on the "Restaurants" link to visit Joël Robuchon Restaurant online.