Chef Joe Volpe – Cescaphe Event Group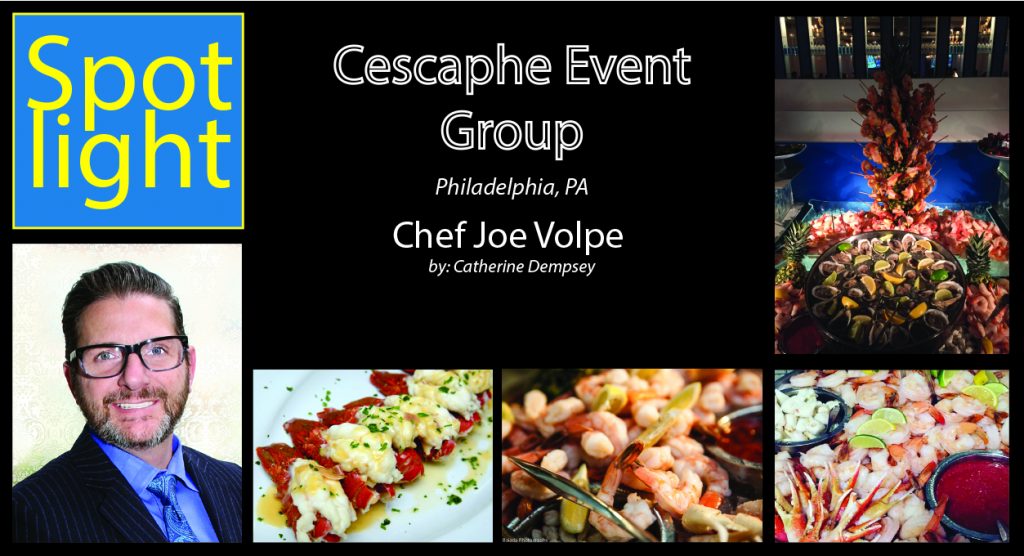 Chef Joe Volpe – Cescaphe Event Group
Philadelphia, PA
by: Catherine Dempsey
Cescaphe Event Group has established themselves as the premier wedding brand for the Philadelphia area – a romantic, elaborate, and intricately styled series of venue spaces for the most memorable events and weddings the city has to offer. CEO and Founder Joe Volpe and his amazing team are the eyes, ears, and heart of Cescaphe, providing couples with an unforgettable day and finishing off the details with close attention and consideration for every aspect of the experience, all down to the fine tuning and personal, customized service.
With so much to juggle, it's a wonder how he is a wedding powerhouse with more to offer than meets the eye. What some don't know is that Joe Volpe is a skilled and successful chef, with decades of experience in the kitchen. His high attention to detail and goal-driven ambition to produce the most amazing weddings and high-scale events is how Joe has gone from deli dishwasher to CEO of his own events company. Jay-Z, eat your heart out.
Joe started his culinary journey at J&L Jewish Delicatessen in Northeast Philadelphia. He was responsible for waiting on customers, making deli trays, and slicing lunch meat. It was also here where Joe would plan and produce his first events for small, home gatherings in and around Philadelphia for the Jewish holidays. "The Deli was a great first job in the food industry," he says. "It taught me hard work and how to interact with customers. When the owner opened Colleen's that is when I was really able to find my passion for catering, which I have taken with me every day at Cescaphe."
After the owner of J&L Jewish Deli took over the catering business at the new upscale banquet hall located in Park Towne Place, Colleen's, Joe started as a dishwasher as a teenager and eventually worked his way up to becoming the head chef of the establishment in his early 20's. A few years later he took over all business operations for Colleen's, which had become one of the most successful wedding and special event venues in Philadelphia. Joe spent 17 years at Colleen's. "My love of weddings is what drove me to succeed every day," he says. "The reaction of a bride and groom, their families and their guests gave me the energy and perseverance to continue to grow within my role there. I never thought of it as daunting. I took each day as it came and saw the opportunities in front of me that I could get with a lot of hard work and dedication."
When it came time to go above and beyond and forge a path of his own, Joe turned what he experienced over the years into a thriving business. He founded Cescaphe Event Group in early 2003 and the rest is history. "I realized early in my career that I wasn't the best chef, but what got me to where I am today was listening and understanding what people wanted," he says. "If you are able to listen and engage with someone it can go further than a simple entrée."
Cescaphe offers plenty of spectacular seafood dishes at their events and weddings, from Bronzino to Grouper and Swordfish. But Joe has a favorite seafood dish no matter the season: Chilean Sea Bass. "Any way that our Executive Chef [Chef Joe LaPorte] prepares it is always a favorite for me," he says. The dish is prepared pan seared and served with a ginger-lemongrass miso sauce, with just a hint of soy. Yum! "Our mounds and mounds of shrimp, whole lobster tails, oysters, mussels and clams are all signature items in our cocktail hour and a half," he says.
Cescaphe Event Group is now one of the most successful event companies in the city of Philadelphia, and they produce hugely extravagant weddings and special events for any and all. Joe Volpe credits much of his success in the field to his attention to detail and his powerful team behind him. "The entire Cescaphe team is the driving reason why I do what I do," he says. "Watching them grow in their careers inspires me to keep pushing forward. I always like to say, 'Be Obsessed or Be Average.'"
For more info visit www.cescaphe.com