Riverwinds Restaurant – Chef George Chaviaras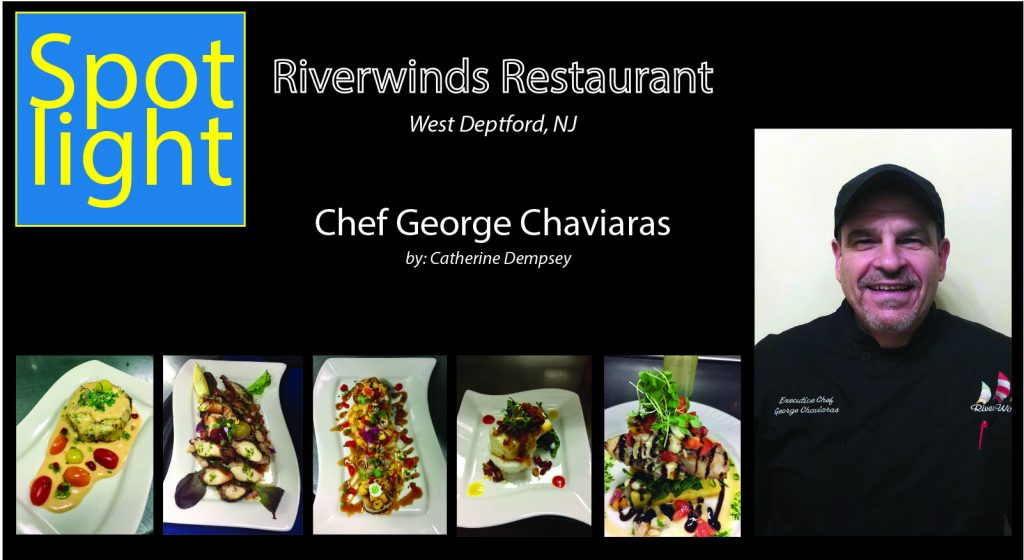 Riverwinds Restaurant, West Deptford, NJ
Chef George Chaviaras
by: Catherine Dempsey
From the very beginning, Chef George Chaviaras loved food and the art of cooking it. Coming from a big Greek family growing up just outside Athens, food was always a common staple in the household and the young budding chef was busy soaking up all the information he could. "My mother was an incredible cook and she was always cooking," he said. "From a young age I started learning all of the great dishes my mother and my grandmother would make because I loved the food so much. I started cooking very early and learned everything I could. Ever since then, I have had a passion for food, always."
On December 10th 1978, Chef George Chaviaras arrived in the United States from his small mountain town in Greece. At only 17, Chef George was prepared to begin his studies in college at St. Joseph's University in Philadelphia where he would study management marketing, and later receive his master's degree from the same university. He did not know that he would become a well-respected chef at Riverwinds Restaurant in West Deptford, NJ today, nor did he expect to turn his passion into a way of life.
Soon after his graduation from college, Chef George decided to forgo working in the marketing field and began to pursue a career in culinary arts. His family was already in the industry, and with his love for food, he took to the races and honed in on his cooking skills. "I started working in restaurants because my aunt owned one and I loved to cook," he said. "Within a year and a half, I learned so much from my uncle and I started working as a chef at his restaurant."
Chef George went on to work at a slew of unique and well-renowned restaurants, from Liberty Bell to George's Café with his father-in-law (where he cooked for about 8 years). He also spent a whopping 16 years at the Red Lion Diner. Chef George also spent several years at the Forum Restaurant and Hollywood Café – his story was just beginning. Today, Chef George is manning the kitchen at Riverwinds Restaurant and he couldn't be happier. "You can't beat quality food at a reasonable price and great service right on the waterfront."
Riverwinds Restaurant has a fabulous raw bar with a great variety of seafood – from top neck Clams and Oysters on the half shell, to colossal Crab and jumbo Shrimp cocktails. There's also a magnificent and large Shellfish tower that can be enjoyed (filled to the brim with jumbo Shrimp, Clams, Oysters, chilled Maine Lobster, colossal Crab, and all the bells and whistles). Try the Mediterranean Grilled Octopus when you visit! It's braised in red wine, garlic, and olive oil then char grilled and served with a lemon garlic vinaigrette and accented with red and yellow peppers and Bermuda onion.
Chef George has a hard time picking a favorite of the seafood dishes (they're all so good), but when it comes down to it, he can't get enough of the dayboat-caught fresh Key West Scallops. Topped with fresh mango salsa and served with snap peas and steamed jasmine rice, they are drizzled with a honey teriyaki sauce, exactly to Chef George's liking. Mouth-wateringly good!
The number one priority on Chef George's mind is quality. "We always buy fresh fish from you guys and we always use the best Scallops money can buy," he said. "With the Riverwinds being a seafood and steakhouse, we sell a lot of seafood and a lot of steak," he said with a laugh.
When Chef George isn't busy running the kitchen at Riverwinds, he's also a consultant for new menus and parties and helps open restaurants in the New Jersey area by advising them so they can get their feet off the ground and have a good start on the path towards success.
"If you're passionate about something, no matter who you started out as, it will make you a better person in the long run," he said. "I knew cooking made me happy. When something makes you happy and you do it for a living, it usually works out," he said with a laugh.
For more information visit theriverwindsrestaurant.com