Sparks Steak House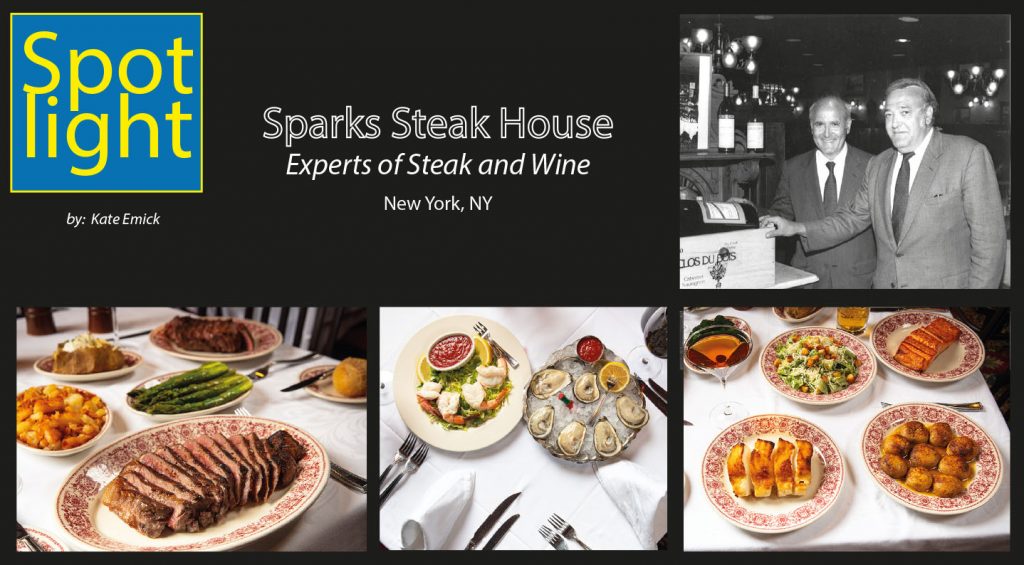 Sparks Steak House, NYC
by Kate Emick
Considered one of the most famous food cities in the world, New York City is known for having some of the most historical steakhouses in the country. Located in Midtown Manhattan is the dazzling Sparks Steakhouse.
This American steakhouse, featuring amber lighting décor, got its start in 1966 when brothers Mike and Pat Cetta converted a small English pub into a steakhouse. When the restaurant first opened, it was the smallest steakhouse in downtown Manhattan, but it was not long until the restaurant expanded. In 1977, Sparks Steakhouse moved to its current location, able to seat nearly 687 guests, becoming the largest steakhouse in New York City.
Mike and Pat Cetta joined their father in his butcher business at a young age, expanding their knowledge of specialty meats. During this time, Mike and Pat also developed their palate for fine wine by crushing grapes in their cellar and making their own vintage, a custom common among many Italian immigrants. Many years later, the Cetta brothers poured their passion for food and wine into the restaurant business, creating Sparks Steakhouse.
The restaurant has a worldwide reputation for having one of the most famous wine cellars in the country. Pat, a wine enthusiast, spent much of his time researching different wines and built a wine cellar unlike any other. In fact, Pat was the first to ever bring California wine to New York. The wine selection is unique and expansive. When customers come to dine at the well-known steakhouse, they can choose from over 100,000 bottles of wine. In addition to wines, Sparks Steakhouse has a very popular bar with a vast selection of whiskey and other liquors, the perfect pairing to any dish.
Sparks Steakhouse provides guests with an A La Carte menu specializing in steaks, seafood, and salads. The prime sirloin steak, a boneless, 16-18 oz, dry-aged steak, is the most popular menu choice among guests. A few other top picks are the extra thick veal chops and the filet mignon.
When it comes to seafood options, Sparks Steakhouse goes all out. The restaurant offers a full line of fresh fish, including Salmon, Red Snapper, Chilean Sea Bass, and even Lemon Sole. In addition to fresh fish, the steakhouse is known for their array of Oysters, Clams, Jumbo Lump Crabmeat, and Lobsters. Customer's return to order the large live Lobsters time and time again. The Lobsters range in size from three to five pounds and can be found in the restaurant's live Lobster tanks. What impresses customers the most about the live Lobsters is how the giant beauties are brought out and put in the center of the table, deshelled, ready to enjoy.
Customers are always astonished at the wide selection of seafood options. The steakhouse never compromises quality, and that's why the restaurant orders seafood from Samuels Seafood. Sal Desai, General Manager, says he is always amazed by the quality and consistency delivered by Samuels.
Sparks Steakhouse is open for dine-in, delivery, and take-out. If you choose to dine in, reservations are required, especially on Fridays and Saturdays. Don't worry, though, along with being the largest steakhouse in the city; they also have several private rooms ideal for all types of celebrations.
If you find yourself in the big apple, be sure to visit Sparks Steakhouse or online at sparkssteakhouse.com.