Dagwood's Pub, From Sandwiches to Seafood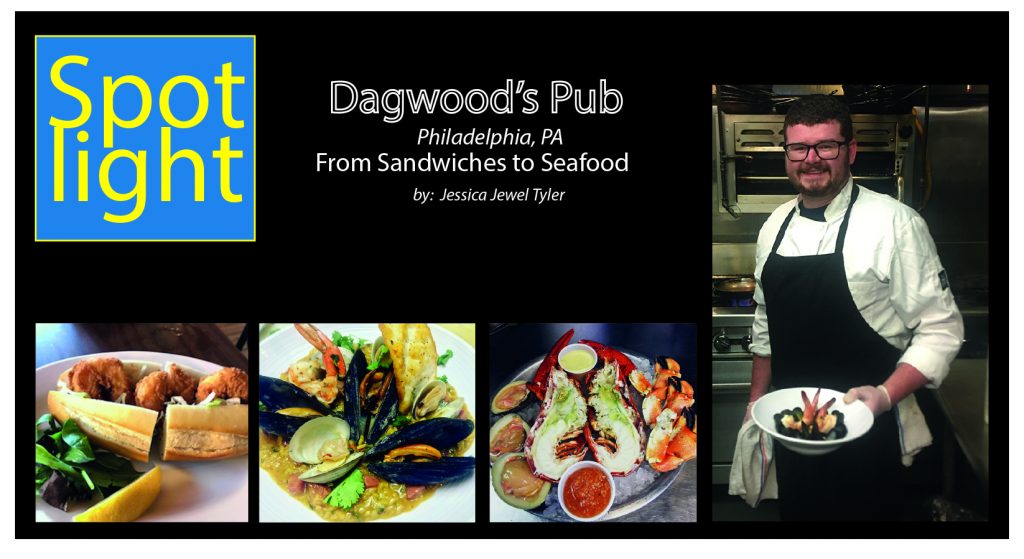 Dagwood's Pub, From Sandwiches to Seafood
by: Jessica Jewel Tyler
Dagwood Bumstead and his famous mile high sandwich in the famous Blondie comic books. But for Northeast Philadelphians, it speaks to their favorite neighborhood bar, Dagwood's Pub. Once a simple sandwich shop, Dagwood's Pub has grown into a staple in the Northeast for amazing cuisine that goes beyond what's served on a roll. This family owned and operated bar has built a reputation over the past 32 years as a top spot for seafood with a friendly and comfortable atmosphere. In fact, they like to say "there are no strangers here, just friends you have not met yet."
Chef Jack McPeak explained this philosophy by stating: "This restaurant used to be the place where local contractors and other neighborhood workers could get a roast beef and a beer. The atmosphere remains very casual and friendly because we stay true to that aspect." One thing that is very clear is that Dagwood's was built around their history and pride. They even showcase pictures of the family on the wall along with snapshots of the past – pictures of the bar and neighborhood from 40 years ago. The only thing that has changed at Dagwood's Pub is the food.
Over the last year or so, Dagwood's has turned into more of a seafood restaurant. Chef Jack says that they were "destined" to move in that direction. It all started with owner, Eddie Grzeskiewicz, acquiring a Hard Shell Crab recipe that that he grew up eating. When he featured it on the menu, things picked up and they kept it going with Clams on the half shell and then broiled Scallops. It took a while to expand the menu, but eventually, demand came from the customers. Anytime seafood was featured on specials, they would sell out right away. From then, Chef Jack adds that Samuels, and their reliable delivery of fresh, delicious products, was a big part of the successful leap from sandwiches to seafood. Now, out of the almost 120 items on their rotating menus, about 70 of them contain seafood. They have even since created a raw bar, where they go through almost a thousand Oysters a week.
Shellfish is one of the most popular items on the menu. Besides the raw bar there are tons of pasta dishes like the baked seafood trio with Scallops, Shrimp, and Crab in a spicy sauce. Chef Jack revealed that some of his favorite dishes are the Mussels. They offer Hollander and de Köning premium Mussels over linguine in red sauce, white sauce, or a spicy sauce that comes topped with Clams and Shrimp. He has also helped to create some fun appetizers like the bronze Shrimp, which includes sautéed Shrimp in a Cajun cream sauce and the blackened Ahi Tuna bites, which are served rare with an aioli made from lump Crabmeat and horseradish.
Chef Jack Mcpeak says they like to create fresh, fanciful dishes that surprise their guests but also feel "simple enough to make at home." This style of high end home cooking makes his guests feel like they are a part of a Sunday family dinner every day.
The menu is mostly born from the combination of Chef Jack's inspiration and the Grzeskiewicz family's traditions. Chef Jack brings uniqueness to the menu, while the owning family preserves their historic recipes and Sunday dinner style of cuisine. Eddie's 80-year-old mother, or Momma G, as everyone lovingly calls her, even comes in a few times a week to make her meatballs exactly the same as they were in 1987.
On the other hand, Chef Jack has less traditional methods. He always had a passion for food because his father worked in high end restaurants all throughout the country, but he actually started at Dagwood's Pub as a part time dish-washer. Eventually, he moved up the ladder when he realized his favorite part about attending college, was cooking fresh pasta and seafood dinners for friends in the crowded common kitchens.
He gets his inspiration from new experiences and traveling. He recounted his trips to New Orleans, where he discovered po' boys and fried Oysters, and Key West, where he enjoyed Conch fritters and Tuna tartar. Today, various iterations of these treats are now featured on the extensive menu. Chef Jack added that, "this way, at Dagwood's you can either get something you are always in the mood for, or something you never even had before."