DePaul's Table – A Modern Italian Steakhouse on the Main Line

DePaul's Table – A Modern Italian Steakhouse on the Main Line
By: Kate Emick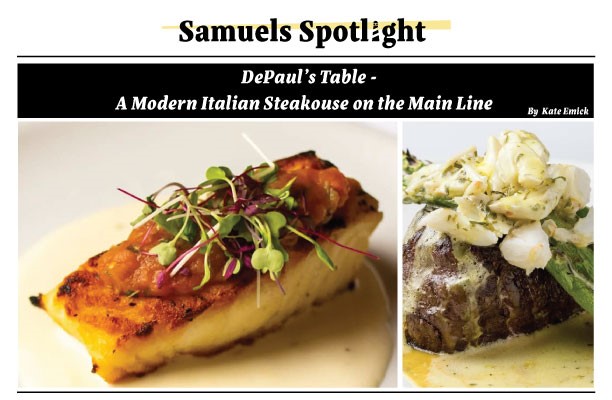 DePaul's Table, located in the heart of Ardmore, is the newest addition to the Main Line's dining hub.
The former home of the historic Haverford Trust Bank, which dates back to the early 1900's, DePaul's Table features nearly 200 seats between the dining rooms and the bar. Showcasing an elegant dining experience, the restaurant incorporates soft shades, contrasting plank flooring, and cushioned banquets by the bar.
Owner, Anthony DePaul, has over twenty years of experience in the restaurant industry. With his experience, he has helped well-known businesses from Philadelphia to Atlantic City to open their own restaurants. He has also spent time at Iron Chef Marc Forgione's American Cut Steakhouse in New York City, as well as The ChopHouse in New Jersey. Now, DePaul comes full circle by opening his very first restaurant.
Executive Chef Jose Galicia, formerly of The ChopHouse, leads the kitchen. With many years of experience under his belt, Galicia has created a menu with extensive offerings, perfect for anyone who stops in.
DePaul's Table is known for the finest cuts of steak, big chops, fresh seafood, seasonal vegetables, unique salads, savory flatbreads, and more. A few popular menu items include the restaurant's Lobster ravioli made with brandy cream and Lobster medallions, the sesame crusted Ahi Tuna with crispy shallots, Japanese seasoned rice, ginger, and sweet soy, and the pan seared Salmon served with Kennett Square mushroom risotto and blistered cherry tomatoes.
When it comes to steak, the restaurant has several options to choose from like the eight-ounce filet mignon or the twenty-eight-day dry aged New York strip steak. Sure to impress, guests will also find a forty-eight-ounce bone-in tomahawk ribeye on the menu too! Not only are steaks a highlight on the menu, but the roasted bone-in chicken and double cut rib lamb chops are popular choices as well.
When dining in at DePaul's Table, be sure to pair your meal with the perfect drink. From cocktails to wine, and beer, guests are bound to find the perfect one. Additionally, Monday through Friday from 4:30pm-6:30pm, the restaurant provides a happy hour which comes with an assortment of drinks and small plates such as Lobster guacamole, crispy buffalo Shrimp, or steak tacos.
From his years of experience in restaurants, DePaul aims to reflect the values that he has come to love and adore which includes elevated customer service and extra attention to detail. DePaul develops relationships with his guests. He says, "I want to know their favorite dishes, wines, table preferences, birthdays, and kids' names." By doing so, DePaul has created a very personable experience guests won't find anywhere else.
Located at 7 E. Lancaster Ave. in Ardmore, DePaul's Table is open daily. The restaurant is happy to serve guests for dinner or happy hour, so be sure to stop on by! Reservations are not required but are suggested, especially on weekends. For additional information, guests can visit the restaurant online at depaulstable.com or on Instagram @depaulstable.