Shana's Caribbean Café – Jamaican Comfort Food in Philadelphia

Shana's Caribbean Café – Jamaican Comfort Food in Philadelphia
By: Kate Emick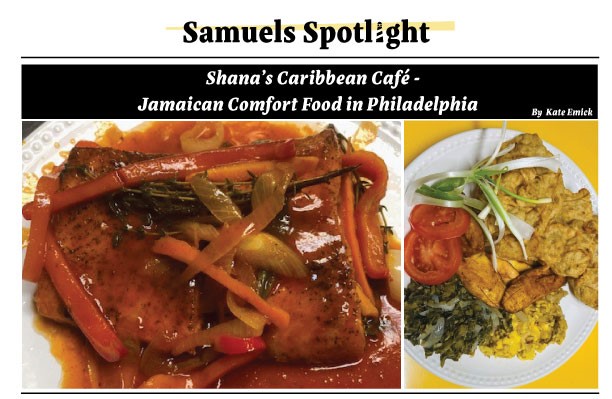 Interested in exceptional Jamaican cuisine? Look no further than Shana's Caribbean Café in Northeast Philadelphia!
Owner and Executive Chef, Shana Davis, migrated to Philadelphia from Jamaica nearly twenty-two years ago to fulfill her dream of becoming a successful business woman and entrepreneur.
Early in her career, Davis graduated from Community College in Philadelphia and received a scholarship to attend the Fox School of Business at Temple University. In the summer of 2014, Davis opened her first restaurant in North Philadelphia. As her business grew, she decided to expand her café and moved to a larger location in Northeast Philadelphia in 2020 where you can find Shana's Caribbean Café today.
Prepared daily with fresh ingredients, Shana's Caribbean Café offers flavorful Jamaican cuisine perfect for any meal of the day. For breakfast, customers can find Jamaica's national dish, ackee and Saltfish, as well as other popular dishes like callaloo and Saltfish, salt Mackerel, and Saltfish and butterbeans. All breakfast platters are served with fried plantains and your choice of either boiled dumplings, yam and bananas, or fried dumplings. Customers can also find an assortment of porridge on the menu, choosing from flavors such as banana, peanut, cornmeal, and plantain.
For lunch and dinner, the café serves specials like jerk chicken, oxtail, curry goat, jerk pork, and everyone's favorite, fried chicken! Each special is served with a choice of two sides which includes white rice, rice and peas, cabbage, yam, or mac and cheese.
Looking for seafood options? Shana's Caribbean Café has that too! A few must-try seafood dishes when visiting the café are the escovitch Red Snapper and jerk Salmon. The fried Whiting, curry Shrimp, and brown stew Red Snapper are other delicious options.
Shana's Caribbean Café is proud to offer guests a unique blend of flavorful and healthy food that is available at affordable prices. Customers have the option to dine in, order take out, or order through mobile apps like Uber Eats, DoorDash, and Grubhub for convenience.
From the moment you walk in, Davis describes the atmosphere as friendly and welcoming. "We want every customer that walks in to be treated the same way," she added.
Pastries at the café are another must-have menu item. From Jamaican beef patties to spinach patties and even carrot cake and coco bread, customers are sure to be impressed.
Shana's Caribbean Café is located at 6615 Martins Mill Road in Philadelphia. Be sure to stop on by and also visit them on Instagram @shanascaribbeancafe!