The Yardley Inn – Serving New American Cuisine in Bucks County

The Yardley Inn – Serving New American Cuisine in Bucks County
By: Tiffany Rivera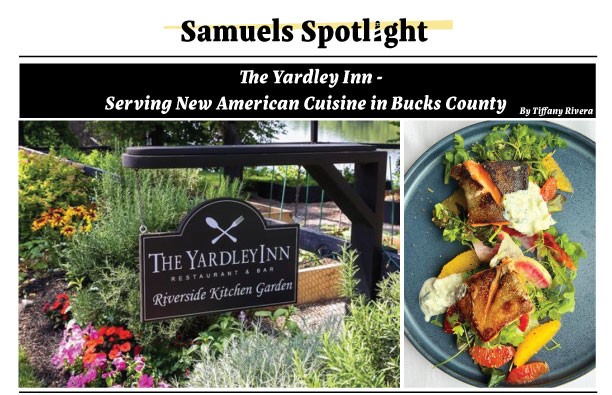 The Yardley Inn, an award-winning restaurant located in Bucks County overlooking the Delaware River offers a variety of versatile meals to foodies and locals.
The restaurant represents a tranquil, yet comforting ambiance, with dim lighting, multiple views of the Delaware River, rustic décor, and welcoming wait staff.
The eatery has been a Yardley staple for over 30 years and has seen an influx of customers from all over the Philadelphia area thanks to Executive Chef Rob McNally's culinary skills. His career has spanned over 16 years.
Chef Rob specializes in New American cuisine and has been translating his love of cooking on to the plates of long awaiting customers. He has worked in famous Philly eateries including Zahav and Fork. He has also worked with chefs at Chambers 19 Bistro and Audrey/June in Nashville, Tennessee.
Chef Rob has been with The Yardley Inn for almost three years and has been adding unique dishes that include vegetarian options, to unique spins on classic American dishes.
Some customer favorites include their signature homemade pastas, duck confit carbonara, made with spring peas, parmesan chili oil, and bucatini pasta. Other options include, truffle deviled eggs topped with smoked bacon and Caviar; and deep-fried marinated tofu with a side of black rice, ponzu, and cucumber kimchi. All dishes are created with fresh and locally sourced ingredients.
For seafood, Chef Rob creates a lasagna made with Blue Crab, baby Rock Shrimp, topped with anchovy breadcrumbs, also on the menu is Greek whole roasted branzino, braised fennel, tomato, red onion, warm dill butter, served with a citrus salad on the side; and Big Glory Bay King Salmon with spiced farro, tzatziki sauce, paired with a radish arugula salad.
Chef Rob says Big Glory Bay King Salmon is one of the top sellers at his restaurant.
"I love the product and it's also a gorgeous piece of Salmon," he said.
From 4pm through 6:30pm, the restaurant has seven-dollar small plates including beef spring rolls, bangers and mash, and sweet potato wedges with a maple aioli.
The restaurant also has an impressive cocktail list including, "Blood of the Dragon," a drink mixed with black cherry syrup, lime, and absolute lime; "Inn Margarita," infused with eposado tequila, Cointreau, and lime agave. Another popular cocktail for spring is their "Melon Margarita," made with fresh lime, agave, and hornitos reposado tequila.
The Yardley Inn has gained recognition in Bucks County and beyond. The business recently won Best in Bucks County, for Best New American Restaurant.
In addition to their delicious dishes, welcoming atmosphere, and creative cocktails, the restaurant also caters events such as weddings and baby showers.
Chef Rob has also planned some exciting events for the restaurant ahead of the summer season.
"I do once every two months a paired dinner with either wine, tequilas, whiskey, I'm starting to do Sunday night dinners where I'm starting to do "dinner in Spain," where we include Spanish themed entrees, which will begin in the summer," he said.
With warm weather approaching, plan a brunch, or dinner at The Yardley Inn. Although reservations aren't necessary, they are highly suggested, especially on the weekends.
Be sure to follow The Yardley Inn on Instagram: @yardleyinn and Chef Rob @chef_robert_Mcnally