Eleven Contemporary Kitchen

Eleven Contemporary Kitchen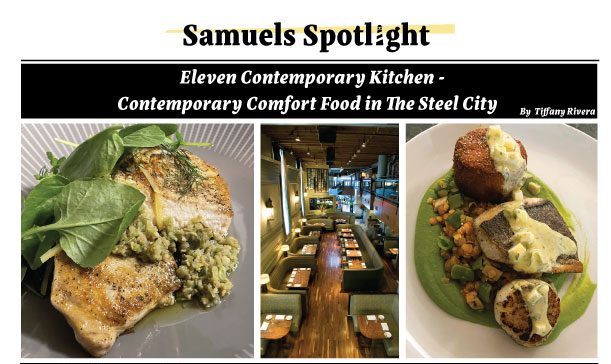 Eleven Contemporary Kitchen in Pittsburgh, PA serves customers traditional Western Pennsylvanian fair with a modern twist. Chris Thinnes, the General Manager Eli Wahl, and the Head Chef at Eleven Contemporary Kitchen have been collaborating for over a decade.
Thinnes first came to Eleven as a bus boy, he then moved his way up to being a bartender. After years of serving drinks, he became a Wine Director, and finally, the General Manager. "This is the only restaurant I'd like to be in," said Thinnes.
Chef Eli always loved cooking at a young age. His parents owned a bakery for over 45 years and remembers his parents creating baked goods in the early mornings.
Although he never saw himself becoming a baker, he wanted to carry on the family cooking tradition, so after high school, Wahl went to culinary school in Pittsburgh. After graduating and finishing his internship at Fox Chapel Golf Club, Wahl began to work for the Big Burrito Company, primarily, Casbah, a fine dining establishment in Pittsburgh.
Since working at Eleven, Wahl continues to create several dishes that have made locals and visitors come back for more.
The Swordfish dish is a well- known item which consists of forbidden Rice, Rock Shrimp homemade risotto, smoked peppers, olives, lemon, fennel, and watercress.
Another tantalizing seafood dish is their tuna tartare, made with miso, shallots, an assortment of herbs, furikake, yuzu, sweet soy sauce, cucumber, paired with sesame crackers.
One popular staple is their Eleven burger, a burger made from a blend of brisket, chuck, and short rib. The patty is then seasoned lightly with salt and pepper, and grilled with a Worcestershire butter sauce. The burger is placed on top of a homemade brioche bun. The added topping for the burger is a slice of braised veal, black pepper bacon, and crispy onions. Choices of cheeses can be added, including, goat cheese, bleu, white cheddar, and Emmenthaler Swiss.
Although the food is unforgettable, so is the ambiance. For instance, when going into Eleven customers will see the hard work and intricate detail that the restaurant has put in. The brick interior, dim lighting, and exposed steel are a true representation of the grittiness and history of Pittsburgh.
The bar also has an impressive wine collection ranging from California, France, and Spain. Their cocktails are also a work of art, including their spicy margarita, a drink made from roasted jalapeno infused casco Viejo Blanco tequila, cilantro and bauchant orange liquor.
Aside from their delicious cuisine, the restaurant is also known for opening its doors to multiple nonprofit organizations to help them raise awareness of their causes. The money from the dishes goes towards these nonprofits.
"We do benefit dinners once a month, we donate our food and drinks, they charge their guests whatever they want and they collect the profits," Thinnes said.
Although reservations are required, the eatery does fill up almost every night. Before heading out to Eleven, be sure to check out their Instagram to catch a glimpse of their mouthwatering meals.
Follow Eleven on Instagram: @elevenpgh