Rosemary

Rosemary
By: Zachary Blumberg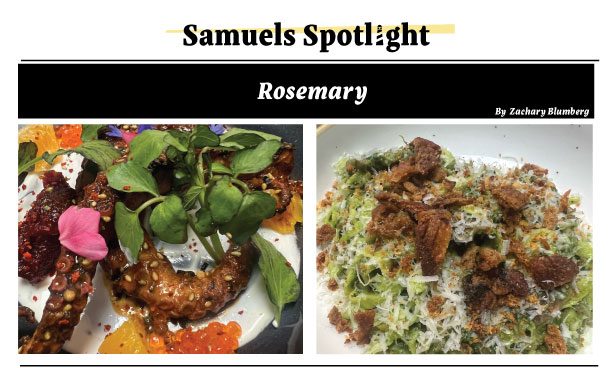 It's an exciting time when you can find a new dining experience; novelty enriches the world around us and makes life exciting. At Rosemary, in Ridley Park, everything is new and exciting. The restaurant opened in 2023 and there are lots of spectacular things to see, different people to meet, and fresh things to eat. Let's look at the team behind this eatery and see what kinds of interesting things they have to show us.
Rosemary's recency in serving customers starkly contrasts with the team that runs it. The owner Phillip Breen has owned many restaurants before this one. Frankford Hall and Condessa are just some of the restaurants that he has managed. The executive chef Elijah Milligan has similarly opened and cooked in different restaurants as well such as Lovechild and Greenwood (both in Philadelphia). So, although the
project is new, the team is experienced. The restaurant is named after Philip's grandmother Rosemarie, and the herb, which features in many of their dishes. Such dishes include the seafood delight of Scallops in a Lobster risotto with sauce americaine and asparagus. Rosemary also serves a delightful Octopus with a sundried tomato jam, a morita honey glaze, and watercress. If you're feeling hungry for some Shrimp, they offer grilled Shrimp with roasted garlic cream, gochujang, and meyer lemon. If you're in the mood for something with less of an Ichthyological bent, their duck tagliatelle is a great option, as is Rosemary's smoked lamb mafaldine.
To go with the wonderful food, Rosemary provides an inviting main dining room, a twelve-seat bar, a front patio, and most interestingly of all, a greenhouse. For those looking for new experiences, Rosemary is a great option for just that, and a reservation is not required.
Follow Rosemary on Instagram: @rosemary_ridleypark