Faubourg, Montclair, New Jersey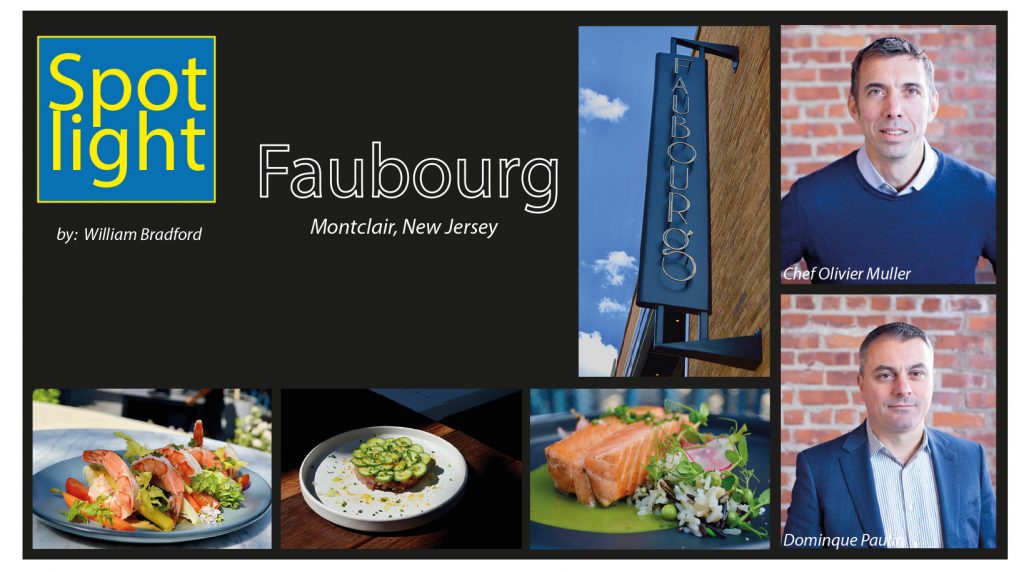 Faubourg, Montclair, New Jersey 
by: William Bradford
If al fresco dining is "the new norm," we may as well do it in an extra special way. In this case, it's time to visit Montclair, New Jersey, just 20 miles outside of Manhattan, where Chef Olivier Muller seems to do everything special. From his experience opening restaurants all over the world for Chef Daniel Boulud to his very own chic, bi-level restaurant, Faubourg, Chef Olivier is delighting outdoor diners during a time we need it the most.
The word Faubourg refers to French neighborhoods or districts bustling with restaurants just outside the main city. It's a perfect name for this North Jersey spot where Chef Olivier himself commutes from Manhattan. In its former life, the space where Faubourg is located served as a bank and later as a theatre. That is, until Chef Olivier and his friend and business partner, Dominique Paulin, were amazed by the dramatic appeal of the building in 2018 and started construction. Large front windows lead you to an impressively sized, modern indoor dining and bar area, and the now heavily utilized outdoor area.
As a teenager, he cooked in his hometown of Strasbourg, France, eventually, he found himself at the two-star Michelin restaurant Le Cerf. After meeting and working with his mentors, Chef Michel Husser and Philippe Jego, in France, Chef Olivier got the travel bug and moved to a city with a food scene he had heard about…New York. At 25 years of age, he met Chef Daniel Boulud and began at Café Boulud, where he admired Chef Daniel's talents and style. "I was impressed by Daniel's energy and the synergy of his restaurants. He had everything I looked for and what I stood for as a chef," Olivier says.
Chef Olivier went on to become Executive Chef of db bistro moderne and then Corporate Chef of Boulud's Dinex Group in 2010. A successful partnership between Olivier and Daniel included restaurant openings in NYC, Miami, Toronto, Montreal, London, and Singapore. After this worldwide culinary takeover, Chef Olivier says he began dreaming of opening a location of his own. He then joined forces with Dominique Paulin, whom he worked with under Daniel Boulud. Dominique now serves as Front of House Manager.
There is an obvious French inspiration to the menu with an extra modern flair as well. Plus, Lemon Sole & Summer Beans prove that seasonality and quality is Olivier's most true inspiration. He mentions simplicity as a trademark of his style. "My interpretation is cooking light and nothing unnecessary. I like balanced, focused dishes," he says. While many think of cream and butter with French cuisine, lunch favorites such as Lobster Rolls and Bahn Mis remind us that he has trained all over the world. Additionally, time spent with his wife's family in Greece has played a role as well. Oysters always have a strong presence on the menu. Olivier mentions he always has 3-4 east coast and 2-3 west coast Oysters on the menu at all times. Currently, you will find New Jersey's very own "Sugar Shacks" and Massachusetts's "Great White" Oysters. Whether grilled or served as a cocktail, Olivier greatly enjoys Oishii Shrimp because of the consistency, bright color, and sweet flavor. "Guests trust us for fresh seafood, that's why it's important I keep a close relationship with my rep and Samuels," he says.
After COVID-19, Faubourg was forced to close down before opening back up for take-out and delivery. Once they resumed outdoor dining, the business began bustling again, and they added more socially distanced seating. Out of all his success during this time, Chef Olivier is the proudest and happiest having welcomed back most of his staff.
For us chefs and diners, Faubourg is an awe-inspiring destination for alfresco. Visit Faubourg online at faubourgmonclair.com and on Instagram @faubourg