Featured Monthly Special: Cooked Mussel Meat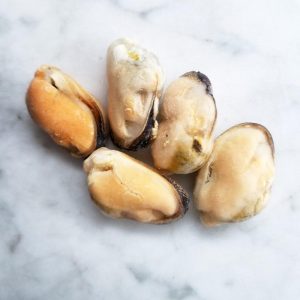 Mussels are a favorite on seafood menus around the country, and we're sure you're familiar with our great selection live Mussels! But did you know that we have an excellent shortcut to make your Mussel dishes even easier?
Let us introduce you to Cooked Mussel Meat: a frozen 22 lb case of pre-cooked Mussels that make new, exciting Mussel dishes a breeze to make! You won't have to waste any time cleaning, shucking, and cooking to make a great new dish, just unthaw and prepare in your method of choice!
You'll have plenty of room to get creative with these delectable bivalves! Our Monthly Special of the Week, try these out in seafood salads, stews, pasta dishes, and soups. Cooked Mussels can also be battered, thrown in the deep fryer, and served with a dipping sauce for a simple and tasty weekend appetizer! Or maybe you're feeling bold and want to try these out as a topping for a white pizza or flatbread? Be our guest!
You can find Cooked Mussel Meat on special for the rest of February for just $2.99/lb! And once you've cooked up a delicious meal, feel free to tag us on social media to "show us your Mussels!"
Cooked Mussel Meat
MUS200
Frozen 22 lb Case
$2.99/lb all February!