Foodland – Fine Food in St. Barts

Foodland – Fine Food in St. Barts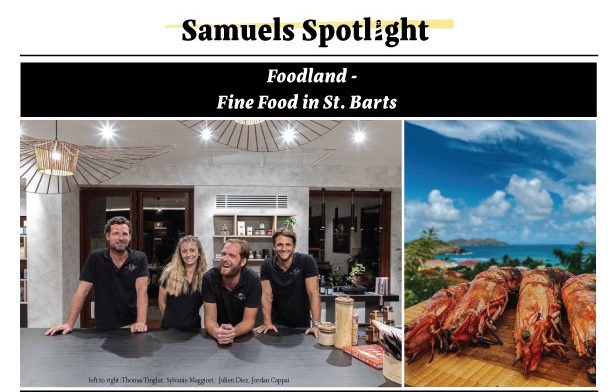 Foodland is the main supplier of meat and seafood in St. Barts. Operating for over thirty years, Foodland caters to some of the finest hotels and restaurants on the island.
Jordan Cappai, purchaser for Foodland, grew up in the family business on the island and often has fond memories of flying to Saint Maarten next to his father, loading the plane with produce, meat, and seafood, and flying back to Saint Barts. Today, you can find Jordan sourcing only the finest products from North America.
The inspiration for Foodland got its start in the early 80's when Jordan's father arrived in St. Barts with a small plane that he would fly between St. Barts, Puerto Rico, and Miami, bringing fresh meat and seafood to the island. During this time, the only imports to arrive to the island were frozen goods from France that would be delivered by boat. Looking to change that, Jordan's father would visit different chefs on the island, take their orders, and then the chefs would pick up their fresh meat and seafood from the back of the plane the next day. By 1993, Jordan's mother joined the team, and they officially launched Foodland as they opened a warehouse in Gustavia on the harbor. Fast forward to 2017, St. Barts was devastated by Hurricane Irma, destroying just about everything on the island. Fortunately, the family was able to find a new location for Foodland where they have a brand-new facility. Not long after Foodland launched their retail shop – Foodland La Boutique!
As the main supplier of fresh and frozen products, Foodland services everyone on the island from restaurants to hotels, and private chefs. That said, anyone is welcome at the Foodland warehouse, including the public, but thanks to Foodland's retail location they have been able to better serve their customers.
With a focus on meat and seafood, the retail shop also offers a wide range of specialty products from Japan, Italy, and France, as well as other items like cheese, produce, caviar, pasta, rice, crackers, sake, wine, champagne, and spirits. In addition to specialty and high-end items, customers can find hardware such as Japanese Konro grills, Japanese knives, truffle slicers, and a variety of books written by the suppliers they partner with. Each item offered by Foodland has been carefully selected so that they can provide their customers with only the highest quality and most unique products.
Some interesting seafood items offered at the shop include King Crab and Bluefin Tuna. Jordan says, "Customers are often amazed by the enormous jumbo size of the King Crab legs and the sheer size of the seventy pound plus loins of Bluefin Tuna!" More than just seafood, Foodland's Wagyu Beef is a top choice as well. They sell both American Wagyu Beef and Japanese A5 grade Beef. Jordan says, "When people see the marbling on display, they are stunned."
Customers look forward to coming into the shop because it's very inviting, warm, and high-end. Although customers aren't going to find items like they would in a typical grocery store, they will find many specialty items sourced from around the globe.
Jordan is very appreciative of his relationship with Samuels, especially with his sales representative Mark. Jordan says, "No matter what, Mark doesn't quit and always finds a solution for us. He is relentless and I'm grateful to have someone like him that I get to call a friend at the end of the day."
If you ever find yourself in St. Barts, be sure to stop by Foodland for anything you might need! Also, you can visit them on Instagram @foodlandsbh.