From Raw Bar to Sushi Pyramids, Caterers go Beyond Surf and Turf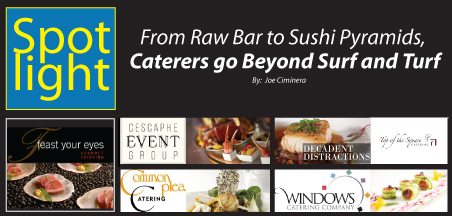 From Raw Bar to Sushi Pyramids, Caterers go Beyond Surf and Turf
By: Joe Ciminera
Summer is the time for outdoor events, dining under the stars and of course, weddings. All of these catered events would not be complete without incredible seafood options, and featured below are some of the region's best caterers, especially when it comes to seafood!
For customers who are looking for variety with their event, Feast Your Eyes Catering is the perfect option for weddings, business functions or special events. Offering the widest collection of culinary possibilities in the Philadelphia region, Feast Your Eyes can do everything needed from a backyard cookout to a special elegant evening. Featuring fresh and succulent seafood selections, Feast Your Eyes specializes in dinner stations themed to your taste. The Asian Spice Station features delicious Sake Glazed Salmon, the Summer at the Shore Station boasts Pan Seared Crab Cakes, and if Italian is your taste, the mouthwatering Orecchiette made with plump Shrimp can't be missed at the Northern Italy Station.
When it comes to weddings in the City of Brotherly Love, Cescaphe Event Group is the new standard. Founded by food industry leader Joe Volpe in 2003, Cescaphe caters to the specific needs of their clients with five scenic venues, and they go to great lengths to make sure the décor, service and above all, the food, is perfect on that special day. Cescaphe's famous "Cocktail Hour and a Half" features a raw bar stocked with Jumbo Shrimp, Little Neck Clams, Blue Point Oysters and Crab Claws. For dinner, Cescaphe offers a wide variety to satisfy any taste. Flavorful Chilean Sea Bass, Roasted Grouper, perfectly grilled Mahi Mahi and fresh Twin Lobster Tails are only a few of the numerous seafood options available.
While Philadelphia has some great catering options, so does the Western part of the state, and at the forefront of Pittsburgh catering is Common Plea Catering. Offering a great selection of options and catering services for all events from business breakfasts to sophisticated catered dinners, Common Plea provides an unmatched bounty of Seafood for any event. Featuring Mini Crab Cakes, savory Scallops wrapped in bacon, Spicy Ginger Glazed Tuna along with outstanding Herb and Parmesan Crusted Salmon, Broiled Lump Crab Cakes and a moist and flaky Pan Seared Halibut truly makes Common Plea a seafood lover's caterer.
Windows Catering, servicing the Washington D.C. area, is a wonderful caterer often chosen by athletes, musicians and presidents. World-renowned Chef Henry Dinardo and his wife Carol, a former public relations executive at The Watergate Hotel, began Windows Catering in 1987 to coincide with the nationally recognized Windows Restaurant. Offering services for corporate functions, weddings and special events, it is the high quality food that separates Windows from the pack. Their Lobster Grilled Cheese is one of the most raved about hors d'oeuvres in D.C. while the signature Crab Cake is also a popular appetizer. Windows plated entrées feature grilled Maryland Rockfish and Pan Seared Maine Diver Scallops along with incredible Wild Alaska Halibut.
There is no shortage of caterers in New York City, but one stands apart from the rest. Focusing on high quality, sustainable food, NYU Catering – Top of the Square Catering has become New York City's premier catering option for excellent and sustainable seafood. With menus that contain sustainably harvested Roasted Shrimp, Maryland Crab Cakes and sustainably raised Pan Seared Salmon, Top of the Square has been able to seamlessly combine delicious food with environmental consciousness. A highlight of any Top of the Square event is their fresh Sushi hors d'oeuvres made with all sustainable seafood products. From large events to intimate gatherings, Top of the Square catering can provide all of the makings of a special evening.
Please visit www.feastyoureyescatering.com, www.cescaphe.com, www.catering.com, www.commonplea-catering.com and www.topofthesquarecatering.com
for more information.