V&V Scratch Kitchen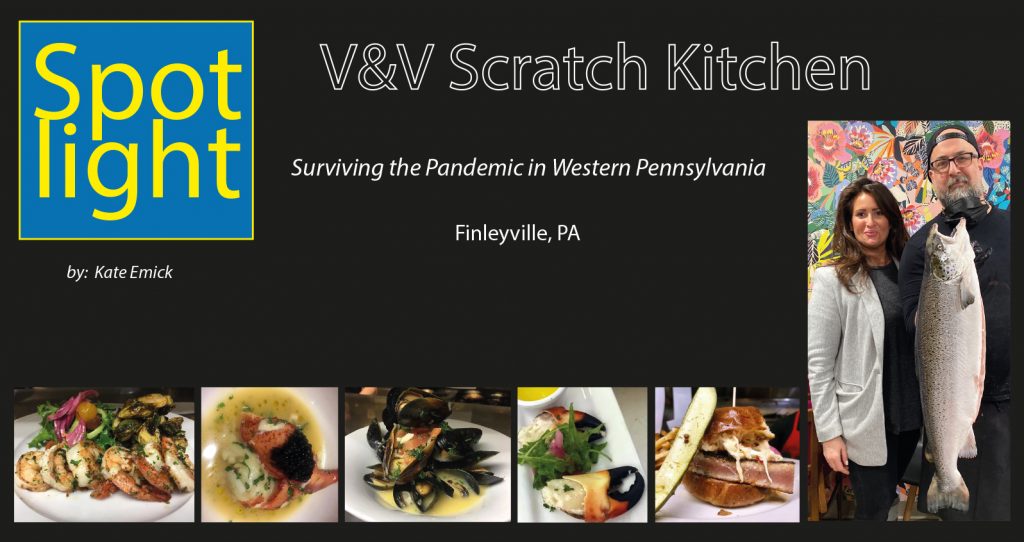 V&V Scratch Kitchen
Surviving the Pandemic in Western Pennsylvania
by: Kate Emick
Just outside Pittsburgh, PA, V&V Scratch Kitchen opened its doors in May of 2018. For the last three years, they have provided customers with an exceptional dining experience by only using the finest quality ingredients, never taking shortcuts, and preparing everything from scratch.
V & V Scratch Kitchen is more than just a restaurant. Located right next door is V&V Cafecito, bakery, and café. Here, you will find an assortment of pastries, breakfast sandwiches, coffee, and specialty drinks like frozen lattes. Some customer favorites include homemade cinnamon rolls and a variety of danishes, scones, and cookies. You can stop in, order ahead for take-out or curbside pick-up to satisfy your sweet tooth!
Family is everything to owners, Chef Martin Lamarche and his wife, Kristen. The name V&V Scratch Kitchen pays homage to their two children, Vincent and Vivien, and they even have sandwiches named after them on the menu. "The Vincent" is two beef patties with American cheese, bacon, tomato, pickles, mushrooms, and a special sauce. On the flip side, "The Vivien" is smoked turkey, bacon, tomato, avocado, cucumber, microgreens, and house dressing.
Chef Martin Lamarche is no stranger when it comes to being in the kitchen. As a young child, Lamarche would spend a lot of time cooking with his mother, a remarkable chef, and baker herself. He went on to work as a professional chef in high-end restaurants in Florida, New York, Arizona, and Pittsburgh. Lamarche has been cooking in a professional setting and butchering fish since his early teens, so he has much experience under his belt.
There is no question that since the pandemic started a year ago, it's been difficult for restaurants everywhere, but V&V Scratch Kitchen was fortunate to stay open and still provide customers with beautiful and delicious dishes. The set-up, of course, was much different. Carryout went from 10-15% to 100%, and the menu that would change daily became limited. V&V Scratch Kitchen remains dedicated to keeping its customers and employees safe while still offering the homemade food everyone enjoys.
V&V Scratch Kitchen offers a unique event each Saturday, called "Chef's Table," which keeps customers coming back week after week to experience the delicious new dishes. "Chef's Table" is an 8-12 course prix fixe menu that costs $100 per person. These courses can include items such as Pan Seared Scallops, Santa Carota Beef Strip Loin, Lobster, Frog Legs, or Sturgeon Caviar. When the pandemic started, "Chef's Table" had to shut down, but thankfully V&V Scratch Kitchen has safely opened this event back up, and they are booked through April 2021.
V&V Scratch Kitchen has an extensive menu, but if there is one thing they are known for, it's their Lobster rolls. V&V Scratch Kitchen uses fresh live Lobster, poached in butter then packed into an artisan roll. This sandwich is both warm and delicious. Customers also enjoy the house-made Pastrami Reuben made of smoked pastrami, Jarlsberg cheese, sauerkraut, and Russian dressing.
Chef Martin Lamarche values his relationship with businesses like Samuels Seafood. Lamarche has known Samuels since his time in Washington D.C. many years ago. Lamarche says, "We wouldn't be here without partners like Samuels, and I am incredibly thankful that they understand the business and help in decision making."
Although V&V Scratch Kitchen is not an exclusive seafood restaurant, fish is featured on the menu every day. The restaurant features a fish of the day and keeps it exciting; by using items like Skate Wings or Golden Tilefish. Customers also love Black Cod, Grouper, Mahi Mahi, and Tuna. Another fan favorite has been the Live New Zealand Greenshell Mussels.
V&V Scratch Kitchen's goal is to provide great food in a great environment for the community. Lamarche and his team are committed to creating excellent dishes with quality ingredients from scratch that won't disappoint.
To find out more about V&V Scratch Kitchen, visit vandvkitchen.com