Youell's Oyster House – From Sea to Table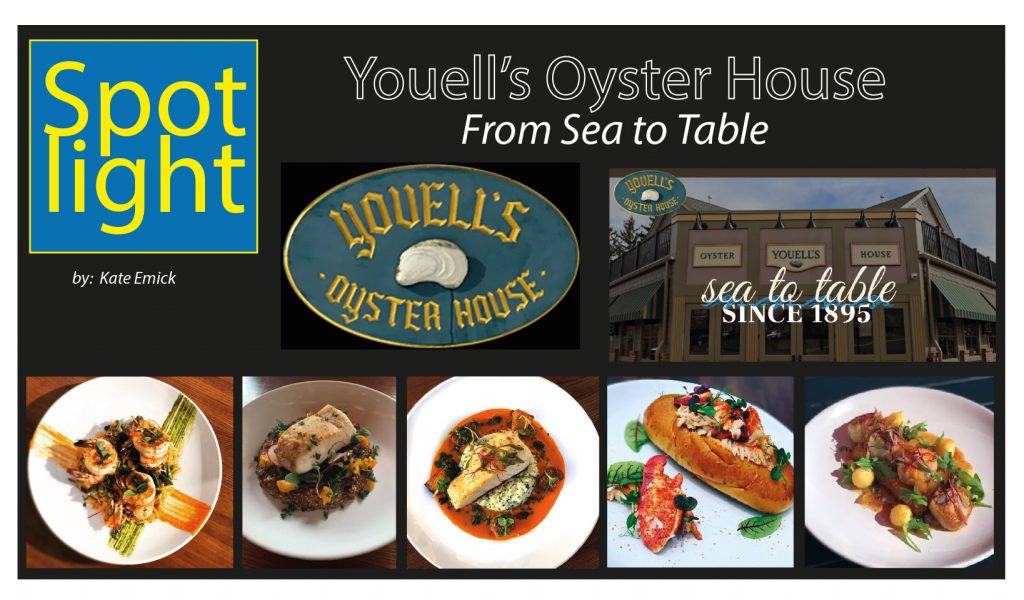 by: Kate Emick
In the mid to late 1980s, every town had several seafood restaurants that served Haddock, Oyster stews, and seafood combos. In addition, seafood was delivered in barrels, and customers would wait hours with lines up and down the block- Youell's Oyster House was one of these restaurants.
There is an extensive and fascinating history behind Youell's Oyster House, and it all began in 1895. The original name of Youell's Oyster House was Rice Brother's Oyster House, and in 1925 when they moved to Front Street in Easton, PA, it was purchased by Bob Youell's, hence the new name.
In 1955, Youell's Oyster House relocated to College Hill, looking for something new and different. Almost 30 years later, Youell's Oyster House was purchased by longtime patron Gus Filipos and his son Chris Filipos joined the business not long after.
In 1992, Youell's Oyster House moved to Allentown, PA, and turned a converted house into a seafood restaurant. Chris Filipos, the owner, says, "During the mid to late '80s, dining was becoming more sophisticated, so this gave us the opportunity to break out of the mold." They wanted to serve more than just stews and combos as seafood restaurants did in the past, and indeed, it happened.
Chris Filipos is the third generation of his family that grew up in Maine, spending every summer there as a young child. He would often visit the Portland Fish Market, and many of the friends he grew up with became fishermen, lobstermen, and scallopers. It's fair to say Filipos has expertise when it comes to seafood.
Today, Youell's Oyster House has many different seafood options on their menu. Some of the customers' favorites include Scallops, Crab Cakes, Lobster Tails stuffed with Crabmeat, Stuffed Salmon, along with various other types of fish on hand. Of course, they also always have a dozen different Oysters available daily with different flavor profiles. If you're looking for a variety of great seafood options, Youell's Oyster House is the place to go.
Customers are often very impressed with the quality of seafood Youell's Oyster House has on their menu. The restaurant orders their seafood from Samuels Seafood. Filipos says, "People often ask where it comes from because of how fresh the seafood is. What I like the most about ordering from Samuels is that there is always a great variety of products and they are high quality."
"Sea to Table," the slogan Youell's Oyster House has lived by since 1895, emphasizes the restaurant's ability to serve its customers with local, sustainable, and high-quality seafood. For over 100 years, Youell's Oyster House has been providing customers with all their favorite seafood dishes.
At Youell's Oyster House, seafood is not just a component; it's a focus. "What makes us different from other restaurants is that we offer meat on the side," Filipos adds. Whether that side dish is steak, duck, or even a burger, Youell's Oyster House is happy to serve you.
2019 was the biggest year Youell's Oyster House has ever had. Although 2020 has presented restaurants with a year of difficulty, Filipos says, "In 2021, I am looking forward to a return to normalcy." Youell's Oyster House wants to keep their employees and customers safe, and to do so, social distancing rules apply, along with offering an online menu and takeout options.
To find out more about Youell's Oyster House, you can visit youellsoysterhouse.com