Herringbone, Las Vegas, NV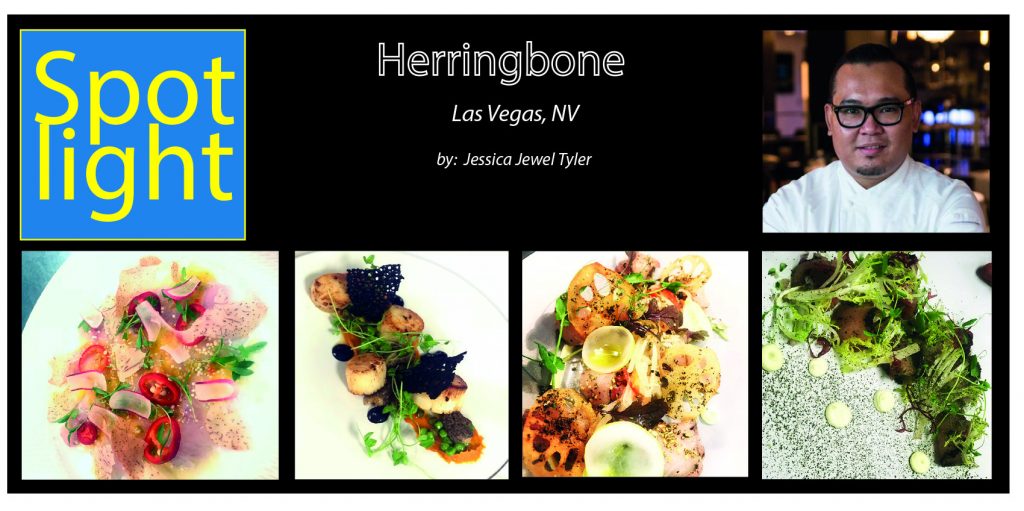 Herringbone, Las Vegas, NV
by: Jessica Jewel Tyler
They say "Vegas is the answer, no matter the question." That is especially true when the question is "where do I get some of the best cuisine in the world?" It's a town full of opulent, unique, and diverse food, designed and prepared by some of the most skilled chefs, including celebrity chefs. With all this competition, it can be hard to stand out but Herringbone, a Hakkasan group restaurant, does just that.
Top Chef Brian Marlarkey is the creative mind behind, and former owner of, the wildly popular "Fabric of Dining" themed restaurants also including Searsucker. Herringbone, the sister restaurant at Aria Hotel and Casino, is a top spot located right on the famous Vegas strip. The name boosts a delicious double-entendre emphasizing the importance seafood plays on their menu.
This installment of Herringbone brings California a bit closer to Vegas, and has proven to be popular across all five locations on the West Coast. The menu features the seasonal and light fare of California coastal cuisine including sustainable domestic seafood and fresh produce and meat from the fertile land of the "Golden State." They cleverly call it "Fish Meats Field." This concept is even further manifested in the décor.
Walking through the gigantic glass doors onto the Herringbone's sun-soaked, pool-side patio you would think you forgot your surfboard. A beach house in the desert, this venue sports a relaxed yet refined style with a modern nautical whimsy. The olive trees, pergolas, and fountains give a very elegant feel that screams Vegas, but the weathered wood chairs and contemporary couches with fun pillows and twine accents add a layer of California comfort. The style is unique, light, and fresh, just like their menu.
Herringbone has emerged as one of the best places in Vegas for unique and amazing seafood. Some of the most popular dishes include the East and West Coast Oysters (served with ginger scallion ponzu, apple cider, and sambal cocktail) and buffalo Octopus. The Executive Chef, Marty Lopez, is no stranger to seafood. From a very young age he helped his grandfather in the kitchen and growing up in the Philippines, seafood was an important ingredient. In fact, the first dish Marty learned to prepare was Squid adobo at the age of five.
Chef Marty says cooking is a "natural joy and appreciation" and cooking seafood specifically is "always special." He goes on to say that seafood is always a momentous occasion because it requires a lot of skill to bring justice to the fish in addition to its seasonality and short shelf life. That's why when you have fresh, seasonal seafood prepared masterfully – it's a delicacy. "The greatest meals I've ever had involved seafood, and the best meals I've ever made involved seafood," says Marty.
Since Marty joined Herringbone on the very first day of this year, he jumped right in adding his style to the mix. Although classically French trained, with over 15 years of experience in high profile restaurants, Chef Marty draws inspiration from multiple sources including his upbringing and his travels.
He often features French dishes, like his favorite, Dover Sole in an elegant brown butter sauce with green grapes. But nothing symbolizes the marriage of Chef Marty and Herringbone like the Wild Alaska Halibut on the summer menu. This no waste dish uses the bones, trim, and skin to make a tamarind based broth with taro root – similar to a traditional Philippine dish called Sinigang. The California twist comes from the produce; delta asparagus, baby zucchini, yellow squash, and watermelon radishes. Chef Marty also adds his "thumb-print," and an extra depth of flavor, with Smoked Trout and Caviar. Marty knew the fresh and bright tasting broth from his youth would be perfect for Herringbone, and he says it means a lot that his cultural influence is embraced by everyone.
What's next? The fall menu. Although Fall comes a bit later in Vegas (Mid-October,) Chef Marty is already thinking of doing a Tiardito, a Peruvian approach to Japanese sashimi, with chili paste, citrus, and pickled chili. He plans to use wild Bronzino – he says, "The Bronzino from Samuels is amazing." This dish is also traditionally served with fried plantain, but Marty has ideas to feature taro root chips to bring some personal style and lighter fare. To highlight the seasonality, five dishes will completely change and Marty is excited to feature the warmer flavor profiles of braised Swordfish or Monkfish and fall spices such as cinnamon and star anise. We look forward to fall!