Knightsbridge Restaurant Group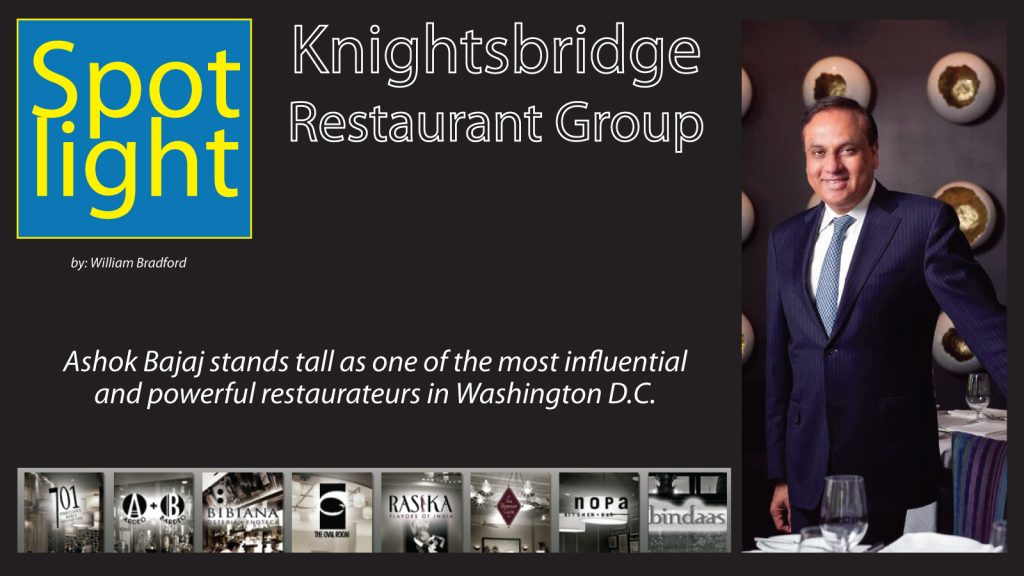 Knightsbridge Restaurant Group 
Ashok Bajaj stands tall as one of the most influential and powerful restaurateurs in Washington D.C.
by: William Bradford
In a district always full of important political players, Ashok Bajaj stands tall as one of the most influential and powerful restaurateurs in Washington D.C.
Born in New Delhi, India, Mr. Bajaj earned his degree in Commerce from University of Delhi, continuing on to complete his postgraduate studies in Hotel Management and Tourism while working for one of India's leading hotel chains, the Ashok Group. After a six-year tenure with Taj Hotels, Resorts and Palaces, which relocated him to London, Bajaj took some time to travel to Sydney, Australia, before choosing his next step, which was to found Knightsbridge Restaurant Group, in the nation's capital in 1988.
Since moving to D.C. in 1988, Mr. Bajaj has opened some of the city's most popular and critically acclaimed restaurants, which are often frequent stops of both past and present politicians. After all, many of his locations are just an earshot from the White House. He began with The Bombay Club, which offers guests the finest in Indian cuisine along with the atmosphere and elegance of classic Indian clubs. The Oval Room proudly serves modern American cuisine with Mediterranean influences in a very tasteful, contemporary setting. An excellent spot for travelers from around the world to experience.
Opened in 2005, Rasika is a four star, award winning Indian restaurant. Derived from the Sanskrit word meaning "flavors," Rasika specializes in Tawa (Griddle), Sigri (Open Barbeque), and Tandoori dishes. Guests enjoy the delicious small plates in a modern lounge area, community dining table, main dining room or private dining room. Rasika's popularity surged to the point there are now two locations and earned Chef Vikram Sunderam a James Beard Award in 2014 for Best Chef: Mid Atlantic. You can also look forward to Rasika: Flavors of India being released on October 10th, 2017. It's a modern Indian cuisine cookbook authored by Chef Sunderam and Mr. Bajaj.
701 Restaurant offers the exclusive feel and charm of a private club while providing modern American dishes with a creative flair. Bibiana Osteria Enoteca shows Mr. Bajaj's ability to provide D.C. some of the finest Italian dining. Nopa Kitchen + Bar is an American brasserie serving dishes with French and Asian influences. The décor at nopa is just as inviting as the food with an impressive industrial style.
A few minutes from the National Zoo is Ardeo + Bardeo, which offers a mixture of seafood, pastas, appetizers and snacks. Most recently is Bindaas, Mr. Bajaj's return to the best Indian food available. How can one resist a restaurant which name means independent, cool and careful? Bindaas specializes in Indian street food which includes treats such as Shishito Pepper Pakoda or a Chili Salmon Shashlik (kebab).
Mr. Bajaj still visits each of his locations almost every day. He knows the importance of seeing and speaking with people personally, whether they be high ranking regulars or his staff. "You get to see your staff and your guests, it's an aspect of the business I enjoy the most," he says. Speaking with someone voted one of the 50 Most Powerful People in Washington by GQ magazine is a big opportunity and Mr. Bajaj adds a warm and quick sense of humor to the conversation. Admittingly not a chef, he knows the importance of having the right person behind the stove. "I look for chefs who are both very passionate and hard working," he says.
His hard work continues into community minded efforts as he sits on the Golden Triangle board, which works to provide a clean, safe and vibrant environment in the Golden Triangle neighborhood. He also serves on board for the Arena Stage and the Restaurant Association of Metropolitan Washington.
If you treat yourself to one of Mr. Bajaj's restaurants, you'll experience imaginative dishes and an elegant environment. And if the timing is right, Mr. Bajaj will personally be there, providing an inviting hospitality that's tough to beat.
Learn about all of Mr. Bajaj's restaurants at knightsbridgerestaurantgroup.com