The Choptank Annapolis – Seafood on the Waterfront

The Choptank Annapolis – Seafood on the Waterfront
By: Kate Emick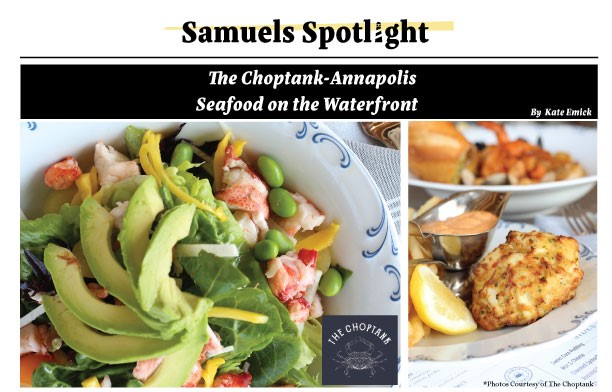 Atlas Restaurant Group celebrates historic Annapolis with The Choptank, a new fish and crab house, located on "Ego Alley" along downtown Annapolis' famous City Dock!
Atlas Restaurant Group is a Baltimore-based hospitality group that operates twenty-seven restaurants in Maryland, Florida, and Texas. The group focuses on integrity of product, impeccable service, and an unparalleled entertainment experience that has redefined traditional dining.
Following the success of The Choptank's flagship location in Baltimore's historic Fells Point neighborhood, Atlas Restaurant Group knew that this concept would fit well into downtown Annapolis and opened its doors in summer of 2022.
Take in the beautiful waterfront view at The Choptank through its large open windows from either the dining room, rooftop bar, or waterside Crab deck. To match the brand, the interior of the restaurant is filled with dark blues and bright bass accents that tie in with the marble tables and bar tops. On the walls guests can find black and white photos as well. As for the outside, the restaurant utilizes soft colored plants such as light green, yellow, and of course blue flowers to highlight the beauty of the view.
The Choptank creates the ideal dining experience all year round. Even on cold winter days, guests can take in the water and the sun from the dining room to transport them back to summer.
Local seafood takes the spotlight on The Choptank menu. Naturally, the Crab Cake is the most popular option chosen by guests and a very close second is the restaurant's Fish and Chips. The Choptank's signature Fish and Chips is made with Hake and battered perfectly with a house-made batter.
With a seafood-centric menu, guests also have the option to choose from eight different fish on the menu including, but not limited to, Chilean Sea Bass, Bronzino, Yellowfin Tuna, and Dover Sole. A variety of preparations are available as well such as blackened, pan-seared, or broiled.
Aside from local seafood, The Choptank is known for steak as well, offered in a variety of cuts. Guests can find everything from the New York strip to the dry-aged porterhouse. In addition to steaks, the restaurant also showcases a menu section dedicated to sauces, offered a la carte, and accoutrements that give way to endless possibilities.
More than just delicious seafood, steaks, and more, The Choptank offers an extensive variety of liquor, wine, beer, and specialty cocktail listings. A few must-try cocktails are the "Wave Runner," "Forget-Me-Knot," and the Maryland based "Crush."
Have a sweet ending to your meal with delicious desserts like coconut cream pie, passion fruit crème brûlée, cast iron chocolate chip cookies, or seasonal ice cream.
Enjoy one of Maryland's top waterfront locations at The Choptank! Reservations are recommended and can be made at thechoptankrestaurant.com/Annapolis. Also, be sure to check out The Choptank on Instagram @thechoptankannapolis!