Osteria 177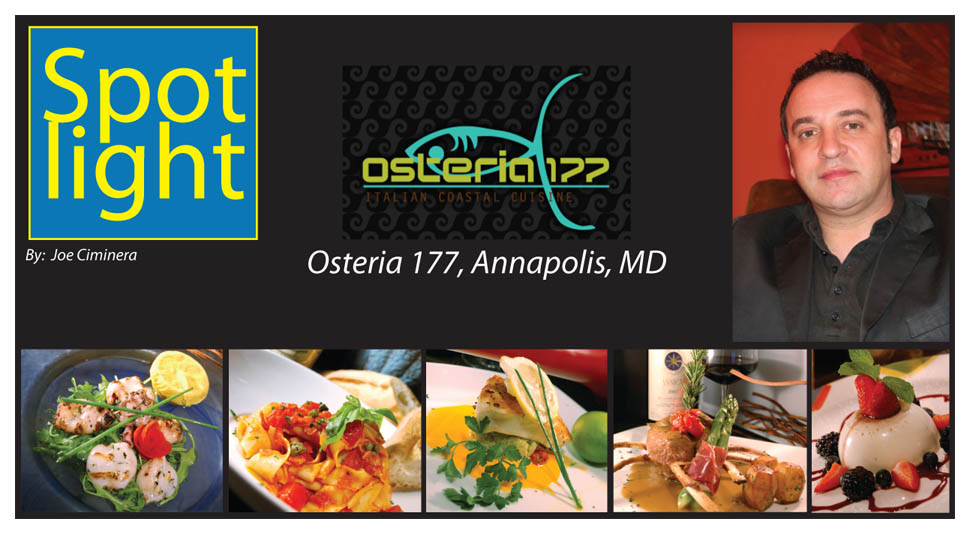 Osteria 177, Annapolis, MD
By: Joe Ciminera
acclaimed Osteria 177, situated in Annapolis, MD, to three elements in particular.
"Quality, consistency and service," said Ottaviano. "You can't cut corners if you want to be on top."
Ottaviano, the owner and executive chef of Osteria 177 has been able to stay on top of the Annapolis restaurant scene since its opening. Featured in Baltimore Magazine "Best Restaurants of the Year" two years running, and receiving glowing reviews from both The Washington Post and The Baltimore Sun, Ottaviano's Osteria 177 has become Maryland's premier destination for authentic Italian cuisine.
The quality of Ottaviano's ingredients has never wavered, nor has the consistency of his dishes. With appetizers ranging from Italian classics like Mussels and Clams in white wine and tomato sauce or fresh Calamari to one of the chefs favorite, Sushi grade Tuna Carpaccio, every meal starts the right way at Osteria 177.
Seafood plays a big part on Osteria 177's menu, and the entrées reflect that. Ottaviano recommends the Chilean Sea Bass which he caramelizes with organic sugar and finishes with orange infused olive oil. "Not too much sauce," the chef warned. "Simplicity." Other menu highlights include Salmone alla Mugnaia featuring Wild Salmon in lemon and butter sauce, Branzino alla Mediterranean which is whole grilled Branzino filleted tableside, and Pesce Spada all'isolana which boasts a cheese encrusted Swordfish Fillet with cherry tomato relish.
"I think we're the best seafood restaurant in town, and people in Annapolis expect seafood to be on menus," said Ottaviano.
Born in Molise, and raised in Verona, Italy, some might think Ottaviano learned how to cook from his mother or grandmother when he was a small child, as many young Italian men do. On the contrary, he became fascinated with the restaurant industry at the age of 16, and enrolled in the culinary school Bardolino.
With a focus on both cooking and restaurant management, Ottaviano jumped at the opportunity to participate in an exchange program at the much renowned Tiberius in Washington D.C. Tiberius was a fine dining, and immensely popular establishment where Ottaviano continued to cultivate his love of food and knowledge of the restaurant industry.
"It was the spot," said Ottaviano. "I met Paul Newman, Frank Sinatra and a lot of political dignitaries."
His experience in D.C. also gave Ottaviano an appreciation for the area, and when he finished culinary school he knew he wanted to come back and open his own restaurant. In 2006, Osteria 177 became a reality. Ottaviano already had a vision in mind, and knew he needed to build a team of good people to make it happen.
"Everyone I hired has a passion for food," said Ottaviano.
Creating a team atmosphere among his employees, Ottaviano ensures that the service his customers receive is as impeccable as his cuisine.
The combination of quality, consistency and service has garnered the restaurant many accolades and keeps Osteria 177 atop "Best Of" lists with customers returning for more. The simplistic approach to his culinary style also gave Ottaviano the name for his restaurant.
"177 is the address number," said Ottaviano with a laugh. "It's worked out."
Please visit Osteria 177 at www.osteria177.com.