Steak 48 -Well Worth the Wait!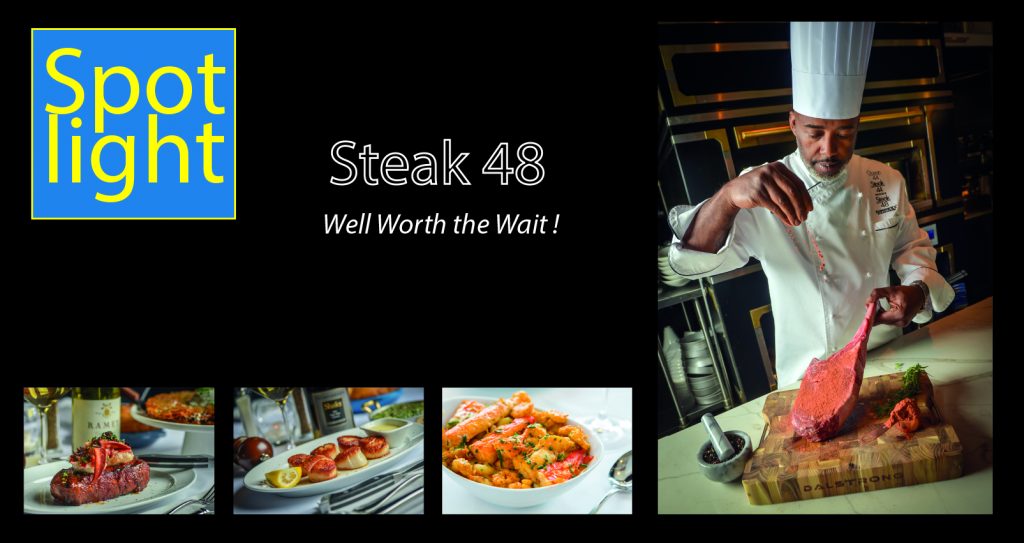 Steak 48, the long awaited new restaurant originally slated for a mid-March opening in Philadelphia, will finally make its debut in July. But only after the city gives the go-ahead for restaurants to reopen their dining rooms for inside service. The global COVID-19 crisis and the subsequent business closure and stay-at-home orders that were imposed upon the region held up the restaurant's opening by more than two months.
"Our projected opening is now at the end of July," said Robert Watson, Executive Chef at Steak 48 and Philadelphia native. "We are hopeful and optimistic that this will be after the City of Philadelphia enters the Green Phase of reopening. However, the safety and comfort of all of our employees and guests is our topmost priority. So we will not open until we are 100 percent ready."
It is the third location of the Steak 48 brand, a concept brought to life by brothers Jeffrey and Mike Mastro, perhaps the two most recognized names in contemporary steakhouse culture. The first location opened in Houston in 2016 and was followed by another in Chicago's swanky River North neighborhood in 2018. Though months behind schedule, the Philadelphia location, will hardly go unnoticed. And surely it will be a restaurant well worth the extra wait. Overlooking the city's Avenue of the Arts, the 12,000-square-foot bi-level space radiates a cool contemporary sense of sophistication without being overtly stuffy or ostentatious.
"The restaurant was built and designed to offer a wonderful and unique experience to each guest," Chef Watson said. "Our other concepts follow these same guiding principles, but based on the location in the historic Atlantic building on Broad Street, this Steak 48 location will be unique to Philadelphia."
The 450-seat steakhouse's interior is split up into a small collection of intimate nooks and niches that belie its sprawling footprint. Multiple spacious dining rooms, a floor-to-ceiling, glass-enclosed expo kitchen, dining suites in the kitchen and a spacious bar present guests with a variety of warm and welcoming settings that offer the flourish and flair of upscale dining while remaining cozy and comforting at the same time.
Obviously, steaks star in the lead role, but are supported by a myriad of exciting, fun and delicious dishes. Featured Prime grade and Wagyu steaks and chops run the gamut from bone-in ribeyes and New York Strips to Colorado racks of lamb. Furthering the luxury dining experience, Steak 48 also boasts an impressive selection of decadent seafood dishes, like Shetland Island Scottish Salmon, Dayboat Sea Scallops, Maryland style Crab Cakes and sashimi grade Tuna. A raw bar will offer daily selections of Lobsters, colossal Shrimp cocktail, iced Alaska King Crab legs and a daily changing selection of East and West Coast Oysters, shucked to order. In addition to traditional raw bar options, Steak 48 offers new and innovative chilled and raw offerings, like Hawaiian poke and Lobster cocktail.
"There are so many wonderful options for seafood and shellfish at Steak 48," Chef Watson said. "The only constant is, it must always be the freshest possible and the best available."
At the bar, guests can order from a wine list that boasts as many as 50 varietals by the glass, and more than 650 more by the bottle. Skilled bartenders will shake and mix hand-crafted cocktails to order that spotlight local ingredients. In addition to wine and cocktails, Steak 48 will also offer an impressive selection of local craft beers.
Steak 48 is a family-run brand owned and operated by brothers Jeffrey and Michael Mastro, their father Dennis Mastro and partner Scott Troilo. The concept draws inspiration from Steak 44, the team's Phoenix-based steakhouse that opened in 2014. In the months ahead, the group will work to open another Steak 48 location in Charlotte, North Carolina.
For more information visit Steak48.com.