The Hard Rock Cafe Rocks Local Fish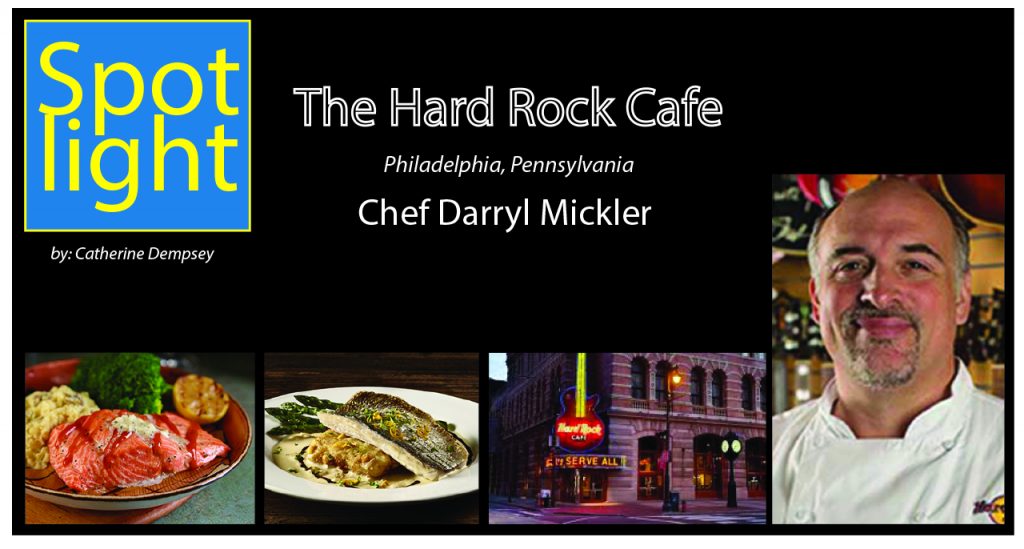 Chef Darryl Mickler at The Hard Rock Cafe
Philadelphia, Pennsylvania
by: Catherine Dempsey
The Hard Rock Café is legendary. The rock n The Hard Rock Café is legendary. The rock n roll-themed restaurant and occasional music venue is known to many for its exclusive collection of music memorabilia, but until recently, it's becoming more renowned for its incredible, locally-sourced, and sustainable seafood. The chain is re-vamping their menu to reinforce the idea that our food can and should come from home, and we should support local businesses for all the good they do for our economy. The Hard Rock Café's new initiative is kicking off now, and the menu is getting a facelift courtesy of Chef Darryl Mickler and his wealth of experience in the culinary arts.
Chef got his start cooking when he was growing up in the South on Florida's Gulf Coast. He always looked forward to Sunday dinners at his grandmother's home with his family by his side. "One thing about the South is it can be a very food-centric environment," he says. "That's where I got interested and curious about cooking. I come from a big family so everyone was trying to out-do themselves and out-do each other with what they created."
Chef Darryl later won a scholarship to study food and beverage management at Pensacola Junior College, where he graduated first in his class in 1986. He completed a prestigious internship with Chef Roger Vergé and Chef Paul Bocuse at Les Chef's de France at EPCOT's Walt Disney World during one summer, and discovered that cooking was truly his calling. He returned to Les Chef's de France to further his culinary education following his graduation from college. "I saw this connection between food and culture, which I found intellectually interesting," he says. "Just having an interest in food from a creativity, tactile, and craftsman standpoint, and those things came together well for me to become a chef."
Chef then landed a job at Walt Disney World as a specialty chef, and then later graduated to chef de cuisine. Chef Darryl left the Disney Corporation in 2006 to be the Executive Chef for Red Lobster. After a year there, he was promoted to Director of Product Development until 2010; this is when he became the Senior Director of Culinary Innovation at Brinker International in Dallas. In 2014, Chef Darryl became the Associate Vice President of Culinary Development for Aramark in Philadelphia and a year later, he joined the forces at Hard Rock International as Senior Director of Research and Development in 2015. With a background as strong as this, Chef Darryl's skills and expertise have lead him to the evolution of the Hard Rock Café's menu.
The reworked menu is impressive. A highlight is the grilled Salmon – an 8-ounce Salmon fillet, grilled and drizzled with sweet and tangy, house-made barbecue sauce. It's then finished with herb garlic butter and served with Yukon Gold mashed potatoes and seasonal vegetables. Another tasty staple is the Fresh Catch of the Day. The local fresh catch is served with a seasonal side and vegetables, and offerings include Flounder or Summer Flounder for the Philadelphia Hard Rock Café. Other café locations have their own custom offerings. "We're focusing on finding seafood that's running at the right time, that's seasonal, that's a good choice for us," he says. "The seafood area of the menu is an area that I've tried to leave open and let the chefs at different cafés have the opportunity to engage and come up with their own dish rather than running a strict corporate menu."
When asked about his favorite seafood to work with, Chef Darryl says his is Red Snapper. "I grew up on the Gulf Coast and I love the fish out there, and I've fished most of them," he says. "I also love Gulf Shrimp – it's always a big thing, and it has a bigger flavor than most anything else you would see."
For more information visit: www.hardrock.com/cafes/philadelphia