The Jefferson's Plume Restaurant, Fine Dining fit for the Head of State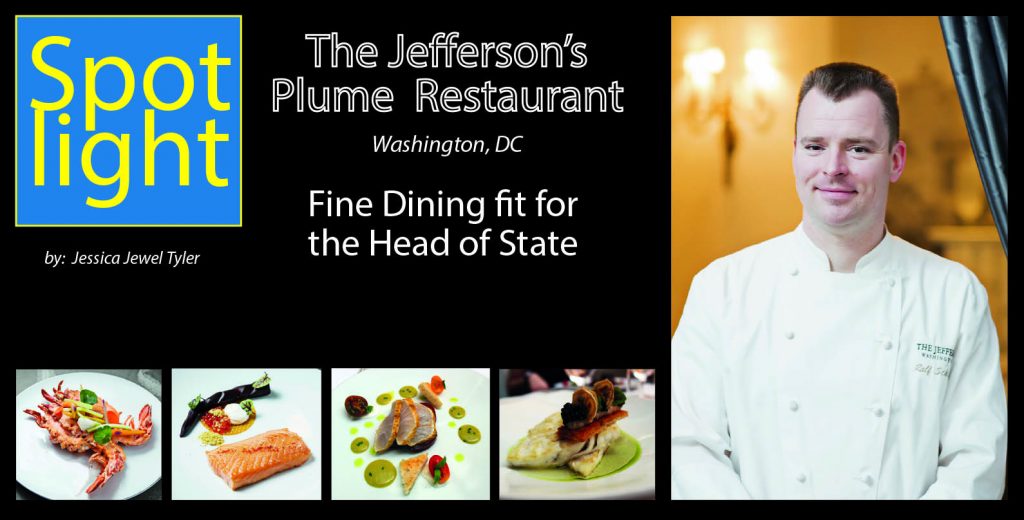 The Jefferson's Plume Restaurant, Washington, DC
Fine Dining fit for the Head of State
by: Jessica Jewel Tyler
Even if you haven't booked the lavish presidential suite, The Jefferson Hotel offers a stately White House dinner. Located in Washington D.C. just a few blocks from the National Mall, the historic Jefferson Hotel is home to 99 posh rooms, and three restaurants that focus on inventive flavors, in period style, with great attention to detail. Executive Chef Ralf Schlegel, runs the kitchen which serves all of the Hotel's dining options including the Greenhouse, Quill, and newly Michelin starred fine-dining restaurant, Plume.
The Greenhouse features lovely breakfast, lunch, and brunch options under the beautiful sky light – Quill is a famed bar with an elevated bar menu – While Plume is truly the toast of the town as D.C.'s only Forbes five-star rated restaurant. If you can get a reservation at one of Plume's seventeen tables, this illustrious restaurant offers a truly sophisticated dinner and an experience fitting of Jefferson himself.
With glittering chandeliers, silk walls, and silver pheasants gracing the tabletops, Plume pays homage to the Hotel's namesake, President Thomas Jefferson. The seasonal 3-course prix fixe or a 7-course tasting menus are inspired by the harvests from Thomas Jefferson's gardens at his home estate, Monticello. In addition to his political career, Jefferson was also considered a pioneer in the culinary arts after introducing many dishes, vegetables, and seafood to America. Some of these included Herring, fried eggplant, okra, English peas, and white asparagus.
Plume features this same style of old-world, indulgent southern-fusion cuisine – crafted using traditional techniques and fine ingredients, not to mention, an extensive wine selection that would impress the biggest oenophiles. The book "Passions: The Wines and Travels of Thomas Jefferson," is a huge inspiration behind the menu.
Plume's classically trained, German-born chef, Ralf Schlegel, also finds inspiration in his own travels and in current trends. He quoted "water is boiling at 250 degrees worldwide, what you put in the bowl will be different wherever you are. And as everyone gets closer to each other, with travel and social media, all the influences that reflect history and culture start to blend together."
He says the culinary team works together adding their twists to classic dishes based on the amazing things being done on social media and from their life experiences around the world. He says the food is mostly based on a French-American or refined Italian style with Nordic and German influences. He even gets some Asian flavors involved, like fermented red cabbage based on Asian kimchi, but with a European approach. Chef Ralf says fermentation is another example of the world's flavors coming together. It has been a part of the culinary world for ages in many parts of the world – take sauerkraut from Germany for example.
This glamourous style of international fare really helps Plume stand out in D.C, but Chef Ralf also contributes his success to hard work and attention to detail. He prides his menu on premium, seasonal produce and product, simply prepared and exquisitely presented. His rotating menu currently includes Alaska Halibut poached in a Sorrel sauce, which is then reduced, thickened, and served with banana chips and Osetra Caviar. The menu also includes appetizers like Japanese Mackerel with pistachio butter, baby turnips, and potato broth, and Scallops with coral chip, Amish beets, and wasabi hollandaise.
Another dish on the rotation is actually a signature dish for Plume. It's salmon poached tableside in hot beeswax and served with a brown butter emulsion, English peas, horseradish, and Salmon Roe. This process creates almost a Confit effect. It lightly cooks the Salmon and traps in the fresh, buttery flavor, while adding just a touch of a slight honey and fatty floral aromatic and flavor.
The plates presentation and wow factor are extremely important to Chef Ralf, but he also keeps in mind the original integrity of his meals and the foundations behind classic cooking. He stated "you need the foundation before you grow in the new direction." That's why he takes special care in how he presents his meals. He says "everything is on point, the meat is at 6 o'clock, just like standard, but with more ingredients and details the plate gets more intricate." The overall goal according to Chef Ralf, is not only to have the plate look appealing but to "be delightful."