The Olde Bar, Philadelphia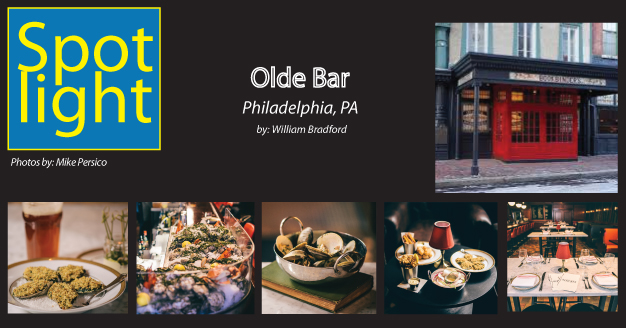 The Olde Bar
Philadelphia
by William Bradford
Anyone walking through America's most historic square mile will experience a feeling of rich history and tradition. Much like Philadelphia's food scene, Old City celebrates both tradition and innovation and Olde Bar has taken legendary Bookbinders legacy to new, exciting heights.
In 1865, Samuel Bookbinder opened his doors to delight locals, dockworkers and tourists alike. The nearby Delaware River served as a Shad hot spot in Bookbinder's backyard while also offering close access to all the goods brought to the harbor. Along with the Delaware River, Philadelphia's close proximity to other mid Atlantic fishing grounds such as the Chesapeake Bay gave Bookbinder's an advantage to have the freshest seafood in their kitchen.
Samuel Bookbinder's family stayed involved with the establishment alongside him. Every day around noon, his wife, Sarah, rang the restaurants bell letting farmers, merchants and everyone in Philadelphia's busy district know lunch was served. A glorious and unforgettable seafood tradition it was. The culture was passed down to Samuel's children before being acquired by John Taxin in the 1940's and eventually his daughter and grandson. During this time, the restaurant experienced years of decadence and popularity. It had been frequented by Frank Sinatra, Babe Ruth and Teddy Roosevelt to name a few.
In 2009, Bookbinder's closed its doors, however, a giant comeback was just a few years away. In January of 2015, Chef Jose Garces reopened the establishment as part of his Philly famous Garces Group under a new name. The restaurant garnered immediate positive reviews and city-wide favoritism. With some modernizations made to the décor, Olde Bar's environment is similar to what many remember about Bookbinder's and still has pieces of history along the walls. The menu also plays homage to Bookbinder's with one of the best raw Oyster & Clam bar, Snapper Soup, Crabcakes and Fish & Chips. Dishes such as Cape Cod Mussels with Chorizo, Tomato Confit and Almond Broth display a traditional style dish with an updated Garces twist.
Chef Rich Freedman, Chef de Cuisine, is partly responsible for the creative flavors that delight everyone at Olde Bar. Chef Freedman recently joined the team this past April and is part of the excitement and vibe. "I love all the passion everyone has here. I also love all the new Oysters and unique and exclusive fresh seafood Samuels has available, " he says. Chef Freedman, a graduate of the Art Institute of Philadelphia and training program at Culinary Institute of America, comes from a background in meats as his great grandfather was a butcher in Italy. Chef's great grandfather ended up opening a butchery in Florida that Freedman began working at age 10. Since then, he has worked at Opa in Philadelphia and for the Philadelphia Eagles & Phillies before aligning with the Garces Group.
Chef Freedman plays a role in the classic yet modern feel and menu Olde Bar embraces. For example, he speaks about a Philadelphia classic dish…Fried Oysters and Chicken Salad. For that extra flavor and flash in the chicken salad, Chef makes it with lightly smoked chicken breast and adds pickled grapes as well. He's also always conjuring up new items to place on the menu, the next addition could be a seafood terrine. For the drinkers out there, Olde Bar has one of the most creative and extensive drink programs around. Signature drinks such as "Ophelia Winthorpe" and "Spanish Conspiracy" are testaments to the genius that is the Olde Bar drink menu.
Sitting in the nostalgic yet originative environment at Olde Bar you may imagine all of the faces the building has seen in 100 plus years of business. Dockworkers grabbing a lunch, politicians making deals, stars of stage and screen kicking back over a Sidecar Cocktail and Oysters on the half shell. Today, thanks to the Garces Group and Chef Rich Freedman, the tradition is alive and booming with an adventurous new flare.
For more information visit: theoldebar.com