Check Out This Week's Episode of Monger!

006-Making Seafood Sustainable
"If you're getting Salmon from Samuels and Son Seafood, there's a very good chance it's BAP certified."
This week, Bill hosts Shaun O'Loughlin and Justin Grant from Global Aquaculture Alliance (GAA), one of the most influential non-governmental organizations dedicated to sustainable aquaculture.  They are joined by Denise Gurshin of Best Aquaculture Practices (BAP). The team discuss the many products they certify around the world, their new podcast, Aquademia, and advancements made in fish farming.  Featuring Samuels special guest, Joe Lasprogata.
Remember to listen to the GAA podcast, Aquademia, for enough sustainable seafood information to make you an expert.
Listen to the episode right here: fishmonger.podbean.com/e/006-making-seafood-sustainable-with-gaa/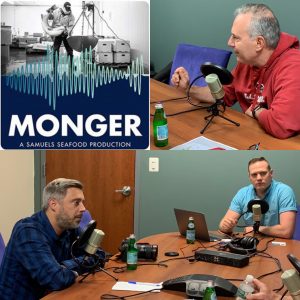 7.10.19 Episode 005 Young Guns in the Fish Biz
In this week's seafood podcast, we circle back to recap the 2019 Seafood Expo North America in Boston.  It was a really exciting whirlwind of a show, especially considering we started this podcast there.  So this is an interesting interview that took place right after the show back in Philly.
Some of our best young guns sit down with seasoned fishmonger (and podcaster), Anthony D'Angelo, while he serves as guest host.  The trio discuss everything exciting that happened this year.  (Hint, do you know what an isopod is?) Along some of the hot topics; What is seafood sustainability? What are chefs looking for?  And you'll hear the exact moment when the show's producer, Joe Mintzer, came up with the name "Monger" for this seafood podcast.
If you're interested in hearing the first hand experiences of young fishmongers working with seafood wholesale, sustainable seafood and top chefs, you'll love this week's seafood podcast.
If you haven't already, check out the past three episodes recorded in the middle of the Seafood Expo North America to get the full experience of fish mongering weekend in Boston. Subscribe to our Podcast, Monger, using the Apple Podcast app or Podbean!  Remember to review and rate us.  You can also send us feedback and questions to willb@samuelsseafood.com
Listen Here: fishmonger.podbean.com/e/005-young-guns-in-the-fish-biz/
Pictured below; Samuels Sales Agent, Maria Kanapi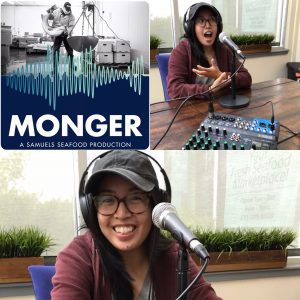 Day 3 of the Boston Seafood Show, the last of the trilogy!
Listen Here: fishmonger.podbean.com/e/004-the-boston-seafood-expo-day-3/
This was a very special episode as it took place on the last day of the seafood expo.  Not only did we have conversations with our friends at the Monterey Bay Aquarium Seafood Watch, but also the Marine Stewardship Council. These are two of the biggest groups in the world promoting responsible seafood.  We also had some fish farmers from Norway and Mauritius Islands discussing fish such as aquaculture raised Halibut, Red Drum and Dusky Kob.
And of course, we had the pleasure of hosting Sam D' Angelo himself, founder and owner of Samuels.  He was joined by Marty Mazzetta of Mazzetta Seafood.  These two have been doing business selling and buying shrimp for decades.  I was literally jumping up and down when we nabbed this interview.  At the end, you get to hear a breakdown of the entire show.  But I'll leave you guessing at how that goes.  This whole thing is very educational and fun.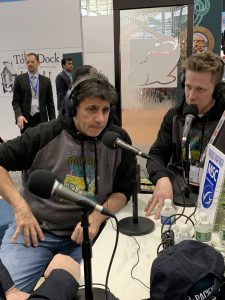 Subscribe to the new #MongerPodcast on your podcast app, or at podbean.com.
Day 2 of the Boston Seafood Show, Available Now!
Listen Here: fishmonger.podbean.com/e/003-the-boston-seafood-expo-day-2/